There's nothing like a seasonal story to lift our spirits and get us in the mood to celebrate! Whether you're in the mood for silly fun or a serious exploration of this holiday's roots and meaning, this must-read list of children's Thanksgiving books has you covered.
Thanks for Thanksgiving by Julie Marks
This warmhearted celebration of Autumn is written in couplets. It features gorgeous, detailed illustrations that young children will pore over in awe!
Thanksgiving is for Giving Thanks by Margaret Sutherland
What I love about this simple children's book isn't only how it lists so many things we can be thankful for; it's the emphasis on being thankful for the people, for families, friendships, and even pets. It's about the time spent with those we love—not just thankfulness for things.
Squanto and the Miracle of Thanksgiving by Eric Metaxas
Homeschoolers and teaching-minded parents will appreciate this well-researched historical Thanksgiving book. This story is told from the side of Squanto, the famous Native American who was able to greet the Pilgrims in their own language. It covers everything from his early kidnapping and enslavement in Europe, his rescue by Spanish monks, and his conversion to Christianity. Important note: Christianity and God are major themes.
Amelia Bedelia Talks Turkey by Herman Parish
Do you have a kid who loves to laugh? Tag along with Amelia Bedelia, who takes everything way too literally. In this book, she tries to help the local elementary school put on their seasonal pageant in her own wacky style.
A Charlie Brown Thanksgiving by Charles Schulz
Who doesn't love a Charlie Brown holiday? Poor Charlie has to throw together a last-second feast for his friends. He doesn't quite pull it off, but they all learn the true meaning of Thanksgiving… and then Grandma feeds them all!
Turkey Trouble by Wendi Silvano
The bird got word: he's about to be the main course. But Turkey has a brilliant plan: A DISGUISE. Except, it's not easy to make himself look like a cow or a horse or anything the farmer wouldn't put on the table.
How to Catch a Turkey by Adam Wallace & Andy Elkerton
What happens when a live turkey gets a major case of stage fright right before the school pageant? Well, let's just say, they probably won't have a live turkey next year.
The Berenstain Bears: Thanksgiving All Around by Stan and Jan Berenstain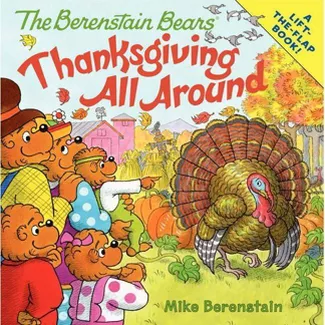 This classic series installment features lift-the-flap pages that show kids all about the fall attributes of the Thanksgiving season. Follow your favorite characters and see what they are up to this holiday!
Pinkalicious: Thanksgiving Helper by Victoria Kann
Our favorite pink-loving friend and her little brother want to help make the Thanksgiving feast, but their efforts are disastrous! Whatever can be done to save the celebration? Are they the worst helpers ever?
Thanksgiving in the Woods by Phyllis Alsdurf
This book recounts the true story of a family that hosted an outdoor Thanksgiving feast for more than twenty years, complete with bonfires, family and friends, faith, and– of course– food! Colorful illustrations and warm memories make the outside as cozy as a hearth
About the Writer: Kathryn Tamburri (@KathrynTamburriAuthor) writes clean YA epic fantasy novels which seethe with slow-burn romance. You can find more of her writing tips on #ThePantsersGuide and follow her new #AdventureLog on the blog at KathrynTamburri.com, and be the first to know when her novels publish by subscribing to her fun author newsletter