Natalie Cammaratta's final book in her trilogy, Fractured & Renewed brings back Serenity Ward and her group of rabble-rousers to face the aftermath and the fallout from their actions following the uprising.
If it's been a while since you read the second installment, Scattered & Breaking, I suggest you refresh your memory using the character list at the beginning of book three. Cammaratta has built a rich world with numerous supporting characters, and you'll want to keep them all straight. This vast cast of characters has numerous opportunities for back-stabbing, corruption, betrayal, alliances, reconciliation, and even romance, which the author uses to its full potential.
Hooked from the beginning.
Fractured & Renewed – the finale to this amazing series– opens with the ruling family of Montica split between leveraging power over the remains of Kaycie and being kept prisoners in their own cells. Kaycie has been leveled, the marshals have been released from the prison in their own minds, and Serenity and Bram are left as husks of their former selves. The personal losses of book two will be hard to overcome for the reader and the rebels of the uprising.
Characters you can't forget.
While reading, one can't help but imagine seeing these characters on the big screen, surrounded by all the glitter and gadgets that engage the reader's imagination throughout the storyline. My favorite part of this series is the unique ways the author uses both the environment and technology of her world as background characters. The great care taken to craft Kaycie and the surrounding lands stands out in each book in the series.
The character arcs will leave the reader satisfied. Fractured and Renewed is exactly as advertised; the group of rebels has been broken in spirit, and only by coming together to rid Montica of Ismene Agnar, its ruling director, can they renew both their fortitude and their future. Will the rebels be able to regain their resolve and garner their remaining courage to save their friends? Are there enough pieces left of Serenity and Bram to revive their determination to rid Kaycie and the other realms of corrupt and unjust rule? Can there be peace? The Agnar family will not relinquish power easily.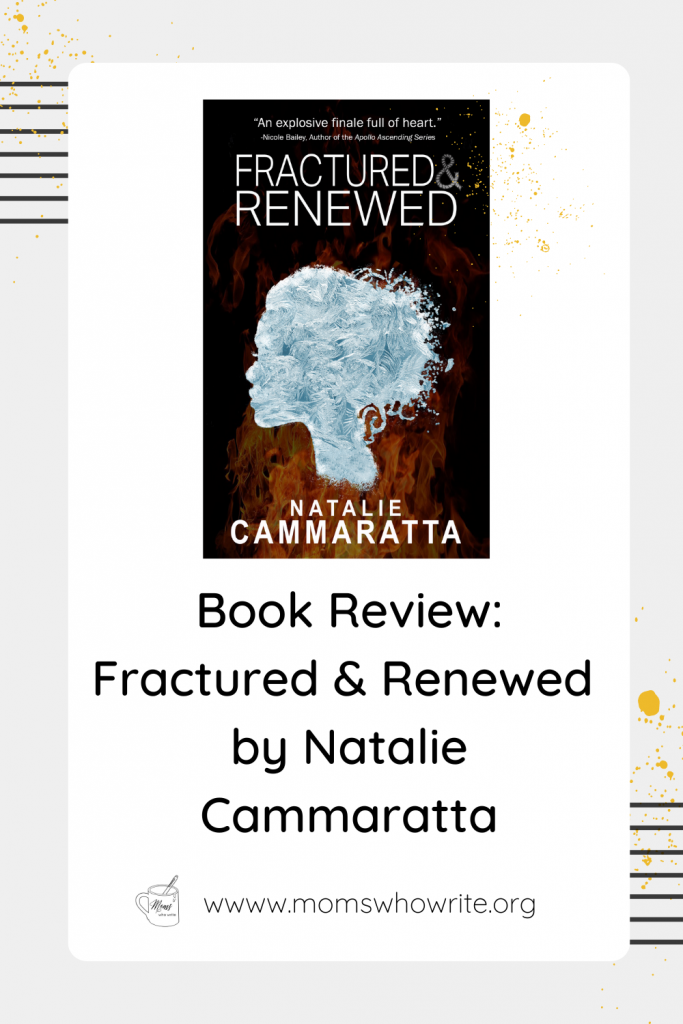 Can you find the Easter eggs?
I'm embarrassed to say it took until halfway through book three for me to catch that Kaycie, the original center of the series, is a play on K.C., or Kansas City, the town in which Cammaratta lives. She has hinted there are a few other Easter eggs for locals to find in her collection. If you are familiar with the area, be on the lookout.
Don't get too comfortable!
This wouldn't be a Natalie Cammaratta book without a few major surprises. Without giving away any spoilers, let's just say she has no qualms about putting her characters and her world through the wringer. I will admit that I may have become a bit too involved in the past two books, actively cursing Ms. Cammaratta out loud and in memes for the things she did to her world and its inhabitants, but I will consider book three as her public apology. As in life, things turned out the way they were meant to be, and who am I to argue with that?
Buy Fractured & Renewed and the whole series
Fractured & Renewed really lived up to the hype. This series is perfect for fans of YA dystopian fiction in The Hunger Games and Divergent tradition. With strong female characters, fabulous settings, intriguing gadgets and technology, and mind-altering pharmaceuticals, Fractured and Renewed will keep you entertained as it takes your heart on a treacherous journey from despair to serenity.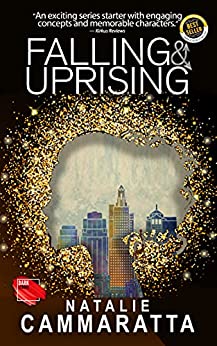 About the Writer: Jill Robinson is a wife, mother of two, athlete, speech-language pathologist, and lover of all animals. She loves the outdoors and singing off-key in the car. Writing brings her peace. You can follow Jill on her author blog, Instagram, and Twitter.
We want more book reviews from our members!
Have you read a book by a Moms Who Write member that you're dying to share? Let us help!
Click here for the blog submission form to submit a review of a fellow mom writer's work to feature on our website. Contact us if you have any questions.
*Disclaimer: This blog contains Amazon Affiliate links. As an Amazon Associate, we earn from qualifying purchases to help generate more resources and opportunities for our writing community. We appreciate your support.