Women's Fiction/FemLit is not my normal "cup of tea," and after reading Ground Control by K.A. Hough, I see where perhaps this is in error. The Sci-Fi vibes of a voyage to Mars were enticing, but as with most books in the Lights Out Ink catalogue, this genre-blending work has introduced me to something unexpected.
Ground Control delivers a message well understood by anyone who has sacrificed in order to support a loved one's dreams. Though our globe-trotting protagonist originally heralds from Canada, Sarah's plight resonates as an oft-heard conversation among my girlfriends in the southern U.S., and I imagine hits a note for academic, military, and fame bound "sidekicks," as well. Who is she outside of her spouse?
A journey of sacrifices from a wife and mother
Uncertain of her goals and content to follow her husband, Grant's, career, Sarah Harper has incidentally settled into the role of trailing wife and mother with ease. She understands and clings to her "systems," compartmentalizing (with extreme prejudice) any actions she takes that fall outside her defined scope (this is me avoiding spoilers!). When Grant's biology career offers the once-in-a-lifetime opportunity to lead the lab on a shuttle to Mars, he barely hesitates. Sarah, on the other hand, really struggles with the decision to leave everyone she has ever loved behind again, and for good this time.
Less science fiction and more science future, the story takes a very fresh character and relationship-centered approach to an otherwise explored "adventure" tale. Sarah is not your typical hero, nor does the idea of being a pioneer even particularly appeal to her. Through Sarah's eyes, we feel both her aimlessness and understand what's important to her: the story often languishes on details of her children's lives (I found it delightful that they were such developed characters, rather than props), hobbies that seem less to enrich her time than to fill it, and most importantly, her strong relationships with other women.
Beautiful and strong female relationships
The depictions of female friendship throughout this novel abandon the caricature hallmarks of jealousy and cattiness, instead opting for supportive, encouraging bonds. Like a hot cup of tea in a favorite stoneware mug, these true-to-life experiences were a real treat.
In fact, author K.A. Hough's wielding of relationships is the highlight of this novel. We learn everyone through Sarah's experience–from Grant's distracted brilliance (which sometimes flirts with negligence) to her closest friends' sugar-coated advice, we understand Sarah's blindspots by what she chooses to see and hear.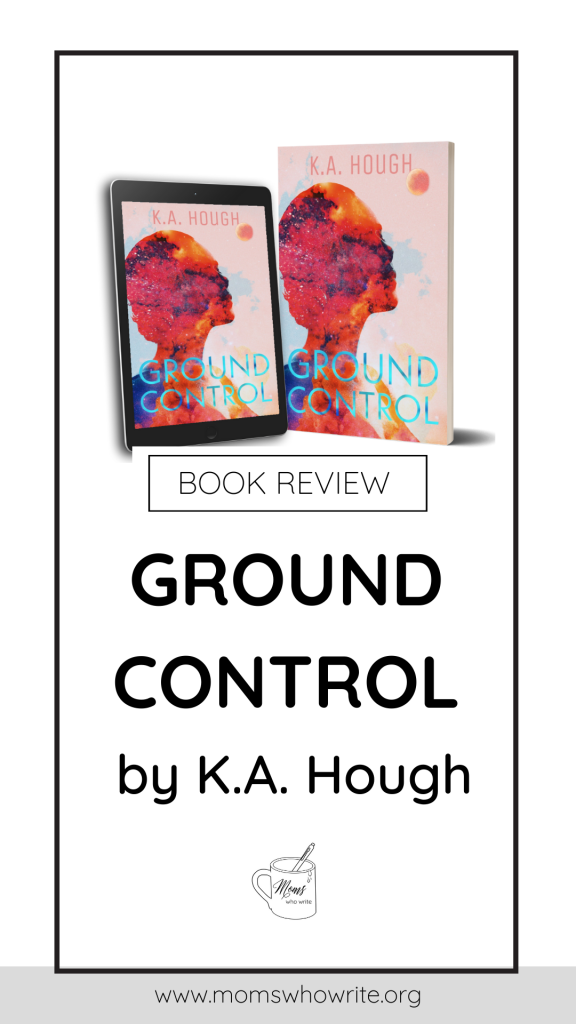 A spectacular build-up to an incredible journey
Though take-off doesn't occur until the mid-point, the seeds thoroughly planted by Hough mean that we really know Sarah before she embarks on her journey to the stars. And boy, does the story take off!
Grounded in realistic science and absent any cliche desire to add excessive dramatic flair, Murphy's Law alone sends Sarah on the adventure of a lifetime. Everything is tested, and for the sake of avoiding spoilers, I'll just say that the tension and dread Hough stokes kept me itching to discover where exactly this journey would lead until the very last page.
Add Ground Control by K.A. Hough to your library!
Highly recommended for fans of either Women's or Science Fiction genres looking to "expand their horizons!" Find Ground Control by K.A. Hough on Amazon and check out the book trailer here:
We want more book reviews from our members!
Have you read a book by a Moms Who Write member that you're dying to share? Let us do it for you! Click here for the blog submission form to submit a review for consideration to feature on our website. Contact us if you have any questions.
About The Writer: K.M. West liked to create worlds readers can get lost in, writing stories for people who want to believe in magic and like to have their hearts broken. Her debut novel, Wild Things Will Roam, is available now online everywhere books are sold. When she's not writing, she's a mom of two, cover and graphic design artist, gym owner, and IT professional. Follow West on Twitter and Facebook for more.
More About K.A. Hugh: K.A. Hough is a Canadian writer and editor who balances her passion for exercise and science with her love of cookies and nonsense. She has a voracious appetite for reading, especially for rediscovering the classics: everything from Austen to du Maurier and Atwood to Wilde, as well as modern humorists like Douglas Adams and David Sedaris. Her guilty pleasures are Mammy Walsh and Inspector Poirot.
She lives with her husband, three far-too-energetic kids, and a codependent dog. In her spare time, she writes stories and personal essays, teaches boot camps in the parks, and drinks tea.
Her first novel, Ground Control, was published by Lights Out Ink press in April 2021.