I'm a sucker for historical fiction and will proudly admit to being an 'old soul' born in the wrong century. I'm also a lover of mysteries, novels that keep you guessing until the end. The debut novel Rising Water by Casandra Chesser was a perfect mix.
A mysterious southern tragedy
In the first chapter, we learn about a gruesome crime at the Stonehill Estate in Georgia. The year is 1898, and a devastating hurricane has just blown through the coastal communities. However, some of the bodies found in the aftermath may not have been victims of the storm. Cassandra reveals just enough to get you hooked, crafting a haunting narrative that keeps you turning pages.
I think I'll go to 1896 Boston
Casandra then takes us into the grand world of Boston socialite Gemma Roberts. As an eligible young woman entering the courting season, the stress of finding a husband is insufferable. Forced to endure an extravagant life of balls, dinner parties, and social calls, Gemma is less than thrilled by the competition of Boston courtship.
Aside from sparring with the other Boston socialites, Gemma must seek a husband worthy enough to fulfill her father's high expectations. Just when she's decided she'd rather live a life of solitude, she meets the mysterious William Bennett, who is a handsome sugar tycoon from Georgia and the heir to Stonehill Estate.
Lost in the romance
At one point, I was so involved in the romantic potential between Gemma and William I almost forgot about what was to come. When the couple finally departed Boston, I was once again engrossed in the tragedy of Stonehill Estate. There, we meet the rest of the Bennetts; a respected family deeply rooted in the sugar cane industry, with a peculiar history of tragedies. Gemma cannot help but investigate.
As if the characters were right there
One of my favorite parts about Rising Water by Casandra Chesser (aside from the mystery) was the authentic dialogue between characters. I've groaned through many books on account of awkward conversations, pulled right of the story by forced interactions. Cassandra's dialogue has a spectacular way of pulling you in.
Her characters speak with period-appropriate language, which made me feel like a witness to the plot, not a reader. I could almost feel the uneven cobblestone paths of Boston beneath my feet. Then I was walking alongside Gemma as she bustled around the city. I was walking the ground of Stonehill Estate, sugar cane stalks brushing against me as I eavesdropped on secret conversations.
A mystery worth picking up
Crafting a believable mystery can be challenging. Your reader may find your plot boring if you give up too much too soon. However, if you hide too much and drop a bomb at the very end, your reader feels tricked.
Cassandra does a beautiful job of feeding you bits and pieces of this haunting tale until the final chapters. As soon as Gemma arrived in Georgia I was racing through to the end. I had to know more about the haunting history of Stonehill Estate, the ghostly whispers at night, the scratching noises from behind the walls. Casandra did not disappoint.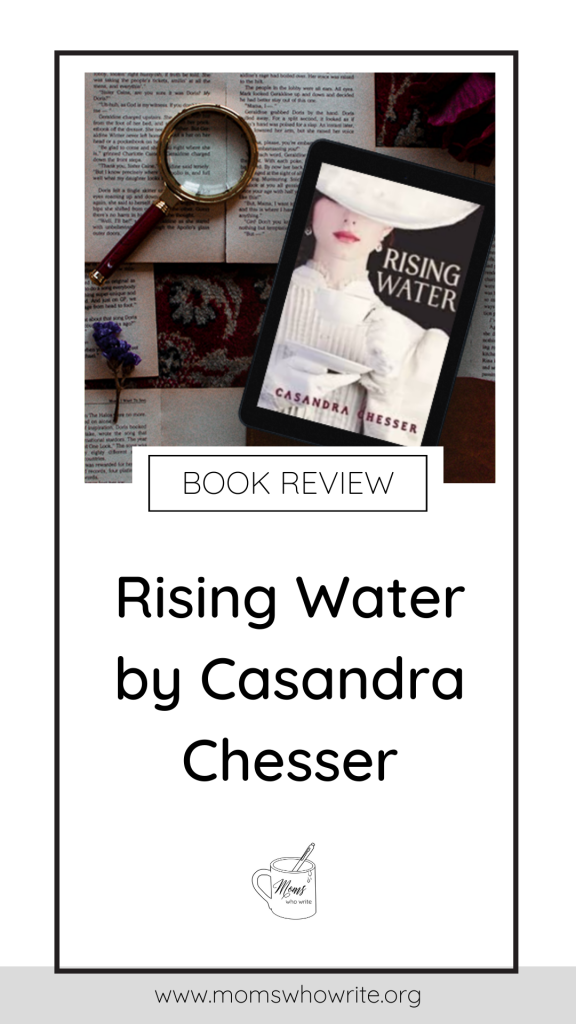 Pick up Rising Water by Casandra Chesser
If you're looking for a historical mystery to curl up to this winter, add Rising Water to your list. For more information on Casandra Chesser, follow her on Instagram.
We want more book reviews from our members!
Have you read a book by a Moms Who Write member that you're dying to share? Let us do it for you! Click here for the blog submission form to submit a review for consideration to feature on our website. Contact us if you have any questions.
About the Writer: Shell Sherwood is a poet, fiction writer, freelancer, and creator of silly children's stories who could live on coffee, pastries, and romantic tragedies. She lives in Hudson Valley, NY, with her three boys and aspires to own a small writing getaway in every climate. Shell is currently working on her debut poetry collection. Learn more about Shell and follow her writing journey via her author blog, Instagram, and TikTok.