In a previous blog, we discussed simple steps to creating your very first sales funnel for your books. I gave you very specific steps followed by actionable examples of different sales funnel strategies. The end point of a sales funnel, of course, is the purchase. But what if the purchase itself could become the automated sales funnel towards the next purchase?
We want newsletter signups on the way through our funnel because they enable us to encourage purchasing and reviews, as well as informing past customers when new material becomes available. Yet, many of our readers may find us incidentally through Amazon, Goodreads, or other venues. So, how can we make those customers into repeat customers if they weren't funneled through our newsletter?
It's actually really simple.
Check out this customer flow chart.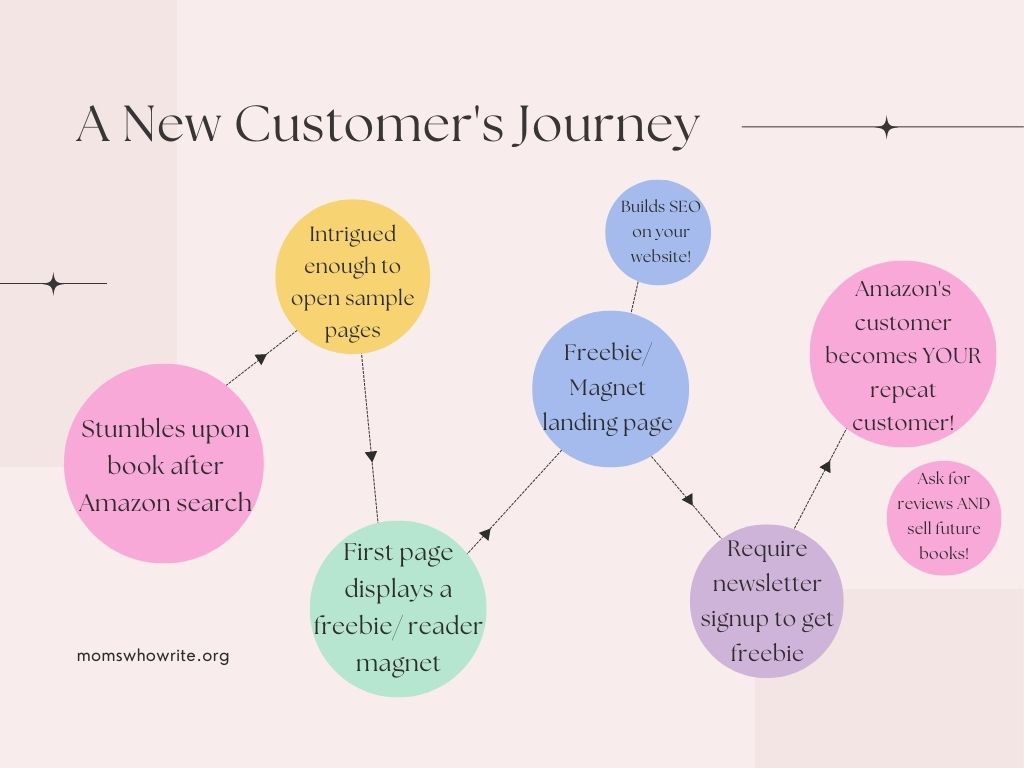 Now, let's talk about how to make this automated sales funnel happen.
Starting a new automated sales funnel with your existing book
Obviously, the point of this sales funnel is to start at your book. The end of this sales funnel will hopefully land you not only the sale of the book itself, but reviews on the book to gain you more sales (and favor with the algorithm). Plus, gaining newsletter subscribers is statistically the most effective way to directly reach potential buyers with your future work. Already have additional work out there? Then feel free to use your subscription confirmation page or automated follow-up email to let your new subscribers know!
Now, this funnel is specially tailored to people who find your book organically. They don't know your name, they weren't referred by a friend, they didn't encounter an ad on social media. They typed something into a search bar, and your book was one of the results that popped up. To maximize your chances of being found this way, make sure you start by optimizing your keywords to get super searchable. That's step one.
Step two: start backwards.
Make sure you have a landing page where customers can sign up to your newsletter for access to the freebie. This page should enhance interest for the freebie as well as briefly pitching the newsletter itself. That's the shortest bit; for now, they're here primarily for the freebie, so make sure they want it enough to hit subscribe.
If you can, try to make sure you collect first names, as dynamic subject lines get more clicks. There are so many ways to use the confirmation message to your advantage, but make sure the customer knows to check their email for that freebie. Set up an automated welcome email that includes the freebie or the link to it, and don't be afraid to ask for whitelisting.
FYI: Mailchimp signup forms integrate very well in WordPress, but some of us find the Mailchimp site overwhelming. You can use a free service like Zapier to automatically transfer information from Mailchimp forms to your MailerLite account. Now you won't have to manually transfer contact lists but you can still take advantage of Mailchimp integration!
Step 3: Connect the dots
On the first page included in the Amazon sample, offer your freebie. That freebie can be as simple as an extended sample (perhaps the whole first chapter). It can also be a bonus related short story, the prologue of the sequel, a printable guide, anything you think will intrigue the reader enough to check it out. The first page of your ebook can include this as a clickable link to the landing page you built; the print version will necessitate a web address someone can type in.
Don't have a website yet? Is your web presence in flux while you figure things out? Keep flexible by directing that link/address to your linktr.ee! Linktr.ee allows you to set up a list of clickable links, so a customer there can choose to go directly to the freebie, or explore a few of your blogs or social media pages. Emphasis on FEW—keep the focus where it's most beneficial: on the freebie and newsletter signup.
And there you have it: an automated sales funnel from one book to the next
Customers who open your book sample now have a reason to sign up for your newsletter. Some mail services even allow you to set up timed automations, perhaps a few weeks apart; take advantage of it! You can follow up to thank customers and solicit reviews. You can follow up with jotform surveys to ask how they felt about the freebie or what they'd like to see in the future. Most importantly, you have a direct line to somebody who has already expressed interest in what you have to offer.
The possibilities are endless.
About the Writer: Kathryn Tamburri (@KathrynTamburriAuthor) writes clean YA epic fantasy novels which seethe with slow-burn romance. You can find more of her writing tips on The Devo Blog at KathrynTamburri.com, and learn from her publishing journey by subscribing to her fun author newsletter!