Last week was the birthday of legendary author Ernest Hemingway. And while we're a little late to the party, we would be remiss—as a blog for writers by writers—to ignore the day entirely.
A Brief Bio
Ernest Hemingway was born on July 21, 1899 in Illinois. His writing journey began in high school where he worked for his school newspaper and pursued journalism after graduation.
He served overseas in World War I, where many of his adventures would become the basis for his critically acclaimed novels. He married twice before returning to the US and settling in Key West, Florida. During this time, he wrote A Farewell to Arms.
In 1937, Hemingway became a war correspondent in the Spanish Civil War, where he met wife number three, who was also a reporter. That time constituted the basis for For Whom the Bell Tolls.
In 1941, he became a war correspondent in World War II, where (you guessed it) he met wife number four, who was (right again!) also a reporter.
He published The Old Man and the Sea in 1951, arguably his most famous work and for which he won the Pulitzer Prize. Three years later, he won the Noble Prize in Literature. But through all this, he suffered terribly from a slew of health issues as well as depression. Ultimately, he succumbed to the latter and committed suicide on July 2, 1961.
Ernest Hemingway Days
Hemingway and Key West are two peas in a pod. He lived there from 1931 to 1939 and had quite the reputation for sporting, partying, and heavy drinking. He has become so entrenched in the Key West culture that this area holds annual Ernest Hemingway Days every July around his birthday.
These days consist of events that celebrate the life and work of an iconic man. Naturally, there's a Hemingway Look-Alike contest in the often-frequented hangout of Hemingway himself. Additionally, there's a three-day marlin tournament to celebrate Hemingway's love of deep-sea fishing. During these days, the winner of the Lorian Hemingway Short Story Competition is announced. This year-long competition is run by Hemingway's author granddaughter.
Ernest Hemingway and Short Stories
Hemingway has a handful of classic novels under his belt. However, he has a wealth of short stories, too. In his lifetime, he published seven short story collections. An additional twelve were published after his death.
Many critics and historians believe his writing style stems from having written so many short stories. In shorter works, writers have to be more intentional about their words. They have to choose what should be left unsaid in order to make the most impact.
This style is clear in Hemingway's longer works, which says a lot to those of us struggling to pack a concise punch in our writing. Perhaps we should take a page out of Hemingway's book and practice saying less by literally writing less.
Book Plug
Obviously, Hemingway has many titles to his credit. But one of my favorite titles is actually about Hemingway. Hemingway's Girl is a fictional story of a Cuban-American girl who is hired as a maid by Hemingway's second wife. Set in balmy Key West in the 1930s, readers get to encounter the (fictionalized) Hemingway of that era through the eyes of one young woman. There's tension. There's passion. There's a beautiful tropical backdrop and depth to a man whom many of us admire.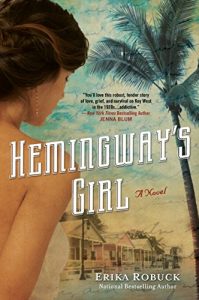 How will you learn from this legend?
Will you take the short story plunge and attempt to pack in all the symbolism with a fraction of the words? Will you go on more adventures and keep a notebook for future novel ideas? We'd love to hear your ideas in the comments!
That's all she wrote!
About the Writer: Brigid Levi is a freelance writer and editor based in the Philadelphia area. She has three children, a husband-child, and a dog. When she's not freelancing or working on her own writing, Brigid can be found under all the blankets with coffee, tea, or wine (depending on the time of day) and a sweeping historical fiction novel. She hopes to publish her YA fantasy/adventure novel in the near future! Find out more about Brigid on her website.
*Disclaimer: This blog contains Amazon Affiliate links. As an Amazon Associate, we earn from qualifying purchases to help generate more resources and opportunities for our writing community. We appreciate your support.