In honor of International Women's Day, we wanted to highlight some of the most outstanding female authors in the history of words. And because we are Moms Who Write, it felt only natural to brag about famous author moms!
These amazing women beat the odds of their time to produce unforgettable contributions to the literary world. And they did it all while raising children. They are an inspiration to mom writers everywhere. Their lives may not have been perfect, but their words changed the world.
Famous Author Moms
Agatha Christie (1890-1976)
Considered one of the greatest writers of all time, Agatha Christie was an English author and also a mother! She gave birth to her only child in 1919, three years after publishing her first mystery novel, The Mysterious Affair at Styles. Two years later in 1922, she published her second novel. Agatha Christie received the Mystery Writers of America Grand Master Award and also wrote the world's longest-running play: The Mousetrap. Her works include 66 detective novels,14 compelling short stories, and several other works written under the pseudonym, Mary Westmacott.
Mary Shelley (1797- 1851)
Mary Shelley was an English novelist and significant influence in the early Gothic and horror genres. She was best known as the writer of Frankenstein. However, she also wrote several other works including novels, short stories, travel journals, and biographies. Mary Shelley was a devoted mother with a traumatic history of child loss. Though pregnant five times, only her last child survived until adulthood.
Ursula Le Guin (1922-2018)
Ursula Le Guin is one of the most influential authors in the genre of speculative fiction. She's often named among writers such as Robert Heinlein and J.R.R. Tolkien. She was a mother of three who wrote over twenty novels, hundreds of short stories, poetry, children's books, and works of literary criticism. Ursula Le Guin was famous for writing pieces pertaining to hot button topics of her time, such as religion, gender, environmental issues, and other social subjects considered taboo. Her two best-known works include The Left Hand of Darkness and A Wizard of Earthsea.
Betty Friedman (1921-2006)
Another badass mother of three, Betty Friedman was an American author whose work became a platform for sparking the 20th-century wave of feminism. Betty Friedman was a leader in the women's movement as a writer and an activist. At the beginning of her career, she lost her journalism position after she became pregnant with her second child. As a result, she went on to work as a freelance journalist which eventually led to the creation of her most famous piece of literature: The Feminine Mystique.
Maya Angelou (1928-2014)
Maya Angelou was an American poet, memoirist, civil rights activist, and mother of one. Over the course of her career, she received several prestigious awards, including 50 honorary degrees. She was also the first black woman featured on the U.S. quarter! In a career that spanned over 50 years, Maya Angelou published a long list of autobiographies, poetry collections, books of essays, television shows, movies, and plays. Her best-known work was I Know Why the Caged Bird Sings published in 1969.
Toni Morrison (1931-2019)
Toni Morrison was a renowned American novelist and winner of the Nobel Prize in Literature while she raised three children. She published her first novel, The Bluest Eye, in 1970 as a single mother of two sons. Two years after her second child was born, she became the first black woman senior editor in the fiction department at Random House. Throughout her career, Toni Morrison wrote 10 fiction and 7 non-fiction novels, three children's books, and two plays.
Margaret Atwood (1939-present)
Margaret Atwood is a bestselling Canadian author best known for her works The Handmaid's Tale and Alias Grace which were both published after she became a mother. She is an international novelist, poet, literary critic, essayist, teacher, inventor, and more. Currently, at 82 years old, Margaret Atwood continues to write. Her most recent book, Dearly, is a poetry collection published in November 2020.
Diana Gabaldon (1952-present)
New York Times bestselling author Diana Gabaldon has a very unconventional journey to writing. While teaching scientific computation at Arizona State University, this mother of three decided to write a book to see if she could. She never intended to publish it, but she finished it–she had written Outlander. For the next 30+ years, she wrote eight other books in the series plus a handful of novellas and scientific articles. Diana Gabaldon serves as a co-producer and advisor on the hit TV series based on her novels. Her son has followed in her footsteps and is also a writer.
Jodi Picoult (1966-present)
Jodi Picoult is the #1 New York Times bestselling author of 28 books. She's also a mother of three. Four of her books were turned into TV movies and two into feature films. Additionally, Picoult has written two YA novels with her daughter Samantha. She has numerous literary awards, including a lifetime achievement award for mainstream fiction from the Romance Writers of America. Her most recent book, Wish You Were Here, tackles the resilience of the human spirit during a global pandemic and has been picked up by Netflix. She's also co-written a novel called Mad Honey which is set for release in October of 2022.
Colleen Hoover (1979- present)
Colleen Hoover is one of our favorite authors here at Moms Who Write. This young adult fiction, romance, and psychological thriller writer has topped the #1 New York Times bestseller list more than once. As a mom of three, Colleen Hoover started off her writing career not even being able to afford her own laptop. She took a chance on writing her first novel Slammed in 2011 and uploaded it to Amazon on a whim. It took off and she is now the author of 17 novels that have sold over 4 million copies. One of our favorites to debate is Verity, a psychological thriller she indie published.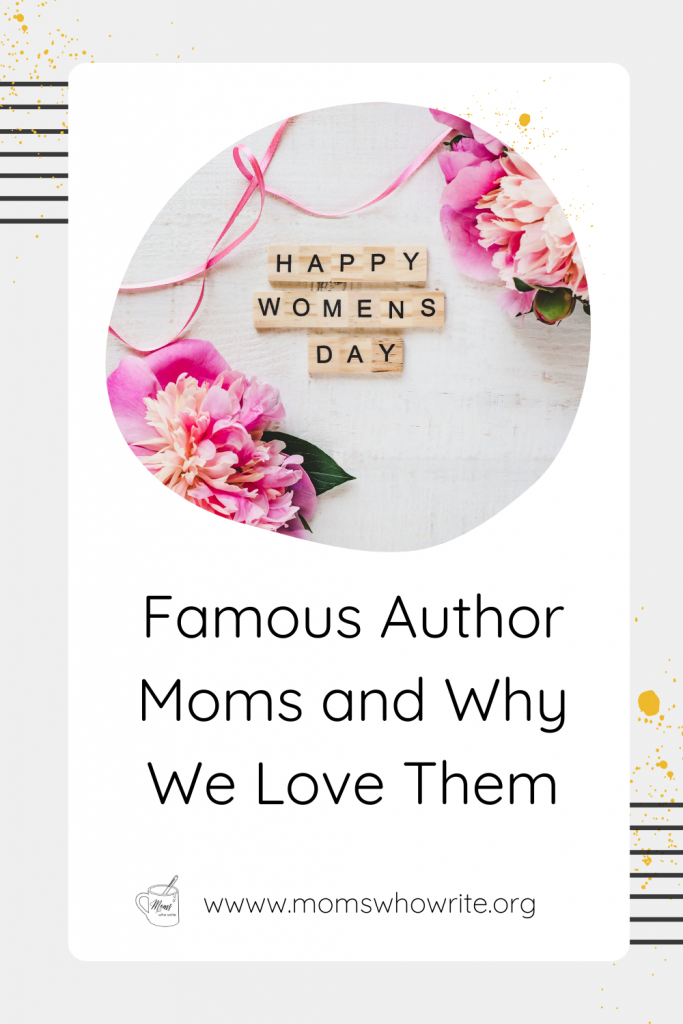 Share your favorite famous author moms!
Don't see your favorite author mom on the list? Drop a comment below! Tell us why you love this author and the title of your piece. Happy reading!
About the Writer: Shell Sherwood is a poet, fiction writer, freelancer, and creator of silly children's stories who could live on coffee, pastries, and romantic tragedies. She lives in Hudson Valley, NY, with her three boys and aspires to own a small writing getaway in every climate. Shell is currently working on her debut poetry collection. Learn more about Shell and follow her writing journey via her author blog, Instagram, and TikTok.