Next up on our punctuation journey: semicolons. How the heck do you use a semicolon? It's not quite a comma or a period, so what are you supposed to do with it?
Don't let semicolons discourage you! Once you understand their function, you'll find the best places to utilize them in your writing.
What does a semicolon do?
A semicolon ( ; ) is a period on top of a comma, but you can't necessarily use it in place of either. They're stronger than a comma but not quite as final as a period, which sounds frustrating. But hear me out.
In its most common usage, a semicolon joins two independent clauses without using a conjunction like "and." Each sentence can stand on its own with or without the use of a semicolon. So, should you capitalize the word following a semicolon?
Not usually. If the word following a semicolon is a proper noun, then yes, you should capitalize it. Otherwise, the word should remain lowercase.
How to use a semicolon
We just learned that a semicolon joins together two independent clauses. More often than not, that is the best use of this punctuation. However, there are some other ways to use a semicolon. The following are the semicolon rules:
A semicolon joins two related independent clauses.
Remove the conjunction between clauses if using a semicolon.
Use a semicolon in a serial list.
Use a semicolon with conjunctive adverbs.
Let's explore the rules to get a better understanding of how to use a semicolon.
A semicolon joins two related independent clauses.
You can't just use a semicolon willy-nilly. (Well, you could, but editors will frown upon it.) In reality, a semicolon should join two related sentences. In other words, the two sentences should be logically connected.
ex. Monica has book club tonight; she won't be home for dinner.
In this example, you can see that each clause is complete with a subject (Monica; she) and a predicate (has book club tonight; won't be home for dinner).
You could technically replace this (or any) semicolon with a period, capitalize "she," and have two grammatically correct sentences. However, it would read differently. The beauty of the semicolon is that it allows for a different interpretation—a slight pause, if you will.
Why can't I use a comma instead?
Hoo, boy. Okay. You cannot replace a semicolon with a comma because otherwise, you'd have a comma splice. As an editor, comma splices make my eye twitch. Please, don't make my eye twitch.
Yes, a comma also creates a pause when reading a sentence, but there are rules for when to use a comma. In the case of the above example, you would need to use a coordinating conjunction if you wanted to use a comma. But again, that changes how you read the sentence.
When tempted to use a comma to create a pause, first check that each phrase is complete, and then use a semicolon instead.
Remove the conjunction between clauses.
If you place a semicolon between two independent clauses, then a conjunction is unnecessary. You use a semicolon instead of a conjunction.
Incorrect: Noah built an ark; and it rained for forty days and nights.
Correct: Noah built an ark; it rained for forty days and nights.
Grammarly has a neat hint about semicolons: "You need a comma plus something to avoid a comma splice. That something can either be the right conjunction or the period that turns a comma into a semicolon."
Just as a semicolon can join together related clauses, it can also display contrasting clauses. In this case, you'd use a semicolon to replace the conjunction "but."
ex. Betty drinks her coffee black; I like creamer in my coffee.
Just because two contrasting thoughts don't mean they can't be related. Don't be afraid to use a semicolon to display a contrast.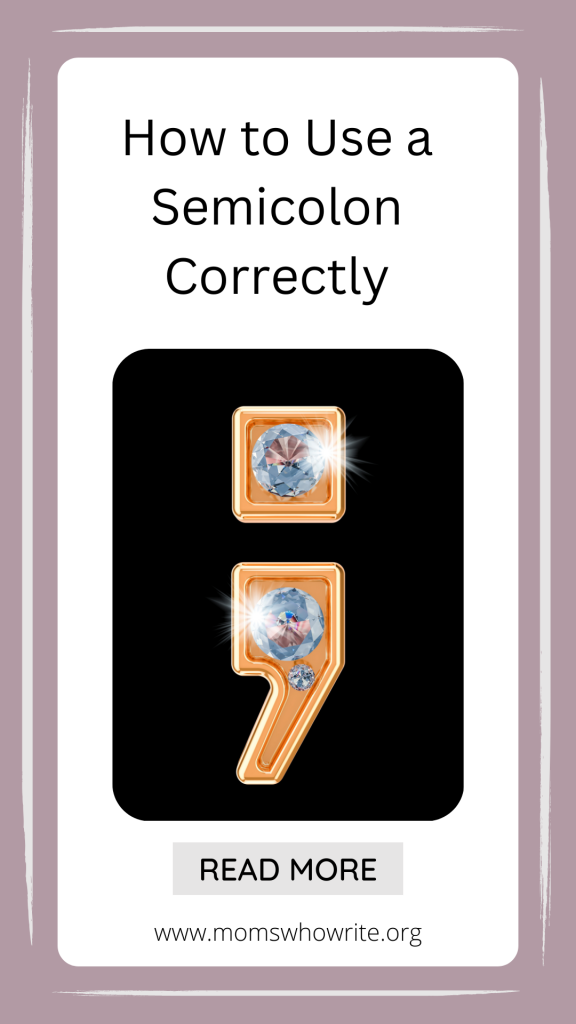 Use a semicolon in a serial list.
Typically, commas are used to separate items in a list. However, semicolons can be used in lists under certain circumstances. You would use a semicolon in a list with internal punctuation or if the list contains long phrases.
ex. I visited the following cities on my trip: London, England; Dublin, Ireland; and Edinburgh, Scotland.
ex. Our date included dinner; a trip to the theater to see My Fair Lady; and finally, a walk in the park, which, in my opinion, was the highlight of the evening.
You can see in both examples how the semicolons help the reader keep track of the listed items. If all of these semicolons were commas, then the sentences would be much more difficult to read.
Use a semicolon with conjunctive adverbs.
When using a conjunctive adverb to link two independent clauses, you should use a semicolon. Some common conjunctive adverbs include however, also, otherwise, therefore, nevertheless, then, likewise, and finally.
ex. I need to go grocery shopping; also, I need to make a birthday cake.
ex. Semicolons can be hard to master; however, you can learn with practice.
ex. My son slept in my bed because he had a nightmare; therefore, I didn't get much sleep.
This adverb rule is similar to the conjunction rule in that the two joined phrases must be independent clauses. Conjunctive adverbs can appear in different parts of a sentence. Make sure each phrase can stand on its own; otherwise, the semicolon rule won't apply. (See what I did there?)
Semicolon Summary
That's pretty much it for semicolons. They don't have a lot of rules, but their function can still seem abstract. Hopefully, this breakdown helps you fight your fear of using semicolons in your writing.
That's all she wrote!
About the Writer: Brigid Levi is a freelance writer and editor based in the Philadelphia area. She has three children, a husband-child, and a dog. When she's not freelancing or working on her own writing, Brigid can be found under all the blankets with coffee, tea, or wine (depending on the time of day) and a sweeping historical fiction novel. She hopes to publish her YA fantasy/adventure novel in the near future! Find out more about Brigid on her website.
Book Highlight: The Elements of Style
The fourth edition of The Elements of Style by William Stunk Jr. and E.B. White is just as relevant to writing now as it was when it first came out. It's one of my favorites, and I highly recommend it if you want to elevate your writing game. Take a look!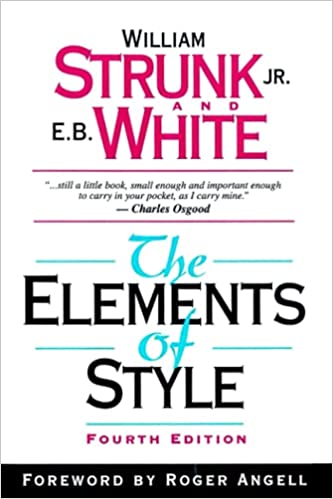 *Disclaimer: This blog contains Amazon Affiliate links. As an Amazon Associate, we earn from qualifying purchases to help generate more resources and opportunities for our writing community. We appreciate your support.