Many businesses turn to Canva to breathe life into their brand and promote their social media presence. But can writers use Canva to do the same? Of course! Canva is a fantastic (and fun) resource for your writing business. Here's how to use Canva and the basics you need to get started.
How to use Canva 101
What is Canva?
Canva is an online graphic design tool. It has built-in templates to design things like social media posts, website and blog banners, posters, logos, and even book covers! These templates are pre-sized in the most common dimensions used for each project. Although, you do have the option to create a custom dimension.
Types of Canva packages
Canva has three price packages: Canva Free, Canva Pro, and Canva Teams. For most writers, Canva Free and Canva Pro are the best options. Canva Teams is a plan for two or more people who need or want to collaborate consistently on graphic design projects.
Canva Free
Canva Free is—you guessed it—free! It offers the following for its users:
250,000 plus template options
Over 100 types of designs (social media posts, logos, etc.)
More than 1 million free graphics and photos
5GB of Cloud storage
The ability to share your design with collaborators who can then edit with permission
The option to print certain projects and ship them to you
Cava Pro
Canva Pro is meant for a single user, though you still have the ability to share with a collaborator. It offers everything that Canva Free does, plus more. You get more template options, designs, videos, audios, and graphics in addition to the following:
100 different Brand Kits to build your company's brand
House different projects in an unlimited amount of folders.
The ability to resize designs (In Canva Free, you have to make a design completely from scratch if you want it to be the same on a social media post and a poster.)
The ability to schedule content to eight different social media platforms (In Canva Free, you have to download the project to your computer and schedule the image yourself.)
24/7 customer support and more!
Canva Teams
As mentioned above, Canva Team is great for groups of people who want or need to collaborate on marketing projects. It's great for small businesses (we use it with our team) or if you want to split costs with other authors to get all the features from Canva Pro.
Canva images and fonts
Whether you have Canva Free or Canva Pro, all graphics, photos, fonts, and templates are visible to users. When you hover over the icon, a text box will appear that says "FREE." If you don't see that text box, it means you have to pay to use that image or font.
It's usually not much, but you can often find something similar for free. It may just take a little digging. The price will show up when you go to save and/or download your finished project.
Why is Canva a good tool for writers?
Canva is ridiculously easy to use, especially if you build off of a template that already exists. For all businesses—writer's included—a social media presence is necessary. Canva is a great tool that makes it easy to create and maintain an author's social media presence.
Maybe you don't think of yourself or your writing as a business, but it is. If you want people to read your book, you need to develop an online audience to market to. If you're a freelance writer, editor, blogger—whatever—an online presence helps you gain clients. It's the not-so-fun side of being a writer, but Canva really does help.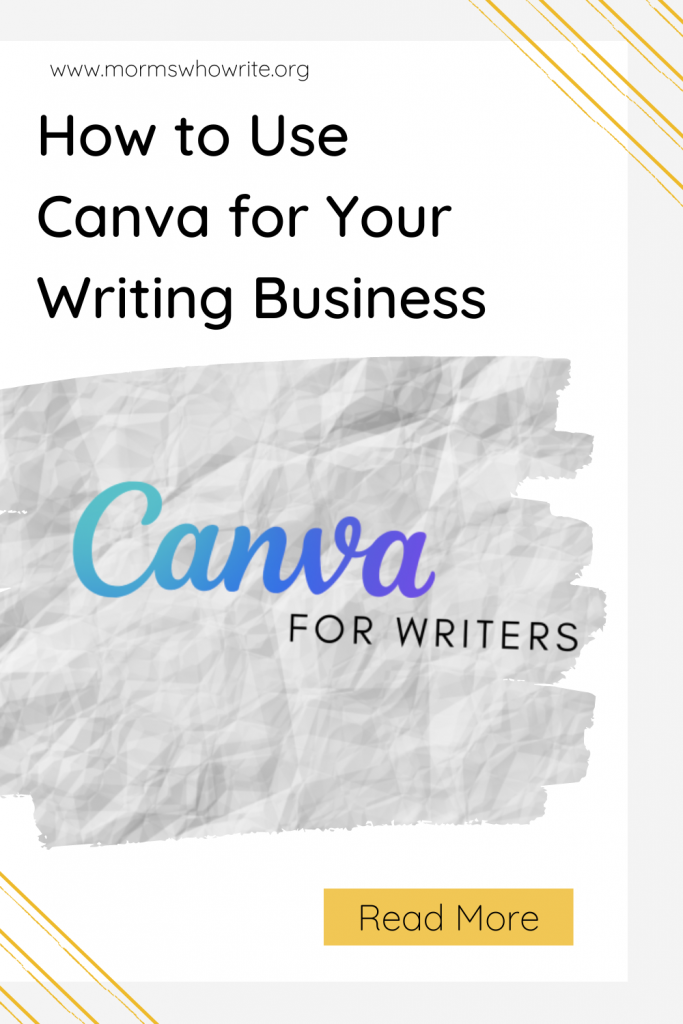 Creating content for your social media platforms is so easy with Canva. And if you're not yet making a profit from your writing, the zero cost of Canva is a no-brainer. You get professional-looking graphics for the price of FREE! These graphics keep your audience engaged and take hardly any time to create. Plus, playing on Canva is just plain fun!
Summing up How to Use Canva
You have the free option. You have the pro option. You make pretty designs and post them to your social media platforms, and voila! You can add 'graphic designer' to your resume.
Have you used Canva for your writing business? If not, what questions can we help you answer?
About the Writer: Brigid Levi is a freelance writer and editor based in the Philadelphia area. She has three children, a husband-child, and a dog. When she's not freelancing or working on her own writing, Brigid can be found under all the blankets with coffee, tea, or wine (depending on the time of day) and a sweeping historical fiction novel. She hopes to publish her YA fantasy/adventure novel in the near future! Find out more about Brigid on her website.
*Disclaimer: This blog contains Amazon Affiliate links. As an Amazon Associate, we earn from qualifying purchases to help generate more resources and opportunities for our writing community. We appreciate your support.