For National Poetry Month, we've been exploring some of the most useful terms poets can have in their tool bag when it comes to describing and discussing poetry. We started with the question "What is poetry, anyway," then we began to explore the three basic ingredients of poetry, beginning with sound devices. This week, we'll take a look at ingredient number two: poetic form.
When we talk about the "form" of a poem, we're talking about the set of rules a poet uses to create a poem. Form can be very strict and use specific guidelines (like a sonnet or pantoum), or it can be loose with few rules and regulations (like free verse). Knowing the terms to identify and describe poetic form will help you communicate about poetry more clearly, including your own. Here are a few important ones.
Rhythm & Meter
Rhythm is the verbal beat or pace of a poem. Meter is how the rhythm of a poem is measured in stressed and unstressed syllables. All poems have rhythm to some degree, influenced by the way the words roll off the tongue. But meter is a more formal, intentional beat created by choosing specific words to fit a stressed and unstressed syllable pattern.
There are many, many poetic meters used in western poetry–far more than could reasonably be covered here–but before your eyes glaze over, let's look at one of the most famous meters: iambic pentameter. One line of iambic pentameter is ten syllables long, with five pairs of stressed and unstressed syllables. That might sound hard to spot, but iambic pentameter actually creates an easy to recognize rhythm: ba-DUM, ba-DUM, ba-DUM, ba-DUM, ba-DUM.
For a really clear example of rhythm and meter, take a look at William Shakespeare's Sonnet 18. Read it out loud and notice how each line uses that ba-DUM pattern. (I'll capitalize the accented syllables for the first two lines to make it really obvious.)
Shall I comPARE thee TO a SUMmer's DAY?
Thou ART more LOVely AND more TEMperATE:
Rough winds do shake the darling buds of May,
And summer's lease hath all too short a date:
Sometime too hot the eye of heaven shines,
And often is his gold complexion dimm'd;
And every fair from fair sometime declines,
By chance or nature's changing course untrimm'd;
But thy eternal summer shall not fade
Nor lose possession of that fair thou owest;
Nor shall Death brag thou wander'st in his shade,
When in eternal lines to time thou growest:
So long as men can breathe or eyes can see,
So long lives this and this gives life to thee.
Metrical Poetry & Free Verse
Speaking of meters leads us naturally into defining the two main form categories of poetry: metrical poetry, which is poetry that uses metered lines, and free verse, which is poetry that does not use metered lines.
Up until the turn of the twentieth century, almost all western poetry was metrical. This changed with the modernists, who shunned many of the literary traditions that came before them and threw out the rule books on poetic form. Many–if not most–of the poets who write today choose the flexibility of free verse over metrical poetry. Shakespeare, Wordsworth, and even Poe wrote metered poetry; Rupi Kaur, Billy Collins, and Mary Oliver favor free verse. (If you want to read one of the early free verse poets who really had fun with form, go read some E.E. Cummings.)
The final terms we'll discuss today all relate to how the poem looks on the page. It's pretty easy to look at a poem next to a block of prose text and know which is which. Here are some of the words that help us describe the difference.
Line & Stanza
In prose, we're used to talking about sentences and paragraphs. In poetry, we use line and stanza instead.
A line is a section of poetry contained in a single row of text. A stanza is a grouping of two or more lines together, set apart from the rest of the poem (think verse of a song). For example, go back to our last post on poetry terms and look at Robert Frost's poem "Stopping by Woods on a Snowy Evening" to see how it's broken up into stanzas (bonus points if you take a minute to decide if it's metrical or free verse).
Finally, let's talk about line breaks. There are two ways to break a line of poetry:
End-stop
If you end your line with an end-stop, the line stops with the natural ending of a sentence, phrase, or clause. The easiest way to spot end-stopping is to look for punctuation. For example, all the lines in the sonnet above are end-stopped. Each line contains a thought and ends with the natural flow of the words.
Enjambment
Enjambment is the opposite of end-stopping. Instead of ending a line in a grammatically logical place, enjambed lines continue the sentence or thought beyond the end of a line (or even stanza). There are a few reasons a poet might choose to use enjambment in a piece, including ending a line to match the meter or rhyming pattern of the poem, or to emphasize the meaning or draw attention to a particular word or phrase.
Here's an example of poetry that uses almost all enjambed lines, E. E. Cummings' poem "Spring is like a perhaps hand."
Spring is like a perhaps hand
(which comes carefully
out of Nowhere)arranging
a window,into which people look(while
people stare arranging and changing placing
carefully there a strange
thing and a known thing here)and

changing everything carefully

spring is like a perhaps
Hand in a window
(carefully to
and fro moving New and
Old things,while
people stare carefully
moving a perhaps
fraction of flower here placing
an inch of air there)and

without breaking anything.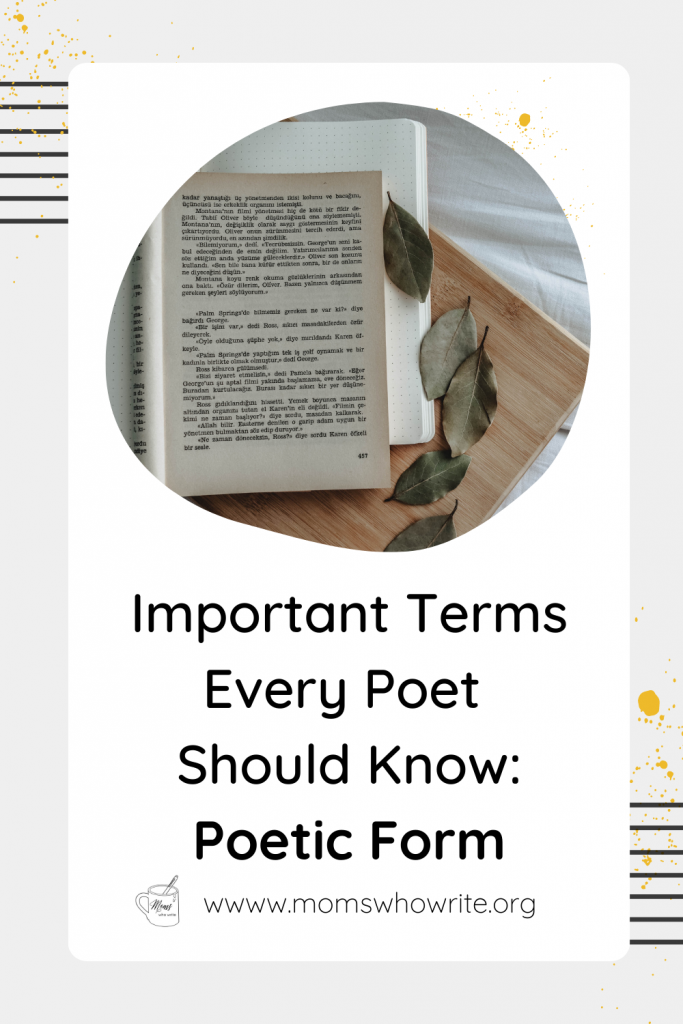 What type of poetic form do you use?
And that's all we're going to discuss about poetic form today, but we're curious: What type of poetic form does your work tend to follow? Share in the comments below! We'd love to hear more about your writing and to connect with more poets in our community.
Tune in next time to talk about the final ingredient of poetry: meaning.
About The Writer: Abby is a writer of fiction and poetry who joined the Moms Who Write team in November of 2021. She's a homeschool mom of three who loves to teach writing and literature on the occasions she can be torn away from puttering in her garden and binge-reading whatever strikes her fancy. She lives in a rural town in Central Illinois with her husband, three kids, two cats, a guinea pig, and six chickens. To read more of Abby's writing and to find her social media links, please visit her website at www.abbyharding.com.