We've been planning for months and trying to figure out how to formalize some of the things we've been doing in our group for the past year. Our community is incredibly supportive, growing larger by the day. But we wanted to provide our members more. Enter: Moms Who Write on Patreon!
What is Patreon?
Patreon is a subscription-only platform for creatives that will allow us to provide a bulk of new resources and fund some really cool upcoming projects. It's also an opportunity to build a tighter core community for those looking for more one-on-one brainstorming and resource building. 
What will a MWW Patreon membership get me?
We all have different writing goals and needs, with varying budgets to support us on our journey. With Patreon, we'll be offering three membership tiers at $5, $9, and $20 a month. Here are some of the perks we're starting with, but certainly not the only ones to come.
Tea Drinker Membership ($5/per month)
Our entry-level tier is the perfect opportunity for mom writers looking for more concentrated support to reach their writing goals:
Monthly Resource Guide: Every month, all of our members will get a specilizzed resource guide covering topics of interst related to writing. This could include SEO web presence, social media, posting guides, craft resources, and more. The sky's the limit.
Members Only Discord: Discord in an amazing opportunity to connect on a deeper level with our members. We love discord. Here we connect, support eachother, advise oneanother, and talk about all things book and writing related.
Monthly Submission Email: We'll send all our members a monthly email of submission calls to help you find publication opporunties for your work. You need to get your writing out there, and sometimes, all it takes in an opportunity to fall in our inbox.
Coffee Drinker Membership ($9/per month)
By leveling up to our second tier, Coffee Drinker Members get all of the resources listed above plus some fun perks:
Monthly Live Conversation: Every month, the MWW Admin Team will provide a live session really digging deep into the Monthly Resource Guide and how to apply it to current writing goals.
Etsy Shop Discount: Coffee Drinker members will get a 10% discount on the Moms Who Write Etsy shop.
Espresso Aficionado Membership ($20/per month)
Finally, our top tier is the whole shebang! Espresso Aficionados have access to everything above and some more personalized resources to up their author game:
One-Time Social Media Consult: Social media is…brutal. But it's a heck of a lot easier when you know what you want to say, where you want to go, and how to do it. Espresso Aficionados will get a one-time written social media evaluation with Allie to dive deep into your marketing goals.
Small Group Sessions: Access to monthly small group Q&A discussions on social media marketing goals and struggles.
Etsy Shop Discount: Espresso Aficionado members will get a 15% discount on the Moms Who Write Etsy shop.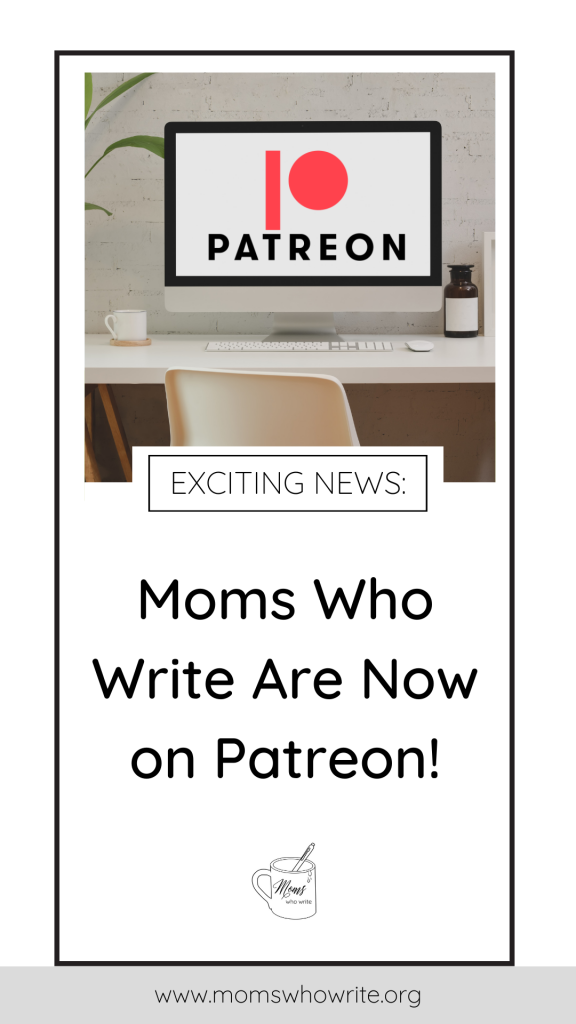 Come Join Moms Who Write on Patreon
If you'd like to support us, get access to some cool stuff, and keep learning and growing together, join us! We cannot wait to see what this year brings.
About the Writer: Shell Sherwood is a poet, fiction writer, freelancer, and creator of silly children's stories who could live on coffee, pastries, and romantic tragedies. She lives in Hudson Valley, NY, with her three boys and aspires to own a small writing getaway in every climate. Shell is currently working on her debut poetry collection. Learn more about Shell and follow her writing journey via her author blog, Instagram, and TikTok.