Valentine's Day–the day for love. The day to celebrate your love interest, the love of your life. To sing about the love that drives your passion and lights a fire in your heart. Are you thinking about the same love as us? I'm sure you are. Today we celebrate…our love for writing.
We all have that moment, that year, that project, when our love flame for writing was officially lit and never went out. Once just a simple task of putting words on paper, writing became THE thing for us. In honor of Valentine's Day, the Admin Team has opened our hearts to share how we fell in love with writing, and why it's made us so lovesick ever since.
Admin Team writing love confessions…
"My love affair with words."- Allie Gravitt
My love affair with words began out of desperation. Writing was the only thing that helped all the noise in my head make sense. It taught me how to navigate myself. To slow down. To understand things that felt overwhelming.
It was there for me as a therapist and best friend. Words were the foundation of my marriage. Of my friendships. Of my confidence. The act of arranging letters and words into sentences and paragraphs is nothing short of magic, creating order where madness reigns.
Creation requires sacrifice, much as love does. It requires presence. It demands my tears and my blood and my time, but I'm able to see the beauty of pain through the clarity of language. It gives more than it takes, and it makes me better.
"There is something so satisfying about words flying across the screen…"- Emmy Seal
I have always been told that my imagination is bigger than life. Sometimes, that got me in trouble, but mostly it meant I could make up the grandest stories. Whether it was playing out scenarios with my Barbies, or making the neighborhood kids put on plays while I fed them their lines, there was always a story in my head.
Some ideas flowed from start to finish without a hitch; some took work then rework. I can't remember a time when my mind didn't wander and explore "what would happen if…"
I love telling stories in many forms, but my favorite is writing. Words are such a powerful tool. There is something so satisfying about words flying across the screen, worlds coming to life with the stroke of a keyboard, emotions being laid out in black and white.
"The words were waiting inside of me for a vessel of release."- Brigid Levi
I can't pinpoint the day I fell in love with writing, but I remember the exact moment when the relationship began. One day, when I was maybe in third grade, I bought a little spiral-bound notebook with Eeyore on the cover from the Disney Store and decided to write. I couldn't tell you why I decided that, but I filled up that notebook with moral stories. Then, I got another notebook and another. One day, I got smart and got a laptop. The words were waiting inside of me for a vessel of release. And I gave it to them. And they haven't stopped since.
"Writing was a chore, a class assignment, and nothing more."- Rose Jay Rigby
I do remember enjoying writing stories in school when I was younger. There was a specific one about a kingdom that I was particularly proud of in fourth grade. I thought I was legit when the teacher handed them back to us and they were spiral bound. It's probably in my mom's basement to this day. But I think maybe my how and why I fell in love with writing is a little different.
I only wrote what I was told to and when I was told to in school. Writing was a chore, a class assignment, and nothing more. Fast-forward to being an adult in my mid-twenties and finding my love of reading. That is what brought me to writing. I thought, "Surely, I can create stories that people would like to read, characters that people would fall in love with."
I was always a creative person. I loved creating things using different mediums. Writing was another medium, another tool in the box. Do I love writing now? Yes. I enjoy creating and sharing the worlds I build in my head. I love the characters living in them. I love telling stories.
"I don't love writing, but I do love them."- S.R. Logan
I don't love writing so much as it feels like something I have to do. Almost like breathing. Giving shape to the worlds and people in my mind feels magical and, at times, empowering, but it is also a daunting task. My characters feel like people to me—very loud, demanding people who are begging me to tell their stories to anyone and everyone that will listen. They want to be known, remembered, loved. Who am I to tell them no? I don't love writing, but I do love them. So I write.
"I'm lucky to have fallen into this next chapter of my life."- Jill Robinson
Unlike most people here, I didn't grow up dreaming of being an author. Sure, I wrote the occasional story as a child, and yes, I have an overactive imagination, but I never considered actually writing something for others to read. I loved reading, though, all sorts of stories. I belonged to a book club where we actually read and discussed the books.
I fell into writing. I came across an open call for stories about dogs, wrote something up, and it was accepted and published. From there, I had the confidence to submit a few pieces that were published online. I felt unstoppable.
Now, a year later, I'm editing the first draft of a novel-length piece, I'm in the midst of publishing a Kindle Vella story, and I'm a small part of this amazing cohort of writer moms. Once the writing bug bit me, its venom spread through my veins into every crevice of my body. I'm in my mid-forties, and here I am, beginning a second career I didn't even know I needed.
Life is funny that way. I'm lucky to have fallen into this next chapter of my life. Keep yourself open to new opportunities and never believe it's too late.
"I had to fill every single space…but it was never enough."- Shell Sherwood
The earliest memory I have of loving to write was in second grade English studies. That's when I was first introduced to the little blank, white books–the good ones, with the hardcovers. Every time I held a blank book in my hand, my creative brain went into overload.
By fifth grade, I was filling those books to the brim: taping in extra pages, writing on the back cover, starting on the inside cover, skipping the title page. I had to fill every single space…but it was never enough. I started writing more at home, delving into poetry and songs. It was my favorite thing to do, at the time.
I gave up writing for a while as an adult. Life happened, and creativity didn't seem very important at the time. I wrote for work and college papers, but not in my personal life. No matter what job I filled, my bosses continuously delegated writing assignments to me, to the point where I changed my career to freelance writing. It wasn't until 2020 that I sat back and realized I missed loving to write. The little white books, the creative energy. I wanted it back. That's how I knew I was really in love and that I needed to make creative writing a priority again.
"My life wouldn't be complete without it now."- Amélia Cognet
At twelve years old, I read all the Goosebumps by R.L. Stine. I knew I wanted to write then and create my own series of scary stories. The problem was my ideas seemed to be a bit darker than the ones in Goosebumps. At thirteen, I read my first Stephen King book, and it was a revelation. I proceeded to binge-read his novels while beginning to write my own heart-pounding stories just like him.
I stopped writing for a long time until I started again about three years ago. My life wouldn't be complete without it now. It brings me peace and joy, especially now that I'm a mom. When I get to sit down and write, the real-life struggles disappear to leave place for my made-up, crazy, exciting worlds.
"It's something God put in me, and there's a reason for it."- Kathryn Tamburri
The truth is I have to write. My brain gets all full, clogged up, and bursting when I can't get my stories out. I'll never get it all out on paper, but I've got to at least have a pressure valve. I get depressed when I can't write; it makes every day seem the same and like nothing is moving forward. I can't stand still; I have to be going in a direction or I go crazy.
I have to write. It's something God put in me and there's a reason for it. Quitting just isn't an option, I guess.
So now, I stop guilting myself about the time I spend on it, the mental distraction it sometimes is, and all of the other things calling for my attention that I'm not getting to while I type. All that is important, but I am allowed to have this one thing.
Well, this one thing…and chocolate.
"How could you not fall in love with that?"- Holly Catherine
I didn't know love until I wrote my first character, brought my first setting to life, titled my first written work of art. To be able to craft a world to escape in. To be able to lose yourself, no matter how hard life might be in the moment. To experience a full range of emotions from elation to sorry, and everything in between. How could you not fall in love with that?
"I found that, by writing, I could safely process the hardest parts of being human."- Abby Harding
Like a lot of writers, I fell in love with writing at a young age. I wrote and illustrated my first story at the age of 7 and showed it off to anyone who would look. A few weeks later, our tiny local newspaper interviewed my family, and the journalist must have found me relatable because my book was mentioned in the article. And there it was: confirmation that I was a writer and validation for being one. I was hooked.
I filled notebook after notebook with my own stories, fanfiction, and poetry. I found that, by writing, I could safely process the hardest parts of being human. I could escape real life and walk around in someone else's (much cooler) shoes. The best was still the validation, though: every time a teacher told me I was good at this, I tucked that away, delighted to be recognized for something I loved to do.
I wrote my way through college and grad school (where I predictably studied English and writing), but then I graduated. And I just… stopped. I still don't have a good reason why. Maybe it was fear. Maybe it was depression, or an unrealistic expectation to only write perfect things (no shoddy first drafts for me). Or all of the above. Almost a decade later, what brought me back to writing was a story I had to tell. As it trickled out of my fingers over the course of four years, I rediscovered what I loved about writing, what will keep me writing: exploring the difficulty of being human.
Oh, and the validation still helps. Every time my writing touches someone–when they feel seen, or it challenges them to grow–that little seven-year-old clutches her first full story and glows with pride.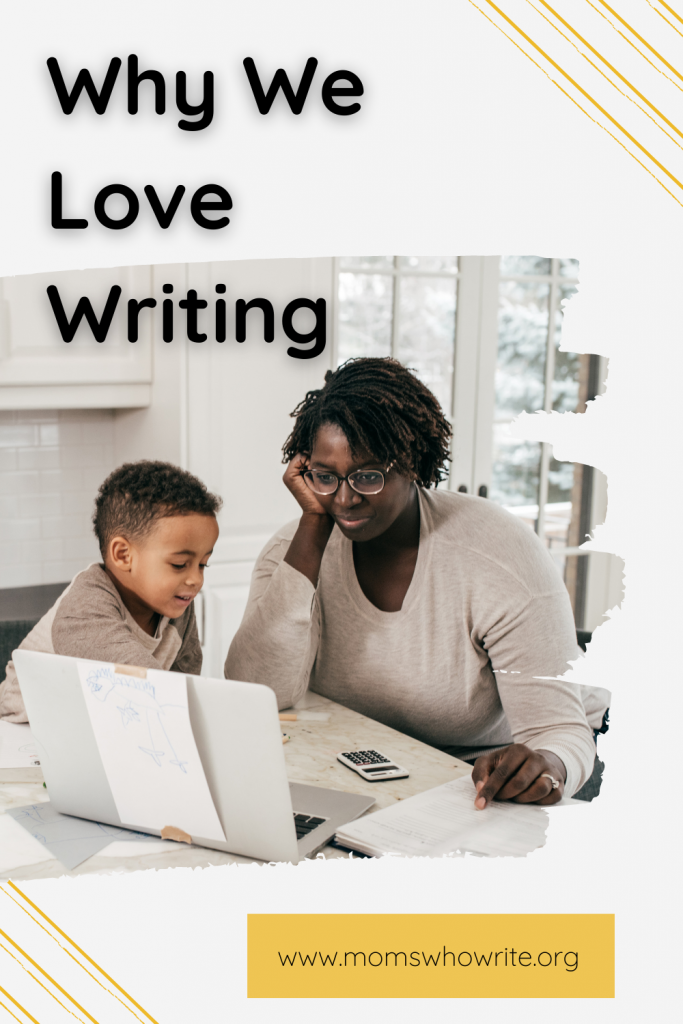 How did you fall in love with writing?
We've asked the question in our group before: Why do you write? But now we want to know when it all started. When was it that you realized writing was your passion? When did you figure out that you'd rather pick up a pen or a laptop than do most other things? Drop a comment down below or join the discussion on our Facebook group!