Laptops are amazing and can be useful when writing on the go. But what if you can't always take them with you? And what if all you have is your phone or your iPad to work on? Instead of having to use your keyboard on the phone or tablet (which we all dread) investing wireless or Bluetooth keyboards might be a better choice!
There are so many options out there, you are bound to find one that you like. Whether you go with a small, medium, or even a larger Bluetooth keyboard, there is definitely something for everyone. Some with lights, some that sound like a typewriter, others that fold, and still others with colored keys. When you look online, it is a whirlwind of keyboards, so where do you start?
Read the reviews
Amazon is one of the biggest sellers; the best part is the reviews. Yes, I know some of them aren't true, but mostly there are some great reviews. And even though it may take a while, take a look at them before you buy. You want know about the good and the bad before you decide which keyboard will work best with you, not against you.
Word of mouth
Oftentimes, word of mouth reviews are better than random Amazon comments. If you are in a group, like Moms Who Write, asking others what they use, their pros and cons, and if they would buy it again is all you need. Or, if you know any family or friends who own a Bluetooth keyboard, ask them. Collecting reviews from those you know or those in a group of writers is a wonderful place to start.
Favorites from Moms Who Write
Here are a few of the keyboards we use and what we think about them! Click on the photo for the Amazon link and more reviews on these products.
Bluetooth 3.0 Keyboard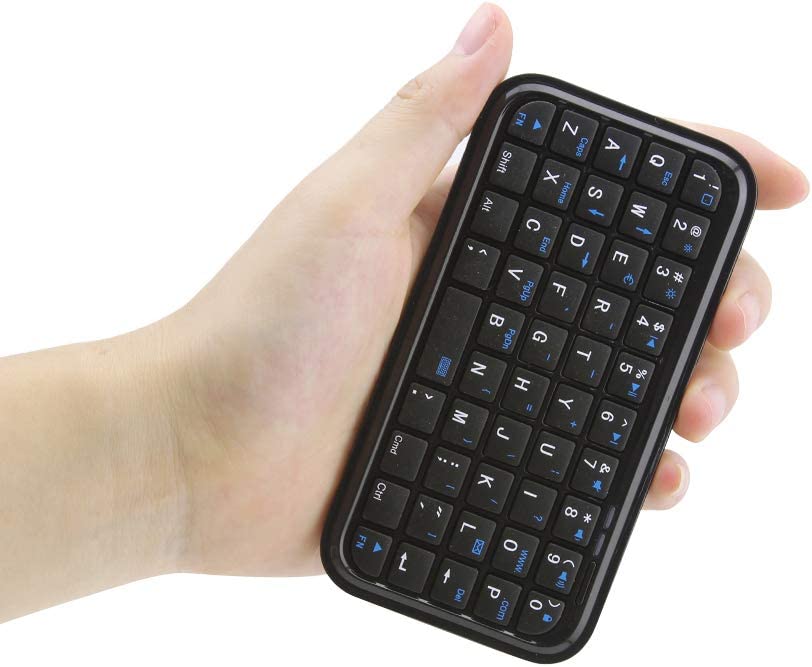 This is the portable keyboard someone suggested to use in the Mom's group. I added it to my list with a few others I liked, and after doing some more research, I decided this was the one I wanted. My husband bought it for me for my birthday, and I have to say it is tiny and fits perfectly in my purse. It takes some time to get used to since it is small, but the compact design makes it great. It is easy to link to your device and easy to use. It comes with a cord so you can recharge it when needed.
One con I personally have, though, is that it feels as if I could break it just by typing on it. I am not a hard typer when it comes to typing on my laptop, but when I use this, it creaks like it's going to break. Other than that, it's fun to have in my purse. If I don't have my usual notebook and pen, or my laptop with me but want to write, I connect the Bluetooth to my phone, open Word, and a way I go. Others who used this said it took a while to connect to their device. They had to pair it with their phone or tablet a few times.
Logitech K380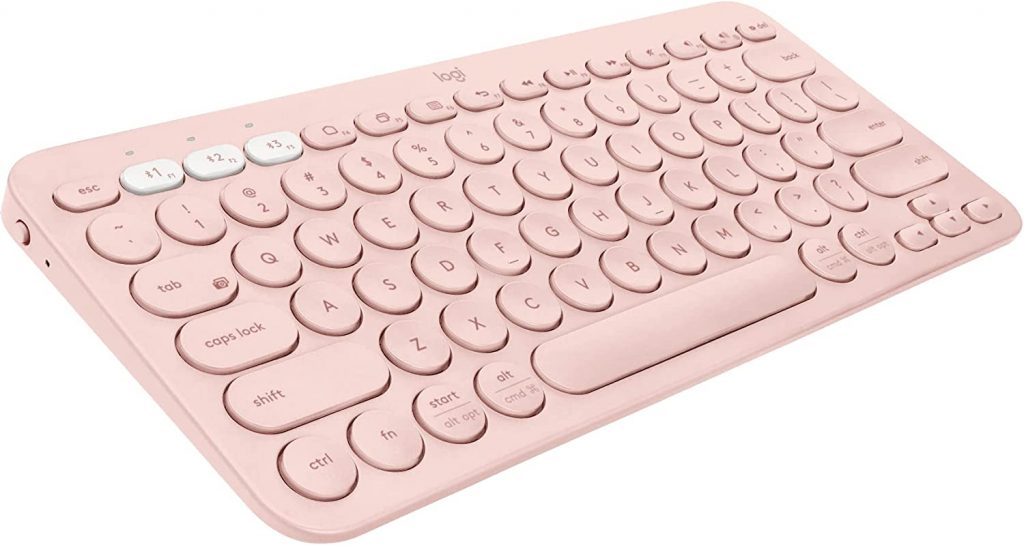 A beautiful, easy-to-use Rose Gold keyboard that seems to connect to anything. A great choice if you like the keyboard's look, feel, and ease when used on one of the options above. The keyboard is great to use, it's not as small as the last one reviewed, and it does come in other colors if Rose Gold isn't the color you want. The keyboard puts itself to sleep when not in use. A lot of reviewers are happy they can connect it to their Mac.
The cons? Some reviewers had trouble connecting their the keyboard with their device. A few reviewers said their keys have fallen off after a few weeks of use. One said it stopped working after 6 months. Keys stick after light use.
Wireless Keyboard Mouse Combo, 2.4 GHz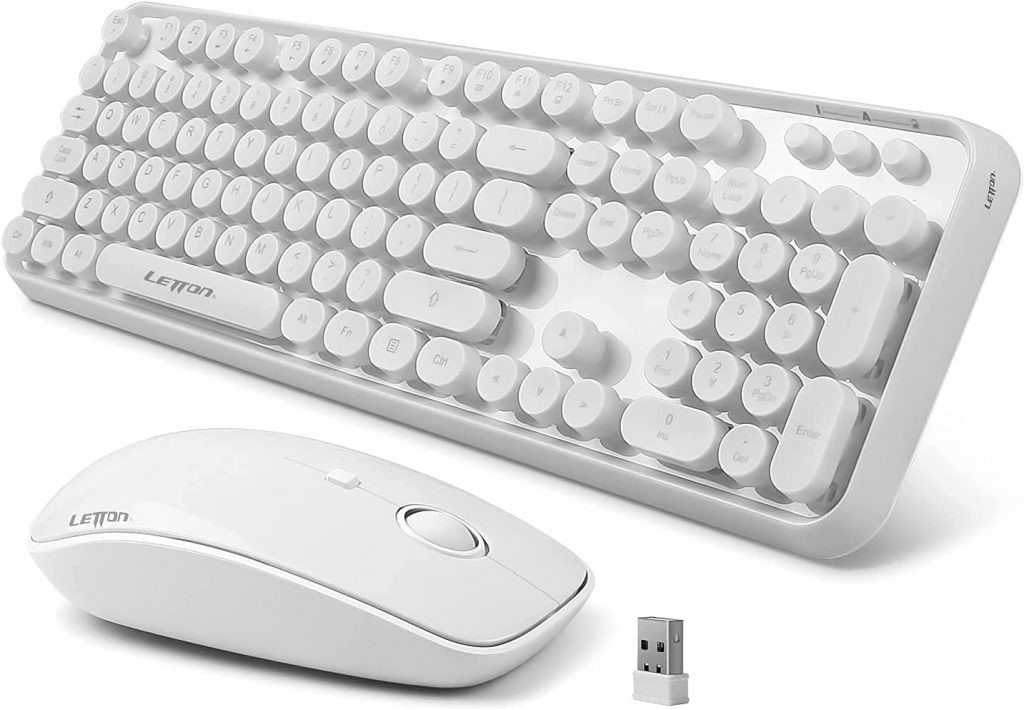 This keyboard also comes in other colors if you aren't too partial to white, but this one looks snazzy. And if you love the old click-click of typewriter keys, this keyboard would be a great one to get. It's not Bluetooth but it is wireless and also comes with a mouse. It has nice round keys instead of the usual square keys, just like those on a typewriter. It's a little bit smaller than other keyboards, so you may have to get used to handing positioning. The keys when working aren't too loud, so you can use it at home or in the office.
For the cons, a few have said that the letters on the keys are already being wiped off, and they haven't had the keyboard for very long. Some users have experienced pairing issues and a slight lag.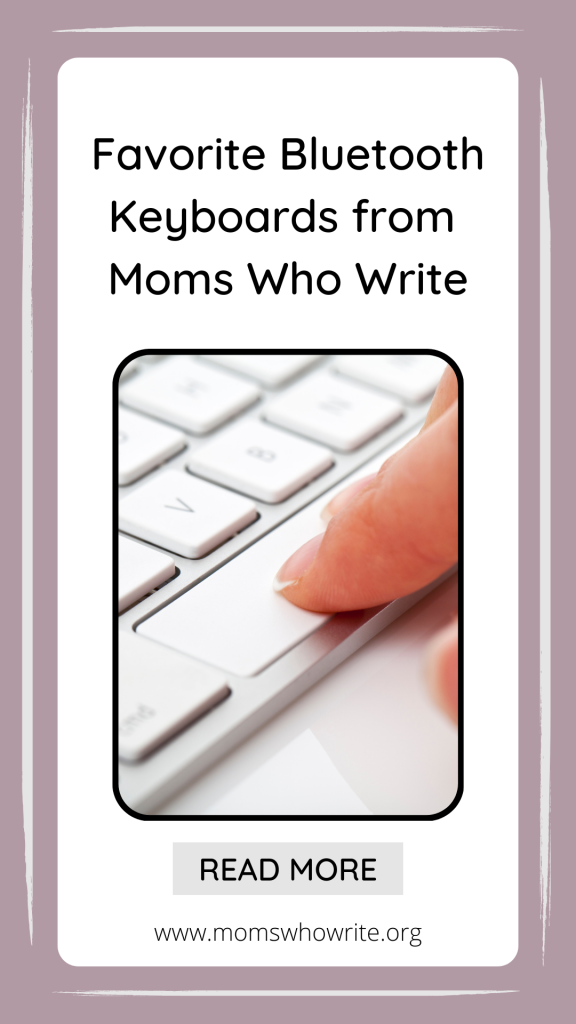 Share your favorite Bluetooth keyboards!
Good luck as you dive into the world of wireless/Bluetooth keyboards. It is a crazy world but fun to check out, even if you aren't looking for a Bluetooth keyboard at the moment. Just get some ideas, make a wish list, and when you are ready, you will already be ahead of the game for your research.
If you have Bluetooth keyboard you love, share below!
About the Writer: Lacey Gordon is a stay-at-home mom to two beautiful, funny daughters and the wife and caretaker to her medically retired Navy veteran husband. She is a retired preschool teacher of nearly 13 years. Her love for writing stories started in high school, and she started blogging in July of 2017. Her first book, Pahulu Hale – Haunted House, will be published in 2022. Lacey has 2 cats, 1 standard poodle service dog for her husband, 6 ducks, 6 guinea fowl, and several chickens. In addition to blogging and writing her own books, Lacey writes children's books for Reading Gate, a Korean ESL publisher.