One of our favorite book planning programs at Moms Who Write is Plottr. You've probably heard of these writing tools, maybe you're familiar with Plottr specifically. Maybe you even bought it but you're not sure what to do with it. Where do you start? Thankfully, teaching authors how to use Plottr isn't complicated.
Finding your perfect book planning program starts with understanding your writing style. What are your strengths, and weaknesses? Where do you thrive and how much organization do you desire? You want a program that provides features you need, not further complicate the writing progress.
In this article, we'll highlight the coolest features Plottr has to offer and cap it off with a demo video on how to use them. Finally, if you're ready to commit, snag our coupon code down at the bottom for an extra 10% off your purchase. Let's get started!
What is Plottr?
Plotting a book can be challenging. Keeping track of all your scenes, timelines, characters– your sanity. I'm constantly amazed when I think back on the libraries of books written merely with a quill and a typewriter. How the heck did these authors keep their plots so organized? During times of war and famine; without electricity or Starbucks!
Modern writers are lucky, especially with access to writing programs like Plottr.
Plottr is a fantastic visual book planning program that is perfect for novel writers. It provides user-friendly methods of arranging your plots, scenes and character arcs, with different tabs to help you visualize your story.
Do you absolutely need a visual book planning program? No, not really. Of course, you can go old school and type a full novel in Google Docs or Word, start to finish. Many authors still do. But will a program like Plottr make writing your novel less of a headache and even easier to manage? Absolutely.
The coolest Plottr features
Sorting our your plotlines and characters is an essential part of writing a novel. It's also one of the hardest parts for some and dreadfully boring for those of us who hate to plan. Like most writing program, Plottr includes a ton of features to help make your novel writing journey less stressful. Here are just a few:
Visual Story Cards
Plottr's visual story cards allows you to outline your book in the same manner as physically putting index cards up on a corkboard, only much easier. Authors can create a summary card for each chapter and multiple cards within a chapter depending on how many storylines your book requires. Storylines can then be filtered by characters, places, or tags and viewed horizontally or vertically.
Color Coordinated Story Lines
When you have a story with multiple characters, it can be hard to remember who did what, when and where they were supposed to be doing it. Plottr provides color coordinated storylines you can create for each character to keep their journeys straight. No more forgetting about a side character until you finish your book and realize they unintentionally disappeared somewhere in Chapter 7. Plottr provides a visual timelines you can easily edit and adjust to pump up those character arcs and fill in any plot holes.
Character Profiles
You want your readers to love your characters so much, they picture them as real beings existing in the world–what's more real in a modern world than an online profile? Plottr's bio feature allows users to create an bio for each character to keep track of their unique attributes, history and goals. The bios allow you track specific details often lost within the novel and even includes a linking feature to attach each scene the character appears.
Automated Outlines
This feature is pretty fricken cool. For the pantsers out there (like me) who hate to outline, Plottr has made it almost effortless. The automated outline feature generates a clean outline of your story that you can review, edit, and export based on your manuscript. You create the story, Plottr generates an outline that you can then tweak as you see fit. From there, outlines can be exported to other favorite writing programs such as Scrivener and Microsoft Word.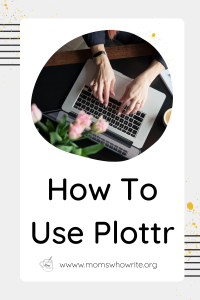 Pre-made Templates
One of my biggest struggles in novel organization is deciding how to organize it–that's about when I give up. Thankfully, for Plottr has dozens of templates for writers like me to help with story structuring, including genre specific options.
How to use Plottr demo video
We get it–you don't want to buy another writing program when you don't know if it's going to be a good fit. That's where we come in.
Two months ago, Moms Who Write did a free Plottr demo in our Facebook group. It was so popular, we did another one the next month. We love sharing resources with our members and making sure you have all the information you need to help you in our writing journey.
While exploring how to use Plottr and it's many features, writers can see first-hand if the program will be a good fit before you buy. And if you do love it, use our coupon code MWW for 10% off your purchase!
Questions on how to use Plottr?
Several of our members have downloaded and started implementing Plottr into their writing practice. If you have questions, feel free to reach out in our Facebook group to ask other moms about tips and tricks. Additionally, if you have your own tricks for Plottr, drop them in the comments below!
About the Writer: Shell Sherwood is a poet, fiction writer, freelancer, and creator of silly children's stories who could live on coffee, pastries, and romantic tragedies. She lives in Hudson Valley, NY, with her three boys and aspires to own a small writing getaway in every climate. Shell is currently working on her debut poetry collection. Learn more about Shell and follow her writing journey via her author blog, Instagram, and TikTok.