Everyone in the Moms Who Write community is an artist because we create with our words. I've seen countless frustrated posts in our group about trying to find the time to write. It's hard to be a mom and a writer. It's also okay to take a break from writing. But one thing we all need to understand is that making time for creativity is necessary.
Creativity isn't a luxury. It's a necessity.
When the world shut down in 2020, what did you turn to for solace? Movies? TV shows? Painting? Music? Writing? In times of grief, confusion, or any other heightened, negative emotion, we turn to art. The catharsis it brings is woven into our DNA.
Not only do we crave creativity as a form of catharsis, but we actually need to actively produce something creative from time to time in order to feel fulfilled.
In her New York Times Best-Selling book, The Gifts of Imperfection, Brene Brown writes on this subject. "If creativity is seen as a luxury or something we do when we have spare time, it will never be cultivated." She explains from her personal experience that when she prioritizes creativity, everything in her life works better.
Why do we stop making time for creativity?
Creativity is a natural form of expression for all humans. There is no such thing as creative people and non-creative people. Everyone has the capacity to be creative, and frankly, we all NEED to be.
Think about your kids. They sing and dance with abandon. They don't care who's watching. Give a kid a blank piece of paper and some crayons and watch their imagination spill out onto the page. Creativity is an outlet for kids. It should also be an outlet for adults.
Something happens, though, as we grow older. Brene Brown speaks to this point in her book, too. At some point in our lives, we start caring about what others think of us. We start comparing ourselves to others. We need to "be productive" to "fit in." Artsy people don't fit in. They are eccentric. They make statements.
Over time, this comparison can force us to place less value on creativity, which, in turn, causes us to spend less time creating. We can come to see the act of creating as self-indulgent, according to Brown. So we let our creativity go unused.
What happens to unused creativity?
Brene Brown says our unused creativity doesn't simply disappear. Because of its necessity to our core being, creativity is really hard to quash. Rather, unused creativity "lives within us until it's expressed, neglected to death, or suffocated by resentment and fear."
I've seen countless posts in our group of members expressing their frustration at this point. How do I make the time? Why doesn't my partner or family understand my need to create? And so on and so forth.
It's probably because they've let their own creativity suffer. They no longer have the ability to understand its necessity. But for those of us still asking these questions, it's imperative that we don't ignore our own creativity. We don't want to become those people. We want to live our fullest lives, and that involves producing art.
Creativity expresses our originality.
Alright, so we need to get over the comparisons. Easier said than done. But if we know that comparing ourselves is a part of our lives, then we need to be mindful of it. We need to be constantly aware when we're doing that. Because, according to Brown, "comparison is the thief of happiness." Without happiness, how can we express ourselves through creativity?
Brown goes on to say this:"The only unique contribution that we will ever make in this world will be born of our creativity" and "If we want to make meaning, we need to make art."
Think about your writing. That is unique to you. It is your voice, your words. Your writing comes from inside of you and is completely original to you. You may think your idea or plot is similar to someone else's already-published book, which may be true. But unless you're copying their words exactly, your writing belongs to you.
Many published authors exude pride over their work, and rightfully so. That piece of work is a physical manifestation of themselves. Nothing else like it exists because no one else like them exists.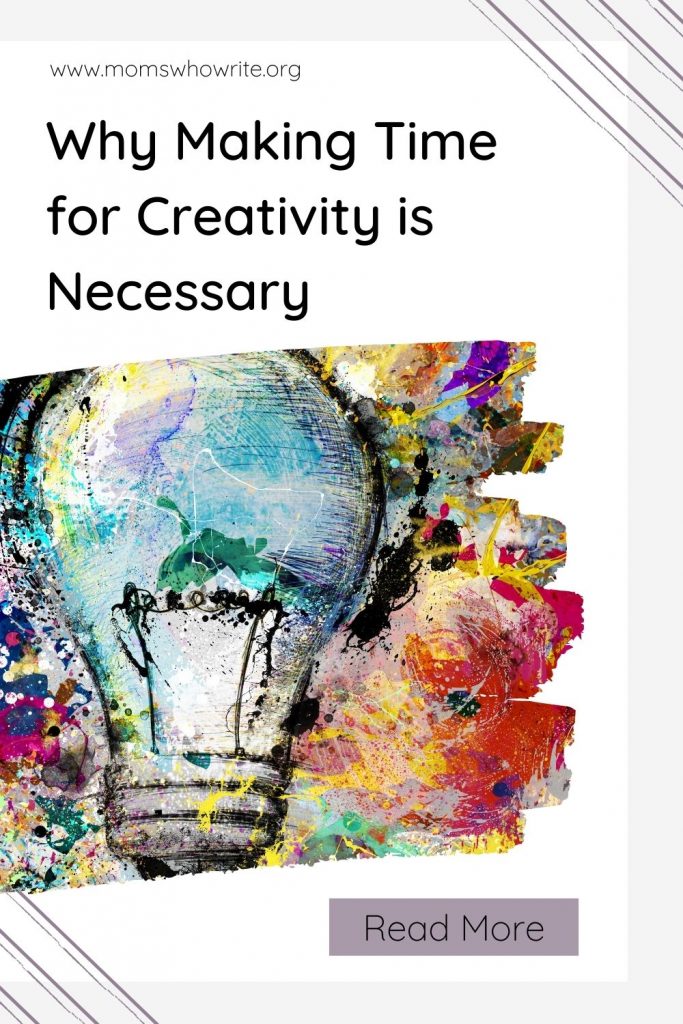 Making time for creativity—just do it!
Regardless of what anyone else says, you need to make time for your creativity. Just do it. If you only have an hour one day a week, it's better than nothing.
Claim that time. Don't give yourself an excuse. If your partner has trouble understanding, sit down with them and explain. The last thing any of us in this group want is to become those people that question creatives.
We want to be happy. We want to thrive. We want to leave our unique, original mark on the world. And that can only happen if we foster our creativity.
That's all she wrote.
About the Writer: Brigid Levi is a freelance writer and editor based in the Philadelphia area. She has three children, a husband-child, and a dog. When she's not freelancing or working on her own writing, Brigid can be found under all the blankets with coffee, tea, or wine (depending on the time of day) and a sweeping historical fiction novel. She hopes to publish her YA fantasy/adventure novel in the near future! Find out more about Brigid on her website.
*Disclaimer: This blog contains Amazon Affiliate links. As an Amazon Associate, we earn from qualifying purchases to help generate more resources and opportunities for our writing community. We appreciate your support.