If you're a fiction writer, then there's no getting around it: you have to write dialogue. It would be pretty boring to read a book without any talking. Structuring dialogue can be anxiety-inducing when you try to remember all the rules—and there a quite a few.
That's okay because we're here with a guide on how to structure dialogue properly. This blog will focus more on the structure and formatting of dialogue, whereas the more creative elements will be discussed in a different post. So, tuck in, friends!
Types of Dialogue
A lot of terms get thrown around where dialogue is concerned, so first, we're going to clarify some things.
Dialogue vs. Monologue
Dialogue is spoken between two or more people. A monologue is one long passage spoken by one person. You mostly hear about monologues in plays. However, if you write a long passage spoken by one character, you would refer to it as a monologue.
Inner Dialogue vs. Outer Dialogue
When we hear the word dialogue, most of us think of outer dialogue. Outer dialogue happens externally and is spoken aloud by two or more characters. We format this kind of dialogue with quotation marks.
Inner dialogue is spoken inside a character's head and is usually not offset with quotation marks. Inner dialogue can be a monologue, which sounds contradictory. When a character wrestles with something internally, it's a monologue because they are just one person. But they're bouncing ideas between Me, Myself, and I, so it's as if they're talking to multiple people.
Depending on the author, editor, and/or style guide, inner dialogue is sometimes italicized.
Structuring Dialogue
Dialogue is a break in the narration and needs to be structured properly to remain clear. It's important to note that US English and UK English have different rules for structuring dialogue.
In US English, the dialogue goes between double quotation marks ("I am dialogue."). In UK English, the dialogue goes between single quotation marks ('I am dialogue.'). All punctuation goes inside the quotation marks, whether single or double.
Quotes Within Quotes
If a character is quoting something within a line of dialogue:
Use double quotation marks for the dialogue and single quotation marks around the quote (US English)
"Wasn't it Eleanor Roosevelt who said, 'No one can make you feel inferior without your consent?' Or am I remembering that wrong?"
Use single quotation marks for the dialogue and double quotation marks around the quote (UK English)
'Wasn't it Eleanor Roosevelt who said, "No one can make you feel inferior without your consent?" Or am I remembering that wrong?'
When to Make a New Paragraph
Start a new paragraph every time a new person speaks. Even if a character only says one word, you must start a new line and indent each time.
"How are you feeling today?"
"Good."
"I'm so glad to hear you're doing better."
Sometimes, a character's dialogue extends beyond one paragraph. In such cases, DO NOT use closing quotations at the end of the first paragraph, but DO add quotations at the beginning of the second paragraph. Only use end quotations when the character's dialogue has been completed.
"Pretend this is a big long paragraph with lots of musings from a single character. The character has lots to say here, but is about to start a different topic which means we need a new paragraph.
"Oh, look! The same character is still talking, but this time, about something new. Notice, I did not add closing quotations to the paragraph before this. But since the character is finished their thoughts, I will add end quotations here."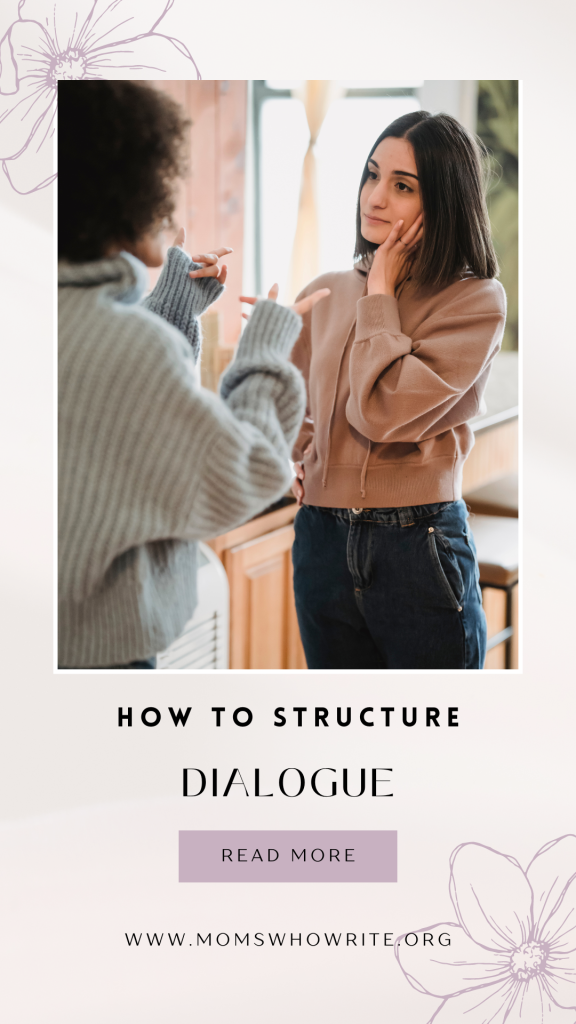 Unfinished or Interrupted Dialogue
In the case of interrupted dialogue, end the sentence with an em dash and closing quotations.
"He asked to me get the—"
"Hang on a minute! I can't hear you."
In the case of unfinished dialogue, end the sentence with ellipses and closing quotations.
"I'm not sure that I feel comfortable telling you what happened. It was a lot to process, and I just..."
Structuring Dialogue Tags
You can interrupt dialogue with a single line of action. In those cases, follow regular capitalization rules.
"Once upon a time," Mom began, "there was a princess in a tower."
"Yes," she replied. "I would love to marry you."
"Don't worry about it," he said. "We play again next weekend. Maybe you can come then?"
The lines of action in the above examples are called dialogue tags. They quickly indicate who's speaking for the reader's benefit. Instead of a period, a comma goes inside the closing quote before the dialogue tag. We'll discuss more about dialogue tags and action tags in another blog post.
Structuring Dialogue Shouldn't Be Hard!
As with all things, the more you practice writing dialogue, the easier it will be to pin down its structure. The main thing to remember is to start a new line each time the speaker changes. For everything else, your editor can help!
That's all she wrote!
About the Writer: Brigid Levi is a freelance writer and editor based in the Philadelphia area. She has three children, a husband-child, and a dog. When she's not freelancing or working on her own writing, Brigid can be found under all the blankets with coffee, tea, or wine (depending on the time of day) and a sweeping historical fiction novel. She hopes to publish her YA fantasy/adventure novel in the near future! Find out more about Brigid on her website.
*Disclaimer: This blog contains Amazon Affiliate links. As an Amazon Associate, we earn from qualifying purchases to help generate more resources and opportunities for our writing community. We appreciate your support.
Book Highlight: The Fiction Writer's Guide to Dialogue