In May 2020, I started what would become my first complete novel. I was thrilled with the achievement, as one is when accomplishing the massive undertaking of writing an entire book.
Almost exactly a year later, I received the work back from a developmental editor who TORE IT APART. As in, basically said it had no redeeming qualities. I was devastated. So, I did the obvious thing. I threw myself a pity party, questioned my life choices, and wondered if I had any value whatsoever other than to keep two little humans alive. But then, after a day of ice cream and wine (ok, maybe a week), I got to work.
Over the last ten months, I've written two additional novels, queried one, and landed my dream agent. Now, we are about to go on submission to a power list of publishers. It has been a road filled with tears, high highs, and low lows, but here's what I've learned along the way. And when I say learned, I don't mean which books I read about story structure or which authors I started following on IG. I mean, the lessons that specifically allowed me to get out of my own way.
Be quiet
At the beginning of my writing journey, I absorbed as much information as I possibly could. I listened to every How To Be A Good, Productive Little Author podcast I could and tried and failed to read craft books (I suck at reading craft books).
But, I quickly found that with so much going in, there was little room for creativity to flow out. So, I started allowing quiet time as part of my writing time. Time to do nothing. To stare at the wall or out the window. To daydream. It's amazing the things our brains can do when we are quiet.
Write unpretty sentences
It's easy to get caught up in a need for perfection when drafting. But, stopping to open WordHippo.com at every turn or falling down the Google rabbit hole stifles flow. I'll say it again: Stopping stifles flow.
Just write. Write the unpretty, messy, ugly sentences. Just focus on telling the story from start to finish. Then go back and add the "fluff."
My first draft of what will end up an 80,000-90,000 word novel is typically 45,000-50,000 words. Then, through revision, I shine it up with all the beautiful details that ground setting and scene. I realize this specific process won't work for everyone, but I can tell you getting caught up in "perfection" of a first draft hinders almost everyone.
Find your voice
Third-person close, second-person, first-person? Past vs. present tense? There are a lot of choices to make when determining your narrative voice and, I have found, one of the hardest things to get right on the first try. But once you find it, man does it unclog those creative arteries.
I had to test them all, see what felt right, not only for me but for the integrity of my stories. Third-person allowed me the freedom to offer some omniscience that made readers feel like they were in on something my MC's didn't yet know. First-person allowed me to play with sass and personality in a way I couldn't with a third-person narrator.
Check out books in your genre to see what they do. There's likely a good reason for it.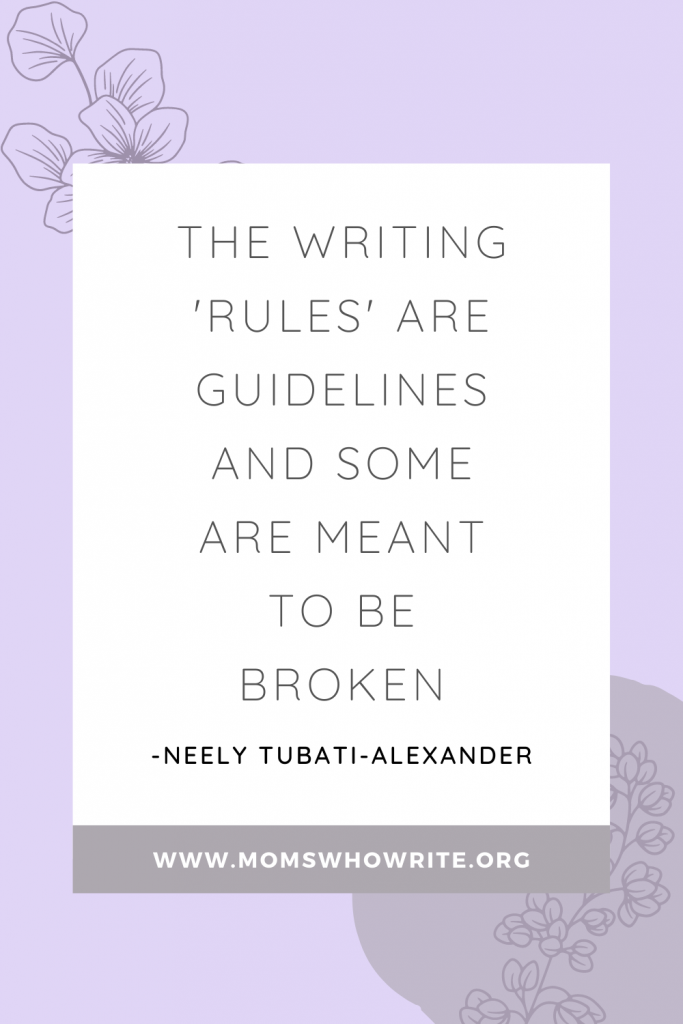 Rules are meant to be broken
I realize I'll lose some of you here, especially those perfectionists who are still mad about the unpretty sentences thing. But, hear me out.
Before I started querying, I was terrified because I kept hearing, "you get one shot, don't f*ck it up." I also heard things like, "make sure you vet your agent, you're stuck with them for life."
Is it important to put your most polished query out into the world? Yes. Is it necessary to vet your agent before signing? Sure. But the reality is, I prematurely sent out a query letter that was unknowingly atrocious. When I improved it, I sent it out again to the agents who received the shitty one and told them, "Hey, that one was shitty, please consider this one instead" (using the professional version of these words). And, some still requested.
Story structure can be a great guideline for how to capture key elements of a great story. But, in all the editing and advice my agent has given me, do you know what she has yet to say to me? This story needs more Save The Cat.
Viewing the "rules" we learn about writing as guidelines rather than hard and fast rules can help remind us of the nuance that is the beloved story and, in turn, the publishing business.
We want to hear your story
We are always looking for more personal narratives and writing journeys to share with our community. Imposter syndrome affects all of us in the creative community. The more we share our successes, our failures, our challenges, the more support we can build to help overcome this beast when it hits.
Everyone has a unique story, and we want to hear yours. Find our blog submission form here to share or reach out to us to discuss opportunities to contribute.