Today is National Tell a Story Day, and we at MWW would be remiss if we didn't celebrate the occasion. (For our UK friends, reread this blog in October.) While the origin of this holiday is unknown, it's easy enough to understand its meaning, and let's be honest—it's just plain fun! Let's check out some ways we as writers can celebrate this very relevant holiday.
Why Do We Tell Stories?
Each writer has a different answer to this question. For some of us, telling stories is a catharsis; it helps us feel things in a tactile way so we can move on. For other writers, telling stories is not so much for ourselves as it is for our audience. We want or need to share a gift with others.
Sometimes, we tell stories for pure entertainment, and other times, we do it as a way to express ourselves with others, to share a little piece of ourselves. Whatever your reason for telling stories, it's natural. Telling stories is instinctual; as humans, we've always done it as a form of creative communication.
Celebrate Tell a Story Day by Telling a Story!
Authors know all about telling stories. Whether you choose to write one or verbally share one, the best way to participate is to share a story. Here are some kinds of stories you can share today.
Fairy Tales
Fairy tales are probably the easiest stories to tell on Tell a Story Day. They're just so universal. And with so many iterations of our favorites, we could probably recite them verbatim. I love introducing fairy tales to my children, to watch them fall in love with something that I loved as a child. So, share a fairy tale with the children in your life!
Personal Story
Tell YOUR story. Each of us has a unique story to tell. Share about a personal experience or a funny encounter—it counts! The best personal stories evoke relatable emotions in their listeners. Like fairy tales, personal stories have the ability to teach lessons. Sharing a story is a great way to give others a little peek at who you are.
Local Legends
Local legends are the more personal version of fairy tales. Every town and city has them. These are stories about people and places in your town from long ago that have been passed down through oral tradition. Sometimes, the truth of the stories can be ambiguous. Think along the lines of Big Foot but in your own location.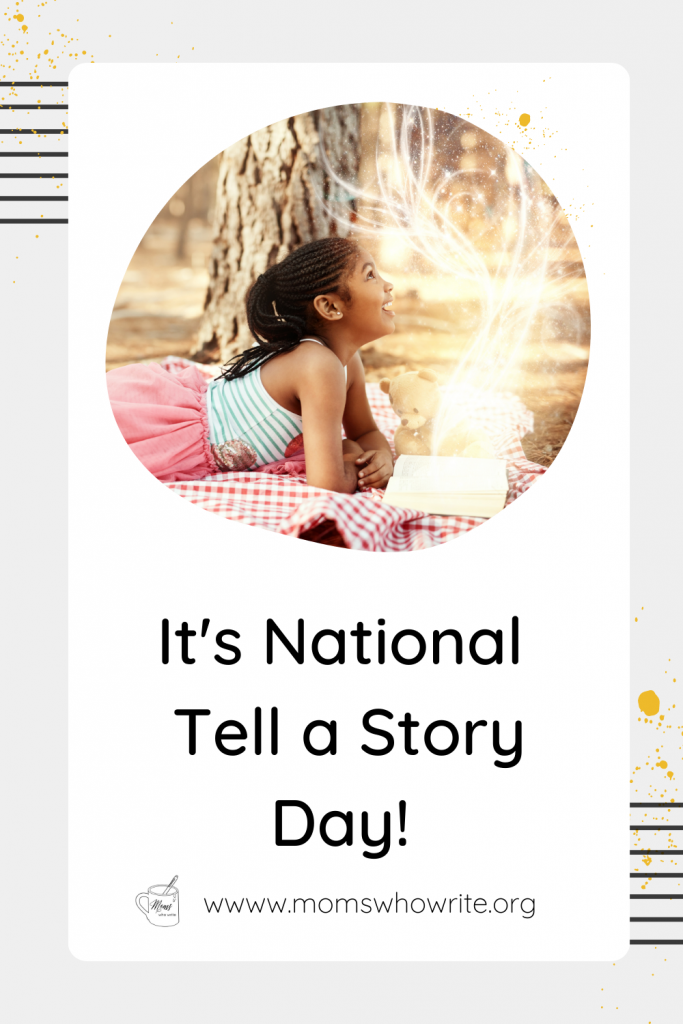 Scary Stories
There's nothing quite like sitting around a campfire, competing with your friends to tell the scariest story. Some storytellers have a gift for the macabre. If you're one of them, share that gift in celebration today! If you want to take this opportunity to introduce the thriller genre to your kids, then this blog by Patricia Barnes has some great options.
A Brand New Story
Why not celebrate Tell a Story Day by telling a brand new story created by you? Maybe you spend time finally finishing your novel, or you write a piece of flash fiction to share with family or friends—or take the plunge and submit it to a contest! Additionally, you can spend time creating a new story with your children so as to show them the possibilities of creativity. The world always needs more stories and people to tell them, and this is the perfect day to ignite a love of storytelling in your children!
How Will You Celebrate?
We'd love to hear how you're planning to celebrate National Tell a Story Day. Drop us a comment or share more ideas with us.
That's all she wrote!
About the Writer: Brigid Levi is a freelance writer and editor based in the Philadelphia area. She has three children, a husband-child, and a dog. When she's not freelancing or working on her own writing, Brigid can be found under all the blankets with coffee, tea, or wine (depending on the time of day) and a sweeping historical fiction novel. She hopes to publish her YA fantasy/adventure novel in the near future! Find out more about Brigid on her website.
*Disclaimer: This blog contains Amazon Affiliate links. As an Amazon Associate, we earn from qualifying purchases to help generate more resources and opportunities for our writing community. We appreciate your support.