Recently, Brigid Levi wrote us a great summary of what beta readers are and how to use them. If you're unfamiliar with what beta readers actually do, then go read her run-down. This post will focus on expanding her final point: what to ask your beta readers and how to create a beta reader questionnaire.
After I finished my first full-length book, I couldn't wait to get it in front of people. I'd spent months (years) working on this thing, and I felt equal measures of excitement and self-doubt. I thought it was pretty good for a first book, but what if it wasn't? I needed someone to read it and tell me their honest thoughts. Enter my beta readers.
Creating a Beta Reader Questionnaire
Although everyone on my list was an avid reader, most of them were not writers, and none of them were professional beta readers. When I approached them about reading my book, the main concern I heard was "I'm not sure what sort of feedback to give!" I pretty quickly realized that in order for beta reading to go well and to ensure I got usable feedback, I was going to have to ask specific questions.
So, when I sent my readers a copy of my book, I also sent them a link to a Beta Reader Questionnaire. I created mine in Google Forms. There are other options out there, but Forms was intuitive for both me as I built it and for my beta readers as they filled it out. It also has the added benefit of being free.
Additionally, another simple solution would be to use a word document or just send them the questions via email. I opted for the digital form for two reasons: 1) it reduced the barrier to entry—one click took my readers to the form, which was easy to navigate and submit; and 2) it felt official and made me feel like a real writer (silly, but true).
But what do you even include in a questionnaire? How do you organize it so that it flows well and yields usable feedback? I scoured the internet and found several very useful pages, including this questionnaire by Stacy Claflin, and this one from Ryan J. Pelton, both of which heavily influenced and inspired the questions on my final list.
Beta Reader Questionnaire Categories
As I mulled my questions over, agonizing over what to ask, 6 main categories of questions formed for me:
First Impressions
Character and Dialogue
Setting and Descriptions
Plot and Pacing
Editing and Continuity
Reader's Reactions
1. First Impressions
This category is all about those first, crucial impressions the reader had upon opening a book. The opening scenes are super important—they can make or break whether your book gets read cover to cover or gets shelved with the DNFs. The first three chapters or so are also your first (and sometimes only) chance to catch an agent's attention if you're in the querying trenches. I knew I needed to make sure I had a good grasp of what my readers felt when reading those pages, so here are the questions I asked:
Were the first paragraphs and first page compelling? Did they make you want to keep reading? If not, then what was the problem?
Did you orient fairly quickly to who the story was about and where and when it's taking place? If not, why not?
Did the story continue to hold your interest through the first few chapters? Or is there a point where your interest started to lag?
2. Character and Dialogue
I love my characters, but I needed to know if I'd created believable people my readers could stand to hear about for a full novel and that their relationships were realistic. Dialogue can be tricky, too, and I wanted to be sure my characters didn't sound stilted or fake when they talked. Here's what I asked:
Were the characters believable and relatable?
Were there characters that needed development or focus? If so, then which one(s)?
Which characters did you connect to and like (or love to hate)?
Are there too many characters to keep track of? Are any of the names or characters too similar?
Did the dialogue sound natural to you? If not, then where was it stilted?
3. Setting and Descriptions
Visuals can make or break a novel, and in the best books, the setting becomes its own character, as important as any of the rest. To make sure I described the people and places well without over narrating, these are the questions I asked:
Were you able to visualize where and when the story is taking place? Were there details of the setting or era that were jarring or out of place?
Did the descriptions seem vivid and real to you?
Could you SEE what the characters looked like clearly? If not, then who, and did it matter?
4. Plot and Pacing
Character and setting are important, but they're rendered irrelevant if the story is boring or convoluted. To hone in on the bones of my story and how the reader experienced them, I asked:
Was the story interesting to you? Did it drag in parts? Where?
Which scenes/chapters did you find most interesting or effective? What held your attention?
Were there scenes that needed elaboration with more details or for clarity?
Was there enough conflict, tension, and intrigue to keep your interest? Too much (melodramatic/unbelievable)?
5. Editing and Continuity
When you take a story from the initial germ of an idea all the way through to something readable, details change. Sometimes authors move whole characters around, rename them, or cut them altogether. This section was all about using my readers' fresh eyes to catch mistakes I might have overlooked after staring at this story for hours on end. To avoid plot holes and annoying editing flubs, I asked:
Did you notice any discrepancies or inconsistencies in time sequences, places, character details, plot, etc.?
Each chapter follows a different character's movements and thoughts. Was this device effective? Confusing? Was the change in tone between chapters adequate—that is, did the personality of the "main character" of the chapter come through in the text?
Was there anything that confused, frustrated, or annoyed you?
While you were reading, did you notice any obvious, repeating grammatical, spelling, punctuation, or capitalization errors? Over-used words and phrases?
Did you feel there was too much description or exposition? Not enough? Was there too much dialogue in parts?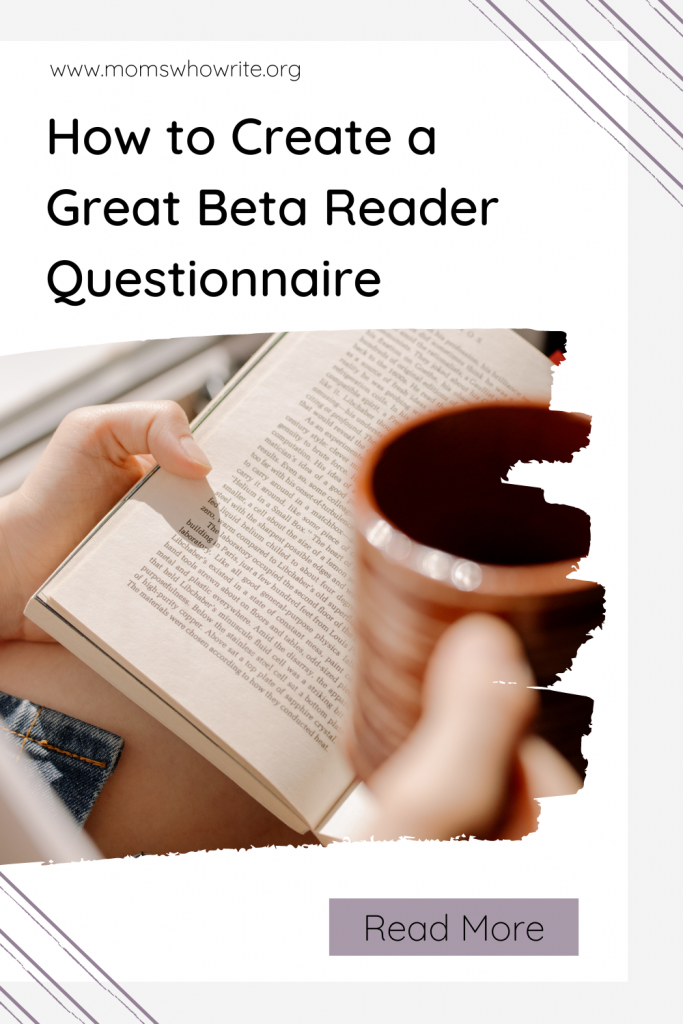 6. Reader's Reactions and Final Notes
Finally, I zoomed back out and asked what every writer wants to know, deep down: did the reader even like it? In this section, I focused on my readers' experiences more specifically, how they responded to the story, and what they generally thought as they read.
What parts resonated with you and/or moved you emotionally?
Was the ending satisfying?
Was the ending believable?
In your opinion, what are the main strengths of the story? The main weaknesses of the story?
If you didn't know me (lol), then would this story still pique your interest? Would you recommend it to a friend?
In your opinion, which genre best describes this book? Any final thoughts?
Creating a Beta Reader Questionnaire: Final Thoughts
And that's it! If you wind up using these questions in your own beta reader questionnaire, then drop us a comment! We'd love to know!
About The Writer: Abby is a writer of fiction and poetry who joined the Moms Who Write team in November of 2021. She's a homeschool mom of three who loves to teach writing and literature on the occasions she can be torn away from puttering in her garden and binge-reading whatever strikes her fancy. She lives in a rural town in Central Illinois with her husband, three kids, two cats, a guinea pig, and six chickens. To read more of Abby's writing and to find her social media links, please visit her website at www.abbyharding.com.