Beta readers are a writer's secret weapon. In the early editing stages, they can add valuable insight to your manuscript before querying agents. But if you're a writer just starting out, you may be wondering what beta readers do, and when to seek them out.
"Beta" is the second letter in the Greek alphabet. It's a common term in the software world; beta testers check kinks in programs before they're released to the public.
In the publishing industry, the concept is similar. Authors pass their self-edited manuscripts to beta readers, who review them before publication. Beta readers provide helpful feedback on things like characterization, plot, tone, or whatever else the author needs.
What Beta Readers Do 101
After completing your manuscript and going through some self-editing phases, what the heck are you supposed to do next? At this stage, you're not quite ready to publish. A book needs several sets of eyes before that can happen.
Enter the beta reader.
Think of beta readers as the second person to critique your book. (The first person is you!) Beta readers look through the manuscript, giving authors feedback from a reader's perspective. As an author, it's difficult to be objective with your own manuscript. That's where a beta reader can help, especially if they know the genre well!
For fiction, beta readers may comment on unrealistic dialogue, static characters, or the pacing in certain scenes. For non-fiction, they can tell you where something is unclear or your argument falls flat.
Beta Readers vs. Editors
Ideally, a beta reader bridges the gap between self-editing and hiring an editor (or querying if you're going traditional). These are all things an editor touches on as well. But a beta reader does some of that legwork so your book is even more refined when it gets to the editor.
Beta readers should not replace professional editors, especially if you plan to self-publish. More often than not, a beta reader reads for free. They aren't obliged to go as deep into your work as a professional, paid editor. On top of that, not all beta readers understand nuance and grammar rules like an editor does.
After a beta reader, you may not need as many rounds of professional editing, but it's still a good idea to hire one. Editors look at your manuscript through the lens of an editor; beta readers look at it through the lens of a reader.
Alpha Reader vs. Beta Reader
Sometimes, alpha and beta readers get used interchangeably. Typically, an alpha reader is your first reader (since alpha is the first letter of the Greek alphabet). Alpha readers usually read while you're working on your manuscript. In other words, you might finish a section and send it to an alpha reader while you work on the next section.
The main difference is that an alpha reader reads an incomplete manuscript while a beta reader reads a completed manuscript.
Alphas come at the manuscript from a writer-reader angle. They look first with a writer's eye and then at what a reader might want. Betas strictly use a reader's perspective. Sometimes, alpha readers can come from a critique group or a writer's circle.
Number of Beta Readers
There isn't really a magic number or rule for how many beta readers to use. Ideally, you should work with more than one. When you use multiple beta readers, you get a variety of feedback because different people pick up on different things. Certain aspects resonate differently with different people.
Keep in mind, though, that a lot of beta readers might generate a lot of feedback and differing opinions. This can be overwhelming and difficult to sift through. If you're going with more than two, it's not a bad idea to keep them at an odd number. You know, for tiebreakers.
Where do I find Beta Readers?
Friends and family. Asking friends and family to beta read your manuscript can be a slippery slope. You want to make sure they're able to give constructive feedback and not just a high-five. Sometimes, the people who love you most hold back critiques because they don't want to hurt your feelings. Give them guidelines and ask for honesty.
Writing communities. Local and online writing communities (ahem…Moms Who Write) are great places to receive feedback on your manuscript. Oftentimes, writers in those groups want feedback as well. Ask writers in these groups to swap manuscripts and beta read for each other.
Hire a reader. As I mentioned before, most beta readers read for free or for swaps. There are paid readers on freelancer sites, but approach them with caution. Sometimes, they're really pushing editing services, which we learned isn't in the beta's job description. It's always recommended to go with someone you know and trust. It'll save you money, too!
Working with a Beta Reader
If you've never worked with a beta reader, it can seem overwhelming. It's helpful to come in with a plan.
Work with some readers who know your genre well. They can tell you if they notice overused tropes or if anything important seems to be missing.
Work with some readers outside of your genre. Ultimately, you want to write for your audience. But working with beta readers who aren't as familiar with your genre may elicit more well-rounded feedback.
Present your readers with a set of questions you feel will elevate your manuscript. We'll dive into this a little later.
Give them clear and reasonable deadlines. Remember, beta readers are most likely doing this for free, but if you have deadlines yourself, be upfront. Then, your readers have a clear timeframe to complete their feedback.
Be open to feedback. Handing over your writing for feedback might feel like you're handing someone your heart. Hearing criticism is so hard, but hopefully, your beta readers can present the feedback in a constructive way. You also don't have to take all of their suggestions.
What should I ask my Beta Readers?
There really are no rules when it comes to what questions to ask your beta readers. It's your manuscript, after all. Below are a few questions to consider. For additional ideas, check out this article from The Writing Cooperative.
Do the scenes flow naturally? Are there any places where transitions seem abrupt?
Do any scenes feel slow-moving?
Did you notice any places I over-informed the reader with exposition that affected the pacing?
Can you see the world/characters clearly while reading?
Does the dialogue sound natural?
Could you tell who was talking?
Do any of the characters feel cliche?
Who's your least favorite character? Why?
What was your favorite/least favorite part? Why?
The more specific you make the questions for your manuscript the better feedback you'll receive.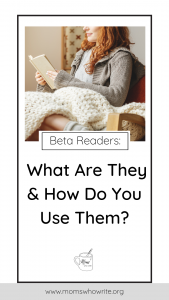 And that's what Beta Readers do!
Overall, beta readers are an amazing tool when you know how to use them. They give you an objective reader's perspective, which is something an author can't get on their own. However, it's important to remember the distinction between a beta reader and an editor.
Get yourself some trusted betas to improve your writing. Whether you're prepping your manuscript for querying or getting it in shape for an editor, beta readers are a key component to get you there.
That's all she wrote!
About the Writer: Brigid Levi is a freelance writer and editor based in the Philadelphia area. She has three children, a husband-child, and a dog. When she's not freelancing or working on her own writing, Brigid can be found under all the blankets with coffee, tea, or wine (depending on the time of day) and a sweeping historical fiction novel. She hopes to publish her YA fantasy/adventure novel in the near future! Find out more about Brigid on her website.
*Disclaimer: This blog contains Amazon Affiliate links. As an Amazon Associate, we earn from qualifying purchases to help generate more resources and opportunities for our writing community. We appreciate your support.