Last week, you may have seen the dozens of posts and graphics celebrating the release of our debut group anthology, The Order of Us. You may have also caught the announcement we dropped regarding the theme of our next anthology: The History of Us. Believe me, when I say, there are so many more to come, we can barely contain our excitement. But are there really significant benefits of anthologies for authors? Absolutely. Let's explore a few.
Minimal time investment
If there is one thing that I've learned about being involved in the process of producing an anthology, it's the time commitment required to put a full book together. I had NO idea. You spend months (years) writing the bones of your book. Vetting through Beta readers and Alpha readers and editors. It feels like the bulk of your project is complete, but the process has only just begun.
Now, you have to decide where to publish, what format you want, your spacing, your font, and your cover design. You have to upload to all the places and purchase the ISBNs and reformat depending on where you upload and proofread 1,000 times because of formatting errors. When you finally do figure it all out, there is deciding on release dates, launch events, and marketing strategies. There's probably more I've blacked out of my mind.
There is an incredible amount of time that goes into producing a book that you don't have to worry about with an anthology. You get to jump to the end of the process with a book in your hands that has your name in it, while someone else does everything else in between.
Low financial risk
Publishing a book is far from free; I think we all know that by now. While there are plenty of budget-friendly ways to go, at some point, you will still be responsible for fronting some publishing costs.
When you're part of an anthology, you're not responsible for the costs of publishing, just for purchasing whatever copies you want for yourself, friends, family, neighbors, or anyone else on your list. Anthologies are a great option for authors on a budget, who may not have the financial freedom to publish a book without the guarantee of making back the costs in royalties.
If an anthology is asking you to pay for your piece to be featured, this may be something to think about. You don't want to get caught in a situation where you are paying for exposure and receiving nothing else in return. We'll talk a little more about questions to ask before you submit to anthology in the coming weeks.
Give those random pieces a home
I don't know about you, but I have a lot of random stories and poems filling my computer that I have no idea what to do with. I don't want to expand them into books, and they're too random to create a collection around. I love them, but I just don't have a space for them. So, I started submitting them to anthologies.
Submitting random pieces of my work has been exciting. It satisfies the desire to complete something and gives every piece of writing a purpose. Plus, releasing small bits here and there gets your name out into different writing communities, starting the buzz of interest that will eventually become your audience.
Book listings for your website
When I started my website, I knew I wanted to create a space to sell my future books. But as soon as I realized how long it was going to take me to produce my book, the little 'Books' tab on my menu bar started to taunt me.
Submitting to published anthologies gives new authors books to put on their website featuring their work. You can link to Amazon or wherever the anthologies are sold, leading your audience directly to purchase. Better yet, you can even contact the publishing company (or individual) to see if they can add you as an author of the anthology on Amazon so you can start linking work to your author profile.
Connecting with other authors
This is probably my favorite part of joining an anthology. When an anthology debuts, all the authors involved start coming out of the woodwork to post about their pieces and promote the book. You start to see these authors come across your social media feeds, some reach out to chat, and others will tag you online to talk about your work and how much they loved it. In a world with millions of authors to connect with, anthologies are an amazing way to connect directly with like-minded creatives and start building genuine friendships.
Supporting a good cause
Many anthologies featuring 50+ authors are taking the donation route when it comes to royalties made from the book. For instance, 100% of the proceeds from The Order of Us are going to Dolly Parton's Imagination Libary. This organization is dedicated to getting more books in the hands of children and inspiring a life-long love for reading. Every time a copy is sold, I feel amazing thinking that our book is helping others.
Testing your audience
Anthologies are a perfect way to test your future audience without committing to an entire book. Maybe you want to write in a new genre but you're still exploring the niche. Perhaps you want to try poetry, but you're still trying to find your voice and style. Submitting to different anthologies will provide you feedback on your work from prospective readers and other authors. This way, if you decide to switch it up, you don't have to scrap an entire novel or collection.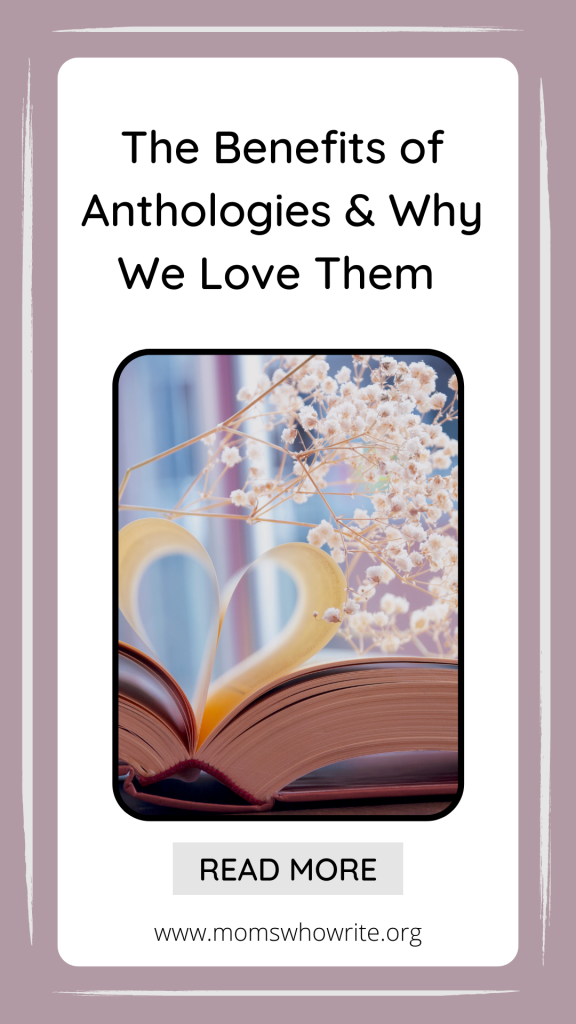 But will I get paid?
Sometimes. It depends on the anthology.
Some larger anthologies may pay authors royalties based on a schedule. Others, such as Chicken Soup for the Soul, will pay contributors a flat rate for their pieces and give a discount on buying copies of the book when it comes out. Our own Jill Robinson published one of her pieces Chicken Soup for the Soul: My Hilarious, Heroic, Human Dog: 101 Tales of Canine Companionship last September.
Other anthologies published by smaller groups or individuals may not have the financial backing to pay authors for their work yet. They typically will make up for this by offering other perks such as author features, social media promotions, or blog articles dedicated to contributors. Whatever they can offer.
NOTE: Book collaborations are different. These are anthologies that a group of authors publish together, typically splitting the publishing costs and royalties.
My personal opinion? I wouldn't count out the anthologies that don't pay. A non-profit anthology that takes off in the right direction could provide you with more reach than an anthology that pays you one flat rate and sends you on your way. Decide what's important to your career at this time. 
Stay tuned for more anthology talk!
We've received so many questions about our anthology opportunities and I can only predict there are more to come. Stay tuned for future blogs focused on common anthology questions, concerns, and other important things to know when considering submitting.
Happy writing dreamers!
About the Writer: Shell Sherwood is a poet, fiction writer, freelancer, and creator of silly children's stories who could live on coffee, pastries, and romantic tragedies. She lives in Hudson Valley, NY, with her three boys and aspires to own a small writing getaway in every climate. Shell is currently working on her debut poetry collection. Learn more about Shell and follow her writing journey via her author blog, Instagram, and TikTok.