The list of editor types is long and confusing. But we're here to break it down for you! First up: types of book editors.
In book publishing, there are 5 major types of editors you'll come across: developmental editors, line editors, copyeditors, proofreaders, and acquisitions editors. It's important to understand the function of each so you can make informed decisions on which you need and when you need them.
Some of these terms cross over to other writing realms, like journalism. But for now, let's talk about the editors who'll help us get our books published and the possible rates they charge.
A Note on Editor Rates
Depending on the editor, charges can range from per hour, per word, or per page. (FYI, the industry standard is 250 words per page.) To make it even more complicated, editors in different genres charge different rates. The charts in this post are directly from the Editorial Freelancers Association (EFA).
Please note: while these are common rates, you may find an editor who charges outside of these ranges.
Developmental Editor
After a round or two of self-editing your completed manuscript, the next step is usually handing it over to a developmental editor.
Developmental editing addresses the overall structure and organization of the manuscript. A developmental editor thoroughly evaluates the manuscript for issues with character development, major plot issues and inconsistencies, and tone among other things.
This assessment comes in the form of a revision letter, also known as an editorial letter or edit letter. Because of the depth of detail required from a developmental editor, this tends to be the most expensive type of editing.
Sometimes, an editor may include a developmental edit in conjunction with a line edit. Other times, a developmental editor performs a few line edits in order to teach the author how to correct recurring problems. Still other times, a developmental editor simply describes the problems rather than suggests solutions.
Other Names for Developmental Editors
There are a few terms flying around that all essentially mean the same thing. Developmental editors can sometimes refer to themselves as substantive editors, structural editors, and content editors. Regardless of how they identify, each term means their focus is on improving the overall structure of the manuscript.
Book doctors are also seen as developmental editors. Not only do they provide editorial feedback, but, as their name suggests, they fix problem spots by rewriting or reorganizing parts of the manuscript.
Developmental Editor Rates
| | | | |
| --- | --- | --- | --- |
| Developmental Editing | Median rate per hour | Median rate per word | Median pace per hour |
| Fiction | $46–$50/hr | $.03–$.039/wd | 4–6 pages/hr |
| Non-fiction | $51–$60/hr | $.04–$.049/wd | 4–6 pages/hr |
| Business/Sales | $51–$60/hr | $.07–$.079/wd | 4–6 pages/hr |
| Medical/STEM | $61–$70/hr | $.06–$.069/wd | 1–3 pages/hr |
| Book doctoring | $61–$70/hr | $.06–$.069/wd | 4–6 pages/hr |
Line Editor
Your developmental editor provides their feedback first. You work on your manuscript accordingly, taking their suggestions as you feel they fit, but also knowing they're looking out for your best interest (you don't have to take all of them). Next comes line editing.
Line editing involves taking the focus down to the sentence or paragraph level. Line editors may correct some errors, but their overall concern is with the language, style, and tone of the manuscript. They aim to tighten and enhance the text.
Line editing may occur by itself or in conjunction with a developmental or copy edit.
Line Editor Rates
According to the data from EFA, line editing is the only type of editing not broken down by genre. For a line editor, you can expect to pay $46-$50 per hour or $.04-$.049 per word with a median reading pace of 4-6 pages per hour.
Copyeditor
If your line editor didn't worry so much about the grammar, your next step is to hand your manuscript off to a copyeditor.
Copyediting is a very broad term that encompasses quite a lot. Copyeditors check spelling, grammar, punctuation, and syntax (otherwise known as sentence structure). Copyediting can occur at a variety of levels from light notations to heavy rewrites of sections.
The terms copyediting and line editing are sometimes used interchangeably; however, they aren't the same thing. Copyeditors tend to focus more on the manuscript as a whole rather than hone in on the structure of individual sentences. Some editors choose to do both at the same time, which may affect their prices. But this way, you can choose to skip a step.
Copyeditor Rates
| | | | |
| --- | --- | --- | --- |
| Copyediting | Median rate per hour | Median rate per word | Median pace per hour |
| Fiction | $36-$40/hr | $.02–$.029/wd | 7-10 pages/hr |
| Non-fiction | $41-$45/hr | $.03-$.039/wd | 4-6 pages/hr |
| Business/Sales | $46-$50/hr | $.04-$.049/wd | 4-6 pages/hr |
| Medical/STEM | $46-$50/hr | $.04-$.049/wd | 4-6 pages/hr |
Proofreader
This is the final stage of editing before sending your manuscript off to the printer! Proofreaders work from the proof, which is the final draft of your manuscript before publication. Like copyeditors, proofreaders are looking for grammatical and typographical errors.
Many proofreaders work from a printed manuscript so they can also address any issues that appeared during the design phase. This can range from typesetting to line or page breaks to general page layout. Page numbering accuracy, table of contents, back of the book matter—no part of the book is left unturned in the hands of a proofreader.
While they are, in essence, doing the same thing as a copyeditor, proofreaders are a necessary part of the editing process. Editors are human, and humans miss typos. They also forget commas. It's a good idea to invest in a proofreader if only for the added assurance that you'll have fewer typos. (No book is perfect. But proofreaders can make them almost perfect.)
It's also important to keep your copyeditor and proofreader separate. Two sets of eyes ensure a greater chance of catching errors.
Proofreader Rates
| | | | |
| --- | --- | --- | --- |
| Proofreading | Median rate per hour | Median rate per word | Median pace per hour |
| Fiction | $31–$35/hr | $.02–$.029/wd | 11–15 pages/hr |
| Non-fiction | $36–$40/hr | $.02–$.029/wd | 7–10 pages/hr |
| Business/Sales | $41–$45/hr | $.04–$.049/wd | 7–10 pages/hr |
| Medical/STEM | $41–$45/hr | $.03–$.039/wd | 4–6 pages/hr |
Acquisitions Editor
An acquisitions editor doesn't actually do much editing. Sometimes called a commissioning editor or sponsoring editor, they are the people who pass your books along to a publishing company. They "buy" the books from authors.
Their job is to sift through solicited and unsolicited manuscripts to find profitable material for their publishers. Typically, you have a higher chance of the acquisitions editor seeing your manuscript if it's submitted by a literary agent.
An acquisitions editor is usually a salaried employee. As such, the author isn't responsible for paying him or her a specified rate.
Freelance vs. Independent vs. In-house Editors
Different types of book editors can also vary by employment classification. Once you've figured out the type of editing you need, you then need to decide which publishing route you're taking if you haven't done so already. Knowing how you plan to publish will determine where you find an editor.
Freelance editors are self-employed. They work with a variety of clients on a project-by-project basis. With the exception of an acquisitions editor, all the others mentioned can be freelance. More often than not, the author would be responsible for soliciting the help of a freelance editor.
Independent editors work in the independent book industry. They can either offer services to an independent book publisher or be an employee on the books (which would sort of make them in-house, too). Any of the five types of editors can be independent.
In-house editors work for a publishing company and can also be any of the five types of book editors listed above. You wouldn't have to seek out the services of these editors; the company would assign an editor to you when the publishing house accepts your manuscript.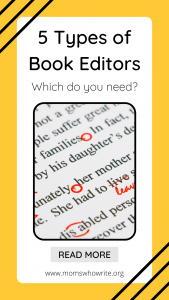 Conclusion
If you're new to writing, the editing side of things can be so daunting. Even if you've been at this for a while, it's nice to get a refresher since many types of book editors blur the lines between job descriptions.
Handing over your manuscript is scary—no matter how experienced a writer you are. Take a breath. Your editor only wants to help. And now that you understand more about them, you can more easily determine which one you need.
That's all she wrote!
About the Writer: Brigid Levi is a freelance writer and editor based in the Philadelphia area. She has two children, a husband-child, and a dog. When she's not freelancing or working on her own writing, Brigid can be found under all the blankets with coffee, tea, or wine (depending on the time of day) and a sweeping historical fiction novel. She hopes to publish her YA fantasy/adventure novel in the near future! Find out more about Brigid on her website.