So we've been revving up over here again promoting our newest anthology: The History of Us. Submissions are flowing in, and we cannot wait to put another beautiful collection together for and by our members. But how do you know when an anthology is right for you? What anthology questions should you ask before you submit?
Joining an anthology is no small deal. As writers, our words are our product. Similar to products in a store, you want to make sure the collection you choose for your words aligns with who you are as a person and creative. Every anthology is different and has different stipulations for compensating authors or promoting the book. Here are some questions you should be asking before you hand over your work.
What's the theme?
This is probably one of the most important questions to ask when submitting your writing to an anthology. You want to make sure your piece fits the theme of the book in your eyes, not theirs. If the theme of the anthology strays away from your personal or professional values, it's best to find another collection that represents you better.
What type of authors are represented?
Just as you want to align yourself with a theme that represents you as an author, you want to make sure your pieces are at home among other authors who you admire and appreciate. No matter how hard you try to separate your work, once you submit your writing to an anthology, you are now tied to the other members. Do some research on the other authors in the anthology. Make sure you are proud to have your name among the group you are submitting to.
Will there be compensation?
Will you be paid for your anthology piece? If so, what does that look like? Does the anthology pay a flat rate or on a royalty schedule? How does the pay compare to other anthologies of similar clout? If the publishing company has published multiple anthologies before, reach out to other authors to see what the payment process has been like in the past.
What are the other benefits?
Anthologies are wonderful opportunities for authors to promote their work. How does the anthology team plan to promote you? Are they going to highlight pieces before and after the release of the collection? Do they have an Instagram account where they highlight authors? Find an anthology where the publishers support the authors they work with and help them to grow through the collections they produce and not the other way around.
What are the copyright expectations?
You work hard on your writing– do you want someone else to own it? Every publisher has copyright expectations for their publication and some are more strict than others. Does the publisher want to own your piece indefinitely? Do they want the right to exclusive publication for a limited time? When does that period expire, and what can you do with your piece after it does? All great questions to ask.
What is the editing process for the anthology?
You may not be an editor yourself, but there is no shame in asking about the editing process of the anthology you're interested in. Find out how many rounds of editing they go through. You don't want your piece to end up in a book that is full of mistakes because someone skimmed over it once…quickly…maybe.
When is it being published?
Before they release an anthology, publishers generally have a publication date in mind before they announce submissions. Does it align with your schedule? Is this a time in your life when you can help promote this book and your writing? If a publisher does not have a firm or estimated publication date for the book, that could be a red flag that the anthology may be a scam.
Where is it being published?
Is the anthology you just submitted to going to be a paperback book? Ebook? Pamphlet? Will it be available for purchase on Amazon, Barnes & Noble, or a private website? Always ask how and where the publisher plans to publish the anthology. You want to be a part of an anthology where the publishers are committed to getting the book in front of as many people as possible.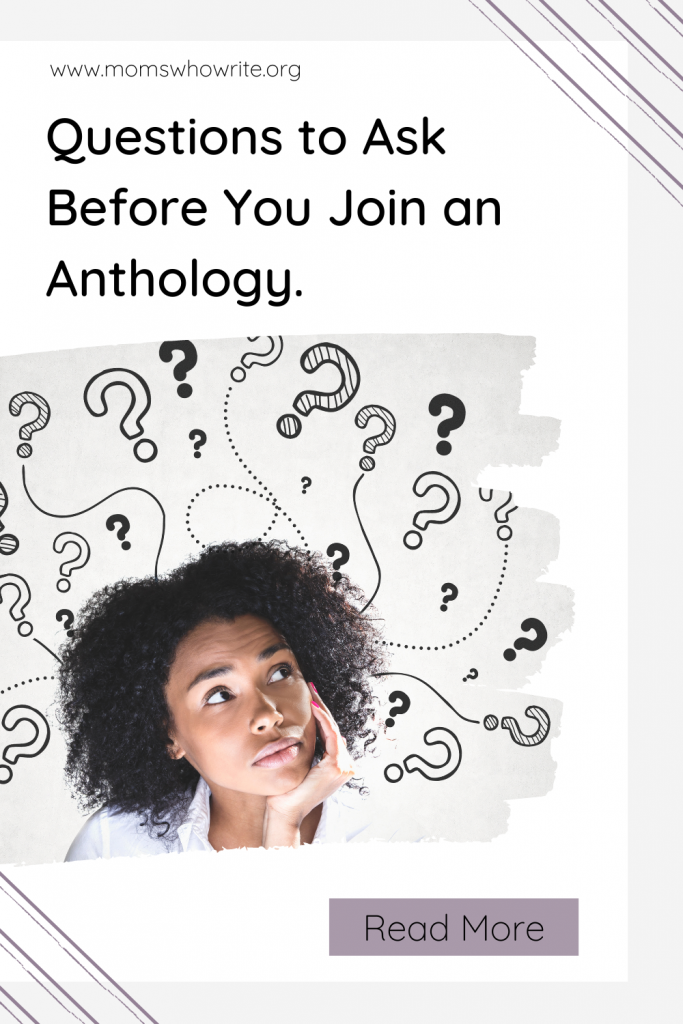 What organizations are involved?
Some anthologies donate their profits to charities or other non-profit organizations. Do your research! Not all charities are equal (or respectable), and you want to be proud of the cause your writing is helping to support.
Red Flags!
Unfortunately, we all know that not everyone has your best intentions at heart. Some people are out there producing anthologies for no other reason than to profit off of others.
Anthology Contests
Vanity presses sometimes use anthologies to attract new writers into participating in projects that only benefit the company. For instance, a vanity press may host a "free contest" where the prize is a submission to their upcoming anthology. The problem: There is no real contest. The press accepts every entry and the book costs double the retail price. So not only is your writing among a hodgepodge of other pieces, if you want to see your work in hand, it's going to cost you more than you would spend on a typical book.
Exclusive Selling Links
If an anthology is unavailable for general sale at Barnes & Noble or Amazon or where most other books are sold, it's probably not the anthology you want. Some publishers will only allow you to buy their books through one link on their website. This tactic targets the authors submitting to the anthology, making money off the contributors and not the general public.
Lavish Prizes
Anthology publishers that offer too many benefits for their authors are trying to reel you in for the wrong reasons. If a publisher promises big prizes and plaques and celebrations for your acceptance, it's probably a scam.
Pay to Participate
Paying to have your work appear in an anthology is not the same as a submission. This tactic is used by vanity publishers as a scam, but this is often a common step in group collaborations. Group collaborations involve a select number of authors who share publishing costs to produce an anthology with the goal of splitting the profits. If this is something you're considering, make sure you are in agreement with the other authors about how the profits are going to be split prior to contributing any funds.
Have more anthology questions? Drop them here!
We want you to be well informed and excited about the anthology you are joining. If you have any more questions, join our Facebook group to discuss with other authors or drop some comments below!
About the Writer: Shell Sherwood is a poet, fiction writer, freelancer, and creator of silly children's stories who could live on coffee, pastries, and romantic tragedies. She lives in Hudson Valley, NY, with her three boys and aspires to own a small writing getaway in every climate. Shell is currently working on her debut poetry collection. Learn more about Shell and follow her writing journey via her author blog, Instagram, and TikTok.