Your kids should love to read. Your kids should not be in front of screens all the time. Buy all the books.
We've heard the lectures, we know. We get it. But if it were really that simple, you wouldn't have moms around the world pleading in Facebook groups every day for tips on how to make kids love reading.
So what's the secret? How do you make kids love reading and spark an interest in books?
TRUTH: You can't MAKE kids love reading
I know–this is a hard one to swallow. But not all kids are going to love reading or being read to or enjoy books. As Moms Who Write, it feels insulting when our kids throw books back in our faces or cry at the thought of storytime. We feel as if we've failed and that our children will turn into couch mush.
You haven't failed. Every kid is just different. I'm lucky enough to have three boys who all love books and telling stories– now. It wasn't always that way
My first son was a natural lover of books, and that was it. My second son was too energetic to read and had no interest in storytime. My third was (is) a little monster, who at three still thinks board books are better in his mouth. It took time and strategy to interest my younger two in reading and books. It happened gradually, it took time and patience.
While you can't force a child to love reading, there are a few strategies you can use to help pique a future interest. Let's explore a few.
Put books around the home
My house is a book maze. My kids each have a place in their room for books. There is a place in the playroom for books. There's a box in the car for books. I said screw it to a formal dining room and we converted that room into a library for…books. My kids have access to books wherever they go.
Here is the most important part of that: The books are on their level. I do not make sure they always look pretty and tidy. I do not monitor them when they are reading, even after tearing all the books off the shelf. There are even books that are so rough now, we consider them outdoor books, the ones we take on walks and throw in the wagon.
Put books everywhere, wherever your kids are. Make it a natural part of their day.
Stock up on free and cheap books
Nope, I didn't buy all of these books from the bookstore. I don't have that kind of income. But what I have done is taken advantage of when other people don't want their books anymore, or when they are selling books for pennies.
I've picked up stacks of cheap or even free books from Facebook marketplace, used book stores, thrift shops, garage sales, libraries, the dollar store, the side of the road. If they are in acceptable condition, bring them home. Your kids are probably going to be rough on the books in the beginning. This way you are not worrying about all the money you spent while they bend the pages and chuck them at their siblings.
Tap into your child's interest
There are books about everything. Everything. Chances are, your child has a hobby or an interest– there's a book on that, I'm certain. Even your child's favorite TV show probably has at least a few books with their favorite characters.
My middle child didn't care for reading or looking at books in the beginning and I couldn't figure out why. We had lots of books from my first son and he could care less about them. Until one day, his grandfather gave him a random book on old cars. That was four years ago, and it's still his favorite.
It wasn't that he wasn't interested in books. He just didn't like the same ones my oldest did. So I started locating more books on cars and trucks and trains and all the things that move and there it was. The interest in books. The interest in books became an interest in reading. And once he started to read, his interests expanded.
Take advantage of libraries
It's okay to have a home library and to expose your children to books early on. But don't go crazy stocking your house with books you don't even know if your children will like.
Start with allowing your kids to explore the library. Check out a big stack of different books on every visit and allow your kids to find what they are interested in. What is their style? What topics do they enjoy? Is there a particular author they gravitate towards? If there is a library book that your child doesn't want to part with, put it on the list of books to buy for home.
If your child doesn't want to read books at the library, there are other activities they can get involved in such as Lego Clubs and Toddler Times that are not entirely book-related. This might be a good segway into finding comfort and enjoyment at the library that could one day lead them to turn their heads toward all those books.
Another library technique I use is library hopping. I'm so grateful to be part of a library system that allows me to check out and return books throughout my entire county. So we library hop– a lot. We spend days going to different libraries and have a list of favorites to return to.
Graphic novels for older kids
When my oldest son grew out of picture books, he started reading shorter chapter books. While he loved them and always has one in his reading pile, sometimes, his brain is too tired for a book with only words. That's when we discovered graphic novels. It was a game-changer.
There are so many amazing graphic novel series and standalone books out there. I dropped a few of our favorite series below. Even chapter books like the Magic Tree House and The Boxcar Children are being reborn into the graphic novel world!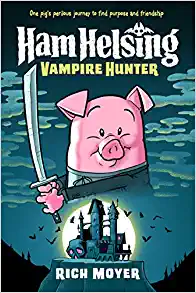 Storytime and read alouds
When you tell your child a story, they may become curious about the book you're holding. You are making it interesting by paying attention to it, reading from it, and thumbing through the pages. Consistent storytimes every day or night can be a great way to slowly draw your child into the book world.
What if my child interrupts while I'm reading?
I used to care. No interrupting till the page is finished! But honestly- why does it matter? If they have an observation, a question, or a thought about what you're reading, allow it in this activity. Eventually, they will learn not to interrupt a story because they will be curious about what happens. But for now, welcome any and all engagement.
What if my child literally walks away?
I just keep reading. Sometimes they come back. Sometimes they don't. It's similar to losing interest in a television show. When something piques their interest, make a note of it. Otherwise, read on.
What if my child is too old for picture book read alouds?
Novels. Pick a novel that is a little above your child's reading level and read it to them. The first time I read to my oldest son, we started with Shiloh. He wasn't sure about being read to in the beginning without pictures. He thought it was kind of silly and awkward. But eventually, it was our special time. A secret story only the two of us were exploring.
Online read alouds
So your child loves their screens, fine. Give in a bit! Thankfully, the pandemic brought parents a plethora of apps that allow us access to hundreds of online read alouds. Some are simply someone reading, while others are acted out with puppets or brought to life with storybook animation. Explore them.
Storyline Online is a favorite for my kids, so many amazing celebrities using their talents to bring books to life. YouTube is another fantastic and free resource, with millions of read-aloud videos available.
Tune into children's book podcasts
We'll get into these more in a future blog, but children's storytime podcasts are a great way to get your child to love stories without making them focus on a book. They can sit and play with toys, or color, or simply lay in their bed, listening to someone tell them a story.
Some podcasts also have books made from their favorite episodes. If your kids love a particular channel, find out whether the narrator has written any books you can purchase.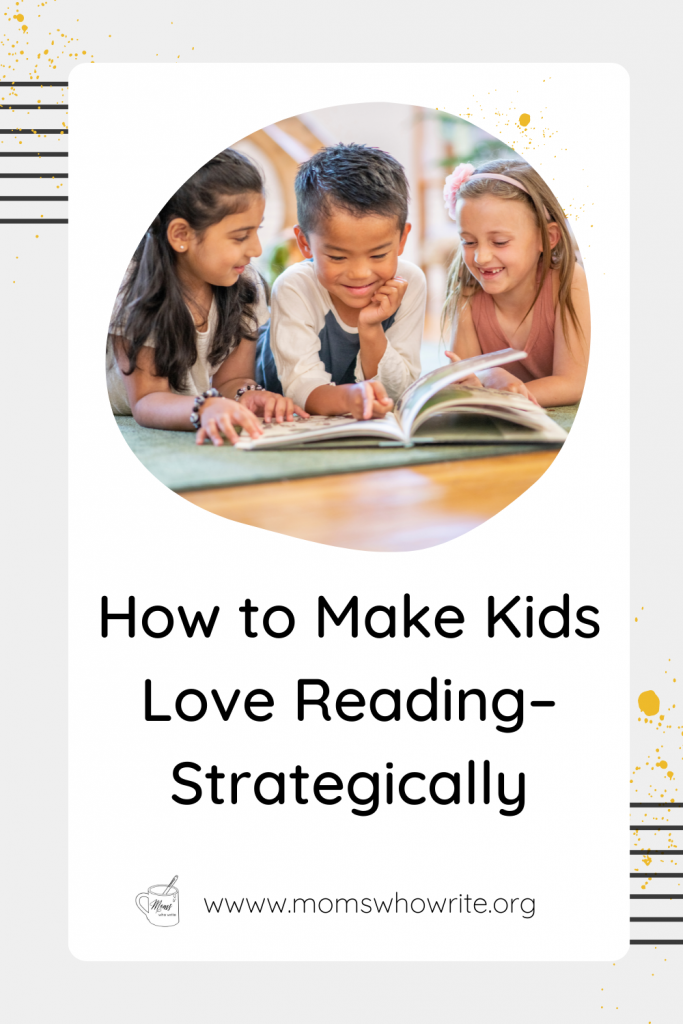 Read in front of your kids
This may not seem like a big deal, but it's huge. If you are not reading your own books in front of your kids, start. Read next to them while they play independently. Read in the car. Read while they are watching TV. Show them a life where reading is part of the daily routine.
Are your kids going to disturb you while you read? They'd be a little weird if they didn't. But don't stop trying. After doing this for a while, my kids started trucking over their own books next to me. They share what they were reading, I share (appropriate) parts of my book. Sometimes this leads to other conversations and pulling more books to look for answers. It's magical and I love these moments.
Encourage kids to love reading…but don't force
There are a lot of people out there who will insist that if you want your child to be interested in reading you have to be very involved in the process. You have to ask them questions. You have to point things out. You have to show them everything the book has to offer. I've seen these tactics fail multiple times.
You don't have to hover to get your child to love books and reading. You can let them independently explore books, without pointing things out, without making comments, without handing them books you want them to read. Take a step back.
If you want your child to be interested in reading, there has to be something in it for them. Are they exploring something they love? Are they being entertained? Are they laughing? Are they discovering a mystery? The books have to meet a need.
Figure out the need and provide books that meet the need. Introduce the books you find by handing them to your kids or showing them where the books will live– then stand back. See where they WANT you to be involved. If they want you to read, awesome. If they ignore the books for now, no problem. If they use the book as a setting to put their toys on, still fine.
You can try your hardest to light a reading spark, but the interests that last the longest are the sparks children light within themselves. Relax, you're doing great. Happy exploring!
About the Writer: Shell Sherwood is a poet, fiction writer, freelancer, and creator of silly children's stories, who could live on coffee, pastries, and romantic tragedies. She lives in Hudson Valley, NY with her fiancé and three boys, and aspires to own a small writing getaway in every climate. Shell is currently working on her debut poetry collection. Learn more about Shell and follow her writing journey via her author blog, Instagram, and TikTok.