Writer's block. Burnout. Exhaustion. A rut. Whatever you call it, we all know the feeling. When the things you love no longer bring you joy and you're just over it. Sometimes the words just don't come and you can't see past the words that are already on the page.
If you're a creative, at some point, you'll be faced with recharging your creativity. Creating usually recharges you. It excites you. So what happens when it doesn't?
Some people will tell you to take a step back. Some people will tell you to push through. Both can be solid advice, but what does it even mean to take a step back? What does it mean to push through when everything you "push" out is garbage?
Start by identifying the problem
Do you not like your project anymore? Then change it. It is seriously that easy. You can literally create a new document and write something that brings you joy. First, though, see if it's a couple of common sticking points that are making things hard.
Are you stuck in your project? Figure out where the problem it. For example, I was 30k words into a story and muddling through the middle. I was frustrated and hated working on it. I brought it to my writing group and started working through it, and realized I needed to change it from 1st person to 3rd person POV. Once I did that, the words started to flow. I was able to clear the hurdle and move on. Maybe it is a structure problem, a plot hole, or maybe you need to rewrite 30k words to change the POV entirely. Whatever it is, it's okay to stop and revaluate. Sometimes that's the only way forward.
Are you tired? Like, actually physically exhausted? Sometimes the most obvious answer is the correct one. Rest is more important than we like to think it is, and a good night's sleep can fix a lot of problems. Use your writing time to sleep, just for 1 or 3 or 5 days. However long it takes.
Maybe, though, it's deeper than that. Creativity is cyclical, and we are all wired differently with different processes. Sometimes, the time is genuinely not right. These are those times when we need something different.
It doesn't have to mean getting frustrated by writing through your current project. For some of us (read: ME) that is a great to ruin my project and never lay eyes on it again.
What if I need to take a step back?
It is not failure to take a break. Everything in life has a rhythm and there are times where it is just not the right time. If your creative projects are not bringing you joy, it is your responsibility to take a step back and find joy again.
What does that mean?
It doesn't mean giving up creativity. It doesn't mean immersing yourself in the mundane. Give yourself a chance to rest. Is there a new skill you want to explore? Give yourself a chance to go somewhere new or enjoy a particularly fun season with your children. Take up hiking and go outside more. Make something else beautiful.
There could be other parts of you that need exploration. If there's something else demanding your attention right now, do that thing. Writing will be there if you truly need to take a step back.
For me, though, writing is how I function and how I communicate. It's how I sort through the chaos inside my head and make sense of my emotions. I'm an Enneagram 4. There are a LOT of emotions.
What can "pushing through it" look like?
I've found that I don't personally need to stop writing. Changing my focus is enough of a reset. Diving into a new project can be refreshing and allow me to complete something when I'm stuck or frustrated. Here are some things I do to push through:
Free write. I sit down and spew words onto paper or a screen. Doesn't matter if it makes sense. Sometimes the emotional/creative dumps turn into something surprising and spark passion again. If it doesn't then I stop.
Write short form. Poetry, journal entries, social media blathering about not being able to write. I write about photos I post on Facebook. I write about anything that does inspire me. This helps me keep my muscle strong, but also allows me to reset. Then, when I'm ready, the other project feels fresh, but I don't feel like I'm learning how to write again.
Ask for help. When I'm struggling with something in particular, a good brainstorm session can help me reset. Getting feedback and seeing a project through fresh eyes can be rejuvenating and give you a new angle.
Try something new. Last year, when I was feeling particularly down on myself after a NaNoWriMo high, I needed a reset. I spent a month writing a children's podcast. A year later and I haven't gotten around to recording it, but I wrote a dozen stories that I love and it felt so good to finish creating something that I was inspired and confident and tackled two full poetry collections last year. Creativity breeds creativity.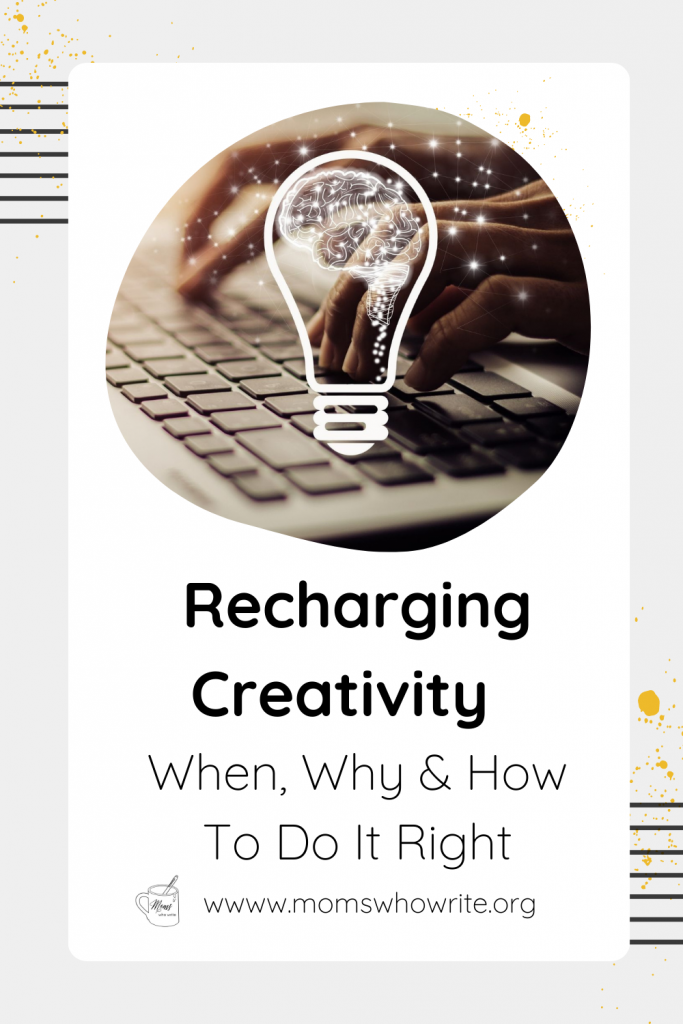 Most importantly, be kind to yourself
A pause or a reset is not failure. We live in a world that values hustle above most other things, but the truth is that our journey as creatives and as humans is never linear. There are ups and downs and spirals and leaps. It all comes together. We create beautiful things along the way, and we do better the next time.
So, give yourself what you need. If you need a break, take a break. If you're just irritated and stuck, it's time for some tough love and some introspection. Just exhausted? That's valid. Rest.
Ultimately, though, you will come back to the thing that brings you joy. Trust that and do what brings you life. Even if it's hard.
About the Writer: Allie Gravitt is a mom of 4 and lives in metro Atlanta with a house full of animals and plants. Her debut poetry collection, prisonbreaks, and second collection Killing Ghosts are available now on Amazon. Follow Allie's writing journey on TikTok and Instagram.