We all have low-content books. Notebooks, journals, diaries, whatever you want to call them. My favorite one is spiral bound with a highland cow on it. I can't write it in. Ever. It's too pretty.
But I've been intrigued by low-content books lately, so I figured I'd try my hand at making one. I have Canva Pro, (similar programs like BookBrush would also work too), opened that up, and, wouldn't you know, they have book templates.
With the help of some writing friends, I made a huge list of ideas for low-content books and started in on them. Here's what I found!
Creating low-content books for Amazon
The first one may take a while.
The first one took me quite a while to figure out. I had made the entire thing in one file, and I realized that did not work. At all. It worked better for me to make the cover separately (because Amazon wants a JPG file for it) and then do the interior and download it as a PDF.
Use the Amazon low-content book checklist.
Once I got the hang of it, I loaded my creation into Kindle Direct Publishing. They have a helpful low-content checkbox, so make sure you get that.
Choosing categories for my book was a little daunting, but I finally found what I was looking for. The key is to find similar low-content books to yours and see what categories they're in. I found that many of them worked in the self-help category. And you can email Amazon and ask for them to add more categories.
Start simple for a larger profit.
Thus far, I'm doing my interiors in all black and white, mainly because it's cheaper to print, making my profit a little larger. For books that are close to 100 pages, I'm pricing them at $9.99. For the ones that are 60ish to 90ish pages, I'm doing $8.99.
Why those prices? They sounded good to me. Yes, some are priced at $4.99, but I want more than a few cents profit because I'm not cranking these out at warp speed or anything. Your effort deserves to be paid.
The more you create, the better you get!
As I've been learning, I've found I can get a cover and interior done in as little as an hour (a simple daily gratitude journal) or as many as several hours (a more complex emotion journal). The more books you make, the more you hone in on your style, the faster you will get at cranking these beauties out.
Be patient with Amazon.
It did take closer to Amazon's full 72-hour approval period before the first few were up and available. I have five up and running, with a few more in review. Be patient, it will happen.
Use low-content books to charge your creativity.
Are you in a creative rut with your story? It happens. Sometimes all you need to spark life back into that part of yourself is to recharge your creativity with a different project.
I've found that creating these has been a way for me to be creative and "non-thinking" simultaneously. I'm not worrying about deadlines or why my secondary character has gone off his rocker. They're fun and a little cathartic. And even better if I can make a few bucks in the process!
I also hope to order several author copies for myself and take them to area craft fairs, flea markets, or even farmers' markets. They'd made excellent gifts, so I'm hoping that might be a place for some good sales.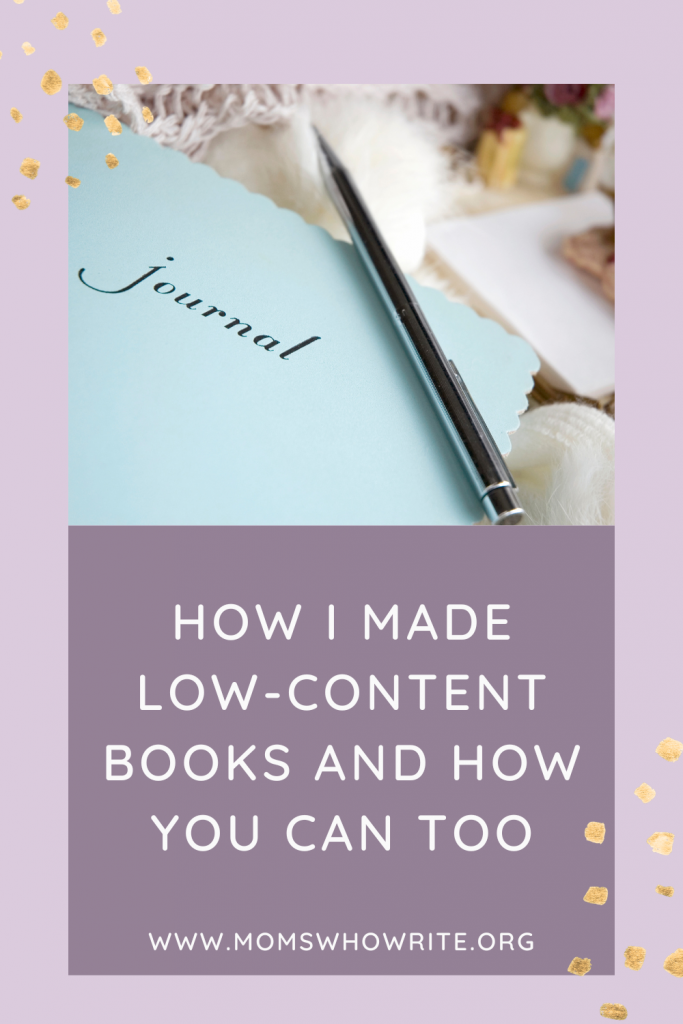 Low-content book ideas
So what have I done? Let's see:
prayer journal
dream journal
emotions journal
character profile books (adult and kids)
In the future, I have a ton more ideas to explore:
food diary
budgeting/spending notebook
daily writing prompts
wedding guest book
family tree book
baby book
"ask your parents all the questions" book
The possibilities are endless, truly. Even just a pretty cover with lined pages works. Who doesn't love a notebook? And maybe, just maybe, they'll be written in.
About the Writer: Allison Wells is a hot mess mom of four who has published six books both traditionally and independently. Currently, she's working on growing her editing and book coaching business. She's usually more interested in watching SNL reruns on YouTube than keeping up with the latest show on Netflix, but she prefers a book to those any day. Find her online at allisonwellswrites.com
Book Highlight: Two Princes by Allison Wells
When Allison is not making beautiful low-content books, she crafts fantastic romance novels. Two Princes by Allison Wells is a sweet love triangle you won't want to put down.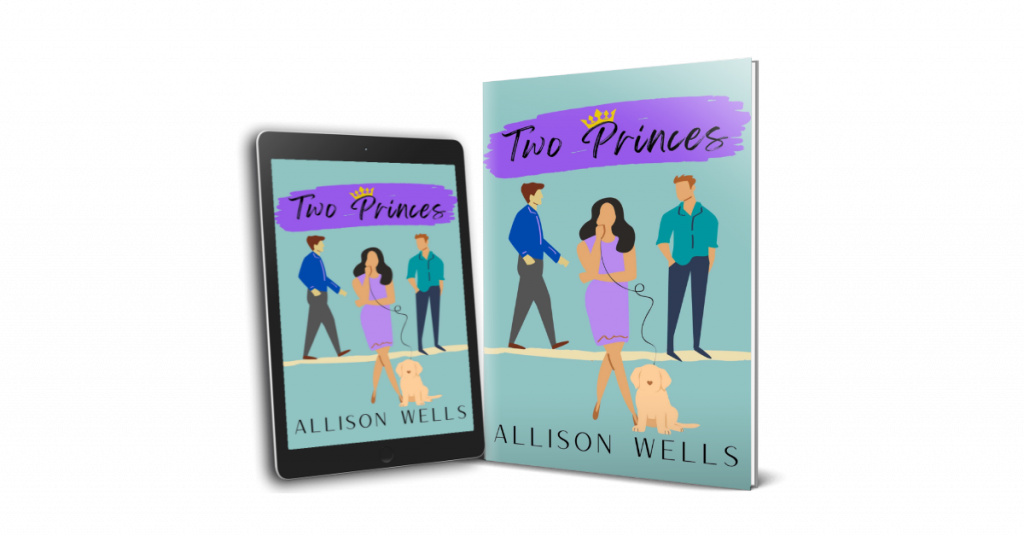 "Hana Willis is too busy writing best-selling romance novels to worry about romance herself. But with her sister and her best friend walking down the aisle soon, Hana realizes it's time to start looking for her own Prince Charming instead of just writing about them.
Chas Rossi is the epitome of a successful businessman, but his parents' nagging that he start a family has him looking over every unattached woman he meets. When Hana walks through his door, he finds a woman who might be just what he's been looking for.
Pace McCoy never slows down between owning a bar and operating a dog rescue. With a failed engagement in his past, Pace has sworn off love. That is, until he gets to know Hana and her dog Lulu. Soon all his thoughts are about her and he's rethinking his take on love.
When both Chas and Pace take interest in Hana, she finds herself in a love triangle unlike anything in the books she writes. Chas is polished and driven, while Pace is rugged and kindhearted. How will she know which one is the one for her?"
*Disclaimer: This blog contains Amazon Affiliate links. As an Amazon Associate, we earn from qualifying purchases to help generate more resources and opportunities for our writing community. We appreciate your support.