Starting is the hardest part.
If I start, stopping is failure. But finishing could also be failure. There is so much room for failure. I think, though, that the goal should be to define what failure is.
The thing that hurts the worst, though — that creates an anxiety, frustration-filled hole in my chest — is doing nothing.
The emptiness that comes from stagnant survival is crushing. This isn't the same as boredom. Moms are never bored. It's stagnation. Stagnation is the lack of activity, growth, or development. It is the state of not flowing or moving.
Anyone who has ever made anything understands that your plans evolve and change as you work. Things never go from Point A to B to C in a neat line. Ever. Expectations are adjusted constantly, and the truth is that the end result can end up being a thousand times more powerful than what you even believed it could be in the beginning.
The failure is the nothing. The stagnation. The frustration that comes from knowing that I want to be doing something that I am not doing, but that I could very well be doing.
We like to tell ourselves that we'll find time later. It's too hard right now. But the truth is that we won't. If we wait for ideal conditions we'll never do a damn thing. Which is why any step is better than no steps. Those notes I throw in my phone? Progress. Those poems I voice dictate while I'm in traffic? Progress. This first night behind a keyboard in what feels like an eternity? Progress.
The truth is that the final product will come. I'll get there. But I'll only get there if I actually start the journey. Will it take longer than I thought? Probably. It turns out that birthing and raising humans and working and wifing and maintaining a house is a lot, and it takes an insane amount of time. Truly. However, slow is better than idle. Slow I can live with.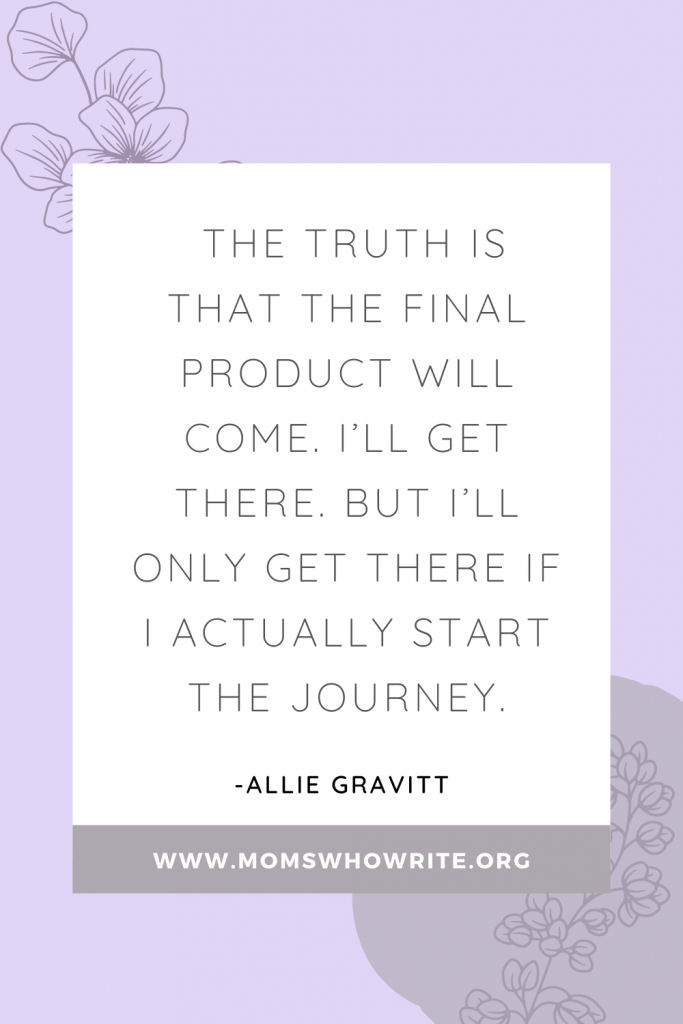 Slow is not stagnant.
A little movement can mean a lot over the course of a week. A month. A year. Those small steps get faster as you get stronger.
So, maybe you can't write a novel this summer. But you can start. And if you don't start, you'll never have anything to finish. 
About the Writer: Allie Gravitt is a mom of 3 and lives in metro Atlanta with a house full of animals and plants. Her debut poetry collection, prisonbreaks, and second collection Killing Ghosts are available now on Amazon. Follow Allie's writing journey on TikTok and Instagram.