Both Allie and Shell have touched on this subject before—the idea that being a mom who writes is hard, and we often feel like giving up. The topic keeps coming up in our group, though, because it's a never-ending battle. Here's what I have to say about it: Mamas, don't you dare give up on your writing dreams. Your dreams are important. Full stop.
Are you down on yourself because you've been doing this writing thing for a significant period of time with "nothing to show for it?" I have been here, so I know it's not a fun place. But we really need to unpack this together because I'm not about to let you wallow.
It's never too late to be a writer.
First of all, the beautiful thing about writing is that you can do it any time in any season of your life. In The History of Us, we accepted a submission from a woman in her nineties. It was her first published piece. There are no timelines to our dreams, or there shouldn't be. We do this thing as hustle culture humans where we give ourselves deadlines and ultimatums to avoid what we perceive as failure. But moms, we can fulfill our dreams at any point in our lives—really!
Maybe, right now, you have a lot of life going on. We're in the crazy holiday everyone-is-sick-all-the-time season. It would be a miracle for any of us to "act like a writer" during this time. Perhaps it's not your season to "be a writer," but who knows what will happen in a day, a year, or twenty? (Remember, there are no deadlines here!)
Writers come in all forms.
Next point: you do not need to be a full-time, published writer to consider yourself a writer. Go back and read that again. You're a writer any time you get words on paper. There's a very dangerous mentality toward creatives that even creatives sometimes adopt. Frankly, it pisses me off. We are often expected to produce something of note in order to appear "legit."
Here's an example. Immediately after college, I attempted a career in theater. I did not move to New York City. I never auditioned for a Broadway show. That probably shocks you, right? How could I be taken seriously as an actor if I wasn't on Broadway? Only Broadway actors are real theater actors.
The fact is there are plenty of professional actors who have flourishing careers and have never performed anywhere near NYC. You don't know their names. You wouldn't recognize them on the street. But there are, in fact, actors who get paid and don't have to have a "real job" on the side.
Now take that and apply it to writers. What do you mean you haven't published a book yet? You're not a real writer unless you publish a book! It hurts, right? It makes you feel all sorts of icky, like your efforts aren't worth it—like your dream is rubbish. FALSE. People who say things like this don't get it. They don't have a creative bone in their boring bodies, but they apparently have unfiltered mouths to tell you what it means to be creative.
You don't have to PUBLISH to be a writer.
Our ninety-something History of Us friend is proof that you can call yourself a writer even if you don't publish anything. She refers to herself as a writer in her bio, but she hadn't published anything prior to that. Because you don't have to ever publish anything ever to consider yourself a writer. You just have to write stuff. The whole idea that writers must produce a product for the masses is bull. You can write for yourself, okay?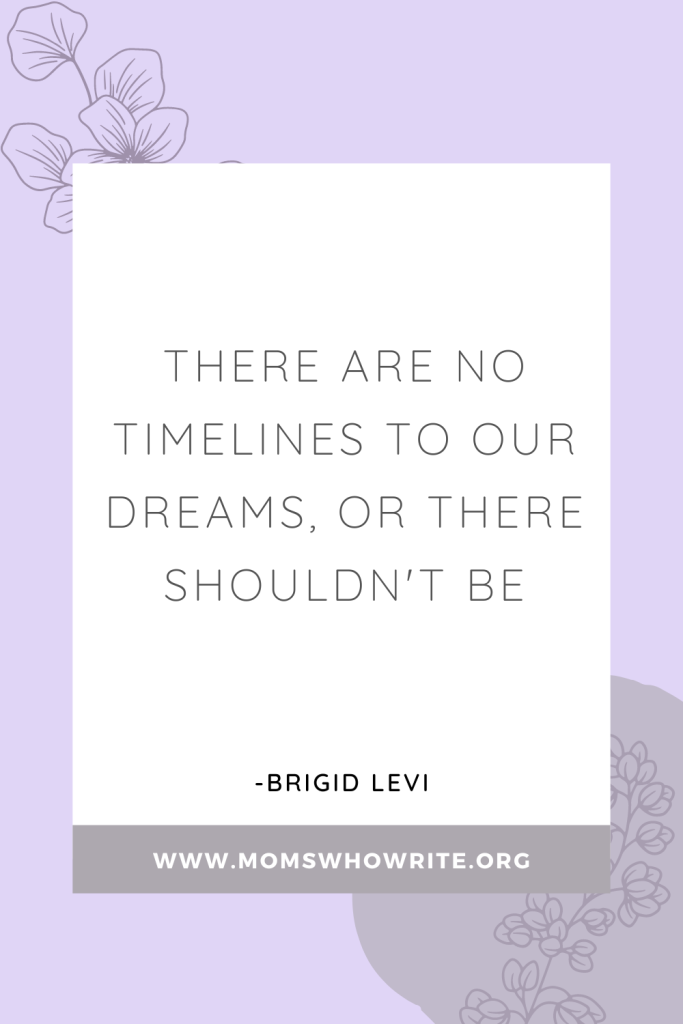 However, for most of us, the goal is publication— a legitimate dream that shouldn't be cast aside. Moms have a way of doing that. So, this is your permission to dream your dreams and to pursue them. If you've been doing that this whole time, well done! Now, remind yourself to persevere in that dream.
Your dreams are worth it.
Life will ALWAYS get in the way because that's what it does. But our perseverance is what brings our dreams to fruition. It's very rare that a dream comes true because we were in the right place at the right time. More often than not, they come true because we worked hard and persevered.
I hope you keep writing. I hope you persevere in your dream.
That's all she wrote.
About the Writer: Brigid Levi is a freelance writer and editor based in the Philadelphia area. She has three children, a husband-child, and a dog. When she's not freelancing or working on her own writing, Brigid can be found under all the blankets with coffee, tea, or wine (depending on the time of day) and a sweeping historical fiction novel. She hopes to publish her YA fantasy/adventure novel in the near future! Find out more about Brigid on her website.
*Disclaimer: This blog contains Amazon Affiliate links. As an Amazon Associate, we earn from qualifying purchases to help generate more resources and opportunities for our writing community. We appreciate your support.
Book Highlight: The History of Us by Moms Who Write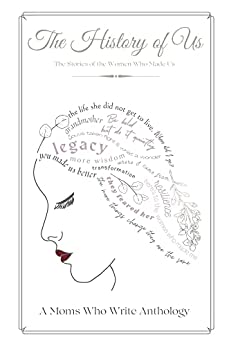 *Disclaimer: This blog contains Amazon Affiliate links. As an Amazon Associate, we earn from qualifying purchases to help generate more resources and opportunities for our writing community. We appreciate your support.