There are so many new releases hitting the shelves this spring I can barely stand it. One of the most exhilarating by far is the debut anthology, Venus Rising by Our Galaxy Publishing. This beauty is packed with compelling pieces written by women from around the world—some are even members of Moms Who Write!
A powerful anthology celebrating women
We talk about it all the time, but I'll repeat the obvious: Women are fantastical creatures.
The weight we bear, the pressures we power through, the passions we possess despite the constant challenges thrown in our path. Women are stronger today than ever before, and Venus Rising provides a riveting experience into the true depths of a woman's soul.
So many of the adversities we face as women are shared. How many times have you heard a woman speak from the heart and think, That's me? These similarities interconnect us with souls around the world, women we may never meet.
Thankfully, with collections like Venus Rising, presence is of no importance. Our words on paper are powerful enough to weave our energies together. To build an impenetrable web of love and empathy, supported by the strength of our shared experiences.
What happens when a woman rises
I could describe the book to you, but Our Galaxy Publishing is really talented at book blurbs. So here it is:
When a Venus woman rises, she is in power to express herself. She is honing her passion, desires, and truth, everchanging and evolving. A woman rising in Venus controls her narrative, telling stories to communicate her truth, breathing life into the values that unite her with other transcending women.
The stories of these women speak to the beauty and pain, the guts and glory, the thriving and striving of all it means to be in this embodiment. Venus Rising is an anthological collection of inspiring women writers who shine a light on their inner verities and lay their wounds bare for us all.
Enter their world, see through their eyes, and rise like Goddess Venus herself.
What To Expect from Venus Rising
I feel incredibly honored to be included in this anthology, and I can't wait to be captivated by the pieces surrounding my own. Venus Rising consists of women authors who have poured themselves all over the paper to connect and share with others worldwide, and we are undoubtedly better when we are together.
Through poetic and dynamic storytelling, Venus Rising covers loss, trauma, healing, resilience, and more. It encapsulates the individual experience of being a woman and celebrates the often neglected triumphs we experience behind the scenes.
In the words of Our Galaxy Publishing: "We connect with storytelling because we're all seeking an explanation and purpose for our human experience, searching for a way to make sense of self. Stories remind us of who we are and how we got here. They bring individuals together, conveying the values and insights that unite us. Through stories, we cultivate new ways to grow.
"This anthology encapsulates the voices of over 50 women from throughout the United States and over five countries around the world. They are of different ages, lifestyles, cultural backgrounds, and personal values. Across more than ten genres of writing, each woman has given us a piece of themselves."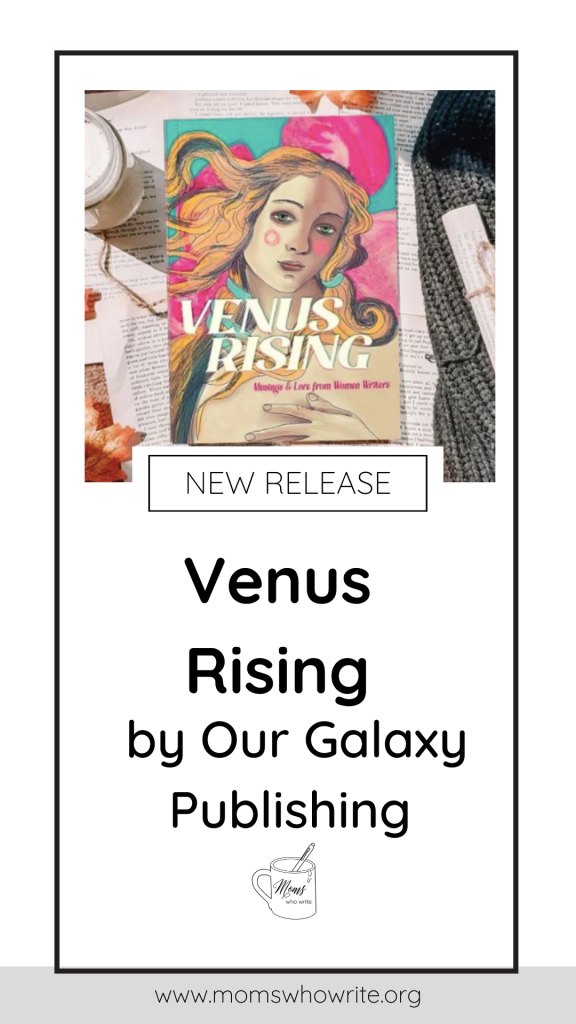 Add Venus Rising by Our Galaxy Publishing to your collection!
If you are a woman, this is an anthology you won't want to miss. Pick up your paperback or Kindle copy of Venus Rising here. And if you're not already, go check out Our Galaxy Publishing on Instagram and subscribe to their newsletter for more. Happy reading everyone!
About the Writer: Shell Sherwood is a poet, fiction writer, freelancer, and creator of silly children's stories who could live on coffee, pastries, and romantic tragedies. She lives in Hudson Valley, NY, with her three boys and aspires to own a small writing getaway in every climate. Shell is currently working on her debut poetry collection. Learn more about Shell and follow her writing journey via her author blog, Instagram, and TikTok.