The challenge of writing a blurb for your book is obvious. I mean, how do we tell the story without telling the whole story? That's why it took us a whole book in the first place, amiright?
I don't think there's any perfect formula. I suspect there are also some genre-specific tips out there for attracting the correct audience. However, there are some basic attributes of a good blurb we can all agree on.
Matching Tone
This is the vaguest piece of advice on the list and may seem tricky to do in such a short space, so feel free to think of it in these terms instead: write your blurb in the same voice that dominates the novel.
If you're writing in first-person present, the blurb should be in first-person present. If your main character is sassy and sarcastic, the blurb should be sassy and sarcastic. If drama and tension and rich atmospheric description are your strong suits, seed that into your blurb.
It's not just about making things easier on yourself by preserving your natural flow. It's about attracting the right audience, by making the right implied promises. Someone looking for sassy is more likely to be pulled in by that sassy blurb—but, lacking said sass in the blurb, it may be picked up by someone expecting that drama-and-suspense angle. That may get your book read, but not by the person who will leave the best reviews, because what they really wanted to read was something else.
I'll say it again: the tone of your blurb is an implied promise. It's the taste test. However you wrote your novel, stay in character while you're writing the blurb.
Setting the Scene
If you read any successful blurb, there's a high chance it's going to reveal the basic scene of the book. You're going to know at least one character, and probably the most important piece of their backstory or personality. You're going to have an idea of place, whether it's a faraway magical empire or modern-day Ireland, or even as general as "in the future." This provides essential context for the stakes or conflicts to make sense.
You may encounter this as a single short paragraph at the beginning of the blurb, or as a series of hints seeded throughout it, but this technique provides the answer to a potential reader's certain question: Is this something I'd like?
Why? Because the setting of a story is inextricably intertwined with the genre, the challenges and conundrums, and the associations of the story. It helps us know why to care about what's going to happen. It helps us know whether this book is likely to be similar to novels we've liked in the past.
Ask Questions (or use Dramatic Cliffhangers)
To a certain extent, the point of writing a blurb is to be open-ended. You're not actually trying to tell the story here; you're trying to sum up the primary, most central elements to what forms the conflict or goal your main character is facing. Part of this is to create questions in a potential reader's mind—to make them curious.
Breeze through details. Put them in the backgrounds of sentences wherever possible, in weighted adjectives or between commas. Make sure that as the reader, I know who to care about and why I should be on their side—but don't tell me much about what actually happens.
Instead of "The three little pigs build houses to keep away the Big Bad Wolf," try a question: "Can the three little pigs build a house in time that will withstand the Big Bad Wolf—or will they be his dinner tonight?"
Or, try a cliffhanger: "Now it's a race between predator and prey as the piggies must hurry to finish their houses… before it's too late."
Keep in mind: if it feels like you wrote the complete story in the two paragraphs on the back cover, it's going to feel like there isn't much left to read inside the pages.
Keep it Brief
Remember, this isn't your story that you're writing—it's a condensed description of the main plotline. The goal is to make someone wonder what's going to happen, not to tell them what's going to happen. And frankly, you don't have a lot of room!
How do you simmer down to those essential details, without excess? We'll discuss that more in the next installment of this series. Don't forget to check back!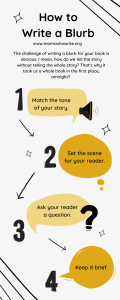 Still struggling?
I could advise you to start reading the blurbs on your favorite books in your genre, but I'm sure you've already done that. I would like to suggest a different exercise: sum up your favorite book yourself, without looking. Simply think about how you would recommend it to a friend. Type it up on the fly, then directly below, rewrite it according to the above principles. It's a lot easier to boil down to the main points of something whose intricate details you aren't so intimately tied to. Practice.
In the meantime, take some time away from the novel of yours in need of a blurb. See what sticks with you after a while. As those smaller elements which make your novel so juicy in the reading fade a little from memory, the essential parts will stand out.
About the Writer: Kathryn Tamburri (@KathrynTamburriAuthor) writes clean YA epic fantasy novels which seethe with slow-burn romance. You can find more of her writing tips on #ThePantsersGuide and follow her new #AdventureLog on the blog at KathrynTamburri.com, and be the first to know when her novels publish by subscribing to her fun author newsletter.