If there are two publishing industry terms I see mixed up the most, it's probably synopsis vs blurb. Both are very important to the publishing process, so it's important to know the difference to be professional in conversation, and to accomplish your publishing goals.
So what is the difference? There are a few ways to think about it.
Synopsis vs Blurb by definition
A blurb is premise; it gives you an idea of what the story is going to be about. The purpose of a blurb is to generate questions, curiosity, interest in what's going to happen in the pages.
A synopsis is plot; a full overview your story. The purpose of a synopsis is to give away all the most important secrets. It takes the reader from the beginning of a story all the way to the end in the most condensed possible way, proving a logical flow of events and character development.

Does that sound overwhelming? It doesn't have to be. Go on to read the key components in each. Then, check out the included links to articles that dive deeper into the mechanics of a blurb and a synopsis to learn how to build each one.
The Blurb
Between a blurb and the synopsis, the blurb is arguably simpler. It may have it's own quirks and challenges, but it's something most of us are much more familiar with, in terms of what it should be like overall.
Think of the back cover of any novel, or maybe the inside flap of the book jacket. What do you find there, besides reviews? You find a brief and intentionally incomplete description of the story. It usually has a distinct and rapid progression of the main character's background, the crux of their problem, and some kind of cliffhanger finish that implies the stakes of failure. It's not the whole story; it's just enough to make you want to read the story.
The whole purpose of the blurb is to make you want to read more. The blurb is useful for putting on the book itself, websites and promotional material, or into a query letter.
If you want to read more about how to craft a blurb, you're in luck! I wrote a whole series on it:
The Overview: A basic how-to for writing book blurbs
Limiting Details: How to pick what needs to be included or left out
Progression: How to arrange the details so the reader wants to keep moving forward in the story
The Synopsis
While a blurb and a synopsis are both a type of summary, in every other way they are opposite. The blurb must generate questions; the synopsis must generate answers.
The synopsis hides nothing. There won't be room to go into every subplot, moment of humor, or side character; you only have one page to convey the beginning, the middle, the climax, and the ending in an order that displays logical sense.
A synopsis is something used to judge whether your book has any promise besides merely being a good idea for a story. In other words, your topic caught the agent's attention, so now, they want to get an advance idea of how well you executed the concept. They may like your style and description in those first five pages, but they don't want to get 40 pages in to some rambling mess before they realize they wasted their time.
Thus, the synopsis.
The most important thing here is to tell the shortest possible version of the main plot line in a way that is (a) least confusing and (b) clearly demonstrates cause and effect. Everything you describe happening in your synopsis should directly derive from the event/emotion you described in the sentence before.
In 2022, agents will typically accept a synopsis in a standard font that uses single-spaced paragraphs. Put an extra blank line between paragraphs. In formatting settings, choose "single spaced" and "add space after paragraphs," and that should take care of it for you.
There's a lot of help on the web for building a synopsis, because you're not alone– we all know it's hard. If you've tried all that advice and need a less conventional approach, read my step-by-step process at this link.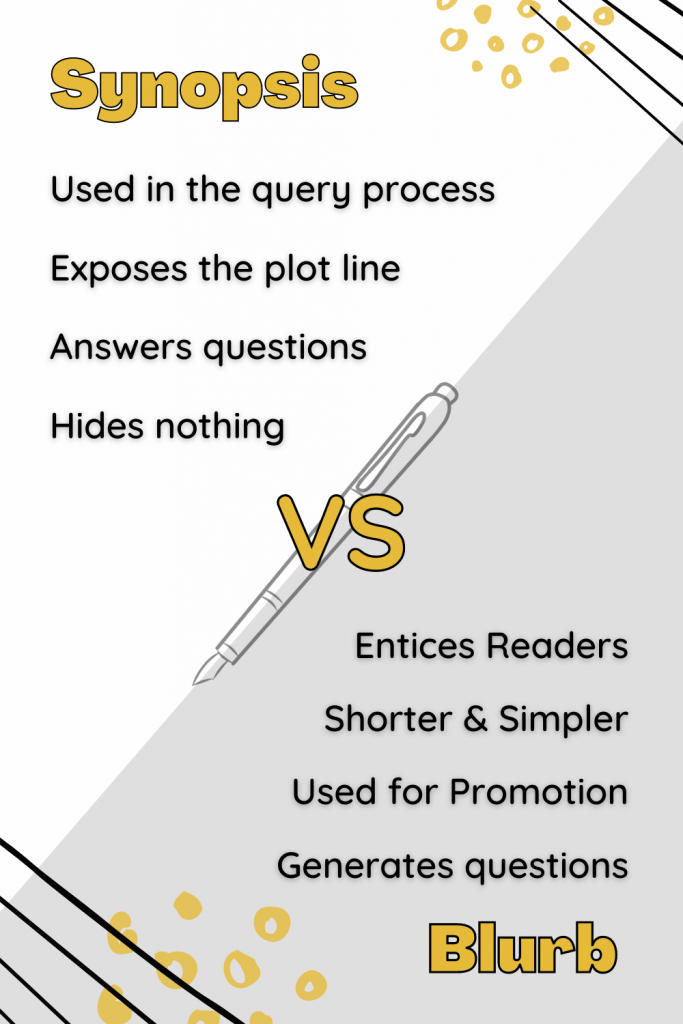 So now you know
Remember–just like writing books, these specialized documents take practice. Try and try again. Ask for feedback from trusted writer friends. Then go get published!
Happy writing!
About the Writer: Kathryn Tamburri (@KathrynTamburriAuthor) writes clean YA epic fantasy novels which seethe with slow-burn romance. You can find more of her writing tips on #ThePantsersGuide and follow her new #AdventureLog on the blog at KathrynTamburri.com, and be the first to know when her novels publish by subscribing to her fun author newsletter!