There are so many ways to pitch a story to an agent or publisher. One of the most effective methods for authors is to develop a condensed, 1-2 sentence elevator pitch for books. I know…not another short pitch to write! But hear me out.
I once read the story of how bestselling author Jim Butcher got his first literary agent. According to his website, after years of rejections, he attended a writers' conference and managed to strike up a conversation with an agent he had previously queried. By the end of the day she had agreed to represent him–and another agent had also asked to look at his wor! Now, Jim Butcher is a career author, with multiple bestselling titles and even a tv series based on his work.
This is why you need an elevator pitch.
Over the last few months, we've talked about how to put together a one-page synopsis. We've talked about how to piece together a 3-4 paragraph blurb (and how they are different). Now, we're going to shorten it up even further.
What is an elevator pitch?
An elevator pitch is the shortest, most boiled-down version of the mere essence of your story. It's a quick hook that can take advantage of the smallest moment of potential opportunity.
Have you ever seen a movie where some guy manages to slip into an elevator with someone who just wants to be left alone? In those few moments with their trapped audience, the guy is able to rapidly pitch some product or idea, or legislation. Those few moments are all he has to convince someone to look into his idea further. That's where we get the term "elevator pitch."
It's a quick pitch, only containing the most important elements of your story. It's what you use to grab someone's attention when you only have a few seconds or characters to use.
You need more than one.
Don't let this dishearten you. Having more than one will give you a huge advantage. You'll have the chance to see which angles sum up your book the best and catch the most interest. This is especially helpful if you have the chance to feel out your audience first, whether through conversation or prior research; people respond to different triggers.
Additionally, once your book is published, your elevator pitches will make great resources for social media outlets like Twitter. They can also be useful if you plan to visit your local bookstores, libraries, and school districts and convince them to carry your work.
But… how?
I know. I feel your pain. How the heck do you take 50,000+ words and boil them down to just one or two sentences?
Theme. Conflict. Stakes. Question. That's where you gotta live.
This is not the time to tell your story. It's the time to think about what it's really about. Read that again: not who it's about, not what happens, but what it's about. Is your book about racial divides? Is it about the cost of love? About the importance of choices? Is it about identity?
What question does your book seek to answer? What question does your book create? How do the unique challenges of the characters form the primary tension and shape the outcome?
Elevator Pitch Essentials
When creating your elevator pitch, think of the few most extremely important elements of your story, without which it doesn't exist. First, identify whether your main character's primary conflict is internal or external: Where's the fight? Do they stand to lose or gain something inside themselves, or something/someone else? We'll talk about that more in-depth in another article.
Next, speak in general terms that are common to the human experience, terms quick to generate empathy. Use charged language to enforce the character's background or stakes in the merest phrases. Stay true to the story and don't make promises you can't keep, but don't be afraid to overdramatize.
What NOT to Include
What to leave out of an elevator pitch for books? Names. Names are distractions. We want to concentrate on the primary emotions of your book: heartache, triumph, fear. If we accomplish this, our audience will then ask about the rest—about the characters and plot and worldbuilding. That comes after.
The Formula
Elevator pitches start small and simple and transform into huge, far-reaching ramifications. That's a little more natural in epic fantasy, but it works in genres of internal conflict, too. Think about it this way:
In an adventure book, start with what matters to your central character, then move quickly to how the stakes encompass a larger group or world.
For a book about internal growth, set a beginning stage and then move quickly through how one central choice may change everything.
In a romance, introduce two characters (by their central descriptor, not their name) then move quickly through what ties them together and what may tear them apart.
Obviously, I haven't read your book. For your book, you may need a different model. These examples are just to provide ideas to get you started.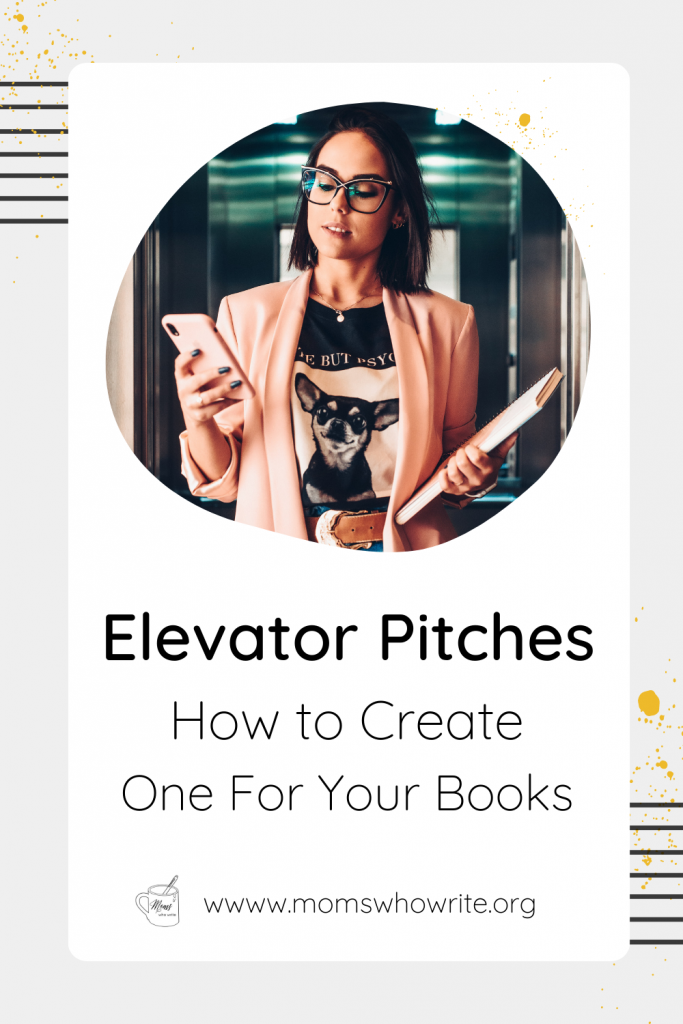 Elevator Pitch Examples:
A governess will find love and secrets in the mansion of her new employer, but which is more dangerous—the secrets, or the love? (pitch for Jane Eyre)
When a forgotten princess and a prince without purpose chance to meet outside of court, the collision of fate will change the course of history and bring kingdoms to their knees. (pitch for Snow White)
The whole point of an elevator pitch for books..
The point of the elevator pitch, truly, is to make the audience want the real pitch. They'll be so much more receptive to it after they've already decided they want to hear it. The elevator pitch is to make them feel and to make them curious—not to make them know. It's to make them ask.
Yes, I know, I know. Pitches be crazy.
About the Writer: Kathryn Tamburri (@KathrynTamburriAuthor) writes clean YA epic fantasy novels which seethe with slow-burn romance. You can find more of her writing tips on The Devo Blog at KathrynTamburri.com, and learn from her publishing journey by subscribing to her fun author newsletter!