I recently wrote an article on how to develop an elevator pitch for your book. I realized something as I was writing it: an elevator pitch is impossible to formulate unless you first identify your story's primary conflict.
Figuring out whether you have an internal or external conflict is the first step in framing your pitch—in fact, this is central to developing your blurb and any other marketing materials as well. The primary conflict is the driving force behind and throughout any story. Without it, no summary will provide the emotional punch to make the audience want more.
So do you know your primary conflict?
Primary Conflict vs. Secondary Conflict
Most stories in any genre are going to have a good amount of conflict. Actually, any novel I've ever read has several types of conflict, one following another, all tumbling like dominoes until the big finish. Each character generally has their own conflict: inside their hearts, between lovers, against an antagonist, against a societal standard, or all of the above.
Most of these are what you might call secondary conflicts. They are important, but there's one struggle—one question, one fight—that is the most important to the overall story. This is called your primary conflict.
Let's take a look at the definitions:
Secondary Conflict: minor events and ideas occuring in a story; conflicts that may impact the primary conflict but are not as important.
Primary Conflict: generally the conflict raise at the start of a story and resolved in the end; the overarching problem, for without, there would be no story.
Stories are messy, and they should be. However, through all of it, there should be one unifying line, a primary conflict that umbrellas over all other problems. This is often referred to as the theme, the main plot, or the central question. When the reader reaches the climax of the story, the outcome of the primary conflict is going to be the deciding factor to determine how it all falls out in the end.
Before you write any pitch, blurb, synopsis, or summary, you've got some untangling to do. You've got to pick apart all the different threads of action and agony going in all directions and find the one thread that ties it all together, the primary conflict above the rest.
Traits of a Primary Conflict
The primary conflict is going to involve your main character. It may or may not involve a secondary party, depending on if the conflict is internal or external (we're about to get to that). That second party may also be a character in your story, but it could also be an alternate force. For instance: the world at large, or racism, or a moral question, or a goal.
The defining trait of a primary conflict is how essential it is to the full breadth of how the story plays out. The inciting incident, the low point, the climactic teeter-totter that makes us wonder how it's all going to end right before the big conclusion. Even the hope of satisfaction gained from the ending is all going to ride on the primary conflict.
An example: Is saving the world worth losing the love of his life? This primary conflict tells us that the whole book will build-up to the point where our hero has to choose. Whether or not the reader hates or loves the ending depends on the case built through the story. The greatest sense of loss and the greatest moment of victory will derive from the answer to this question. Every single thread ties to that one.
Internal vs. External Primary Conflict
There are two types of primary conflict: internal conflict and external conflict. Internal conflict is a conflict focused on internal struggles within a character. External conflict is conflict applied to our characters by an outside force or second character. The terms internal and external describe how the conflict relates to the character. Our primary conflict, of course, must relate specifically to the main character.
Most books will have some of both. Arguably, a little bit of both is unavoidable. Even an internal conflict may depend on an external catalyst.
Examples: Internal Conflict
Let's consider this idea: a young woman struggles with her value as a human being in the 50s after meeting someone who challenges her worth.
The key here is identifying where the pain comes from. The person our young woman meets may incite the struggle or bring something that already exists to the surface. However, our final question—what brings resolution—will involve whether she does have value, where that value comes from, what defines it, and how she applies it. The pain doesn't come from meeting her antagonist. The pain comes from her own heart, her own ideas, unreconciled with who and what she encounters. What happens between her and the other person will be a conflict in the story, but in the end, what the reader really wants to find out is what happens inside her.
Example: External Conflict
A perfect example of an external primary conflict that we've seen over and over again: alien invasions.
When aliens take over the world, it's up to humans to protect their own race. While you may have a slew of internal conflict and struggles meddled in action scenes and affecting how humans fight back, the primary conflict is the external force (the aliens) and what they are capable of. We want to know if they take over the world in the end.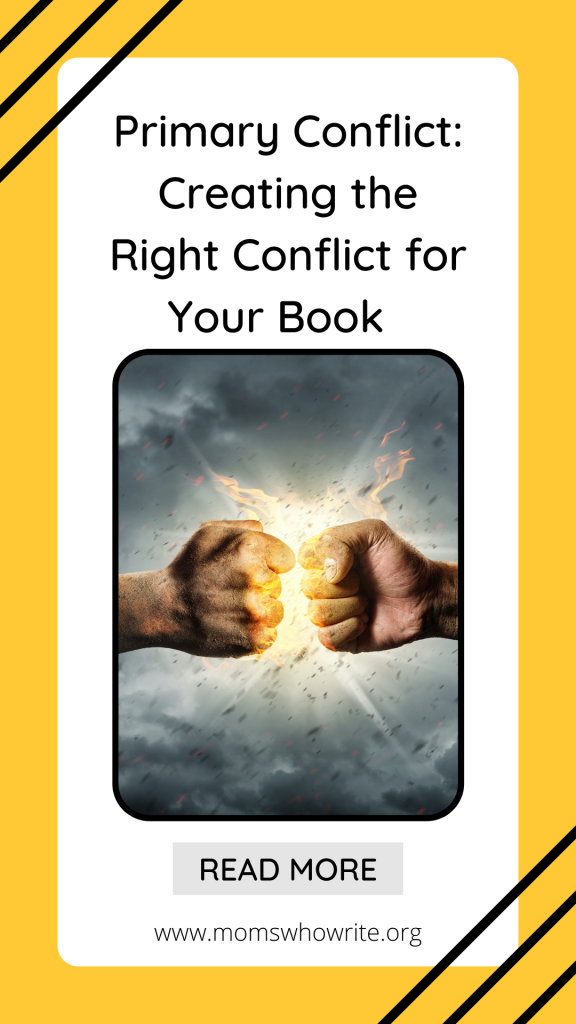 Genre Matters
Different genres tend to be dominated by different primary conflicts. Save-the-world or find-the-killer tropes depend mostly on external conflicts (though good ones usually give the main character an internal struggle also). Coming-of-age stories are almost exclusively built on the internal primary conflict.
It may be worthwhile to research your genre and examine your novel in that framework. You may find that it helps to identify your primary conflict—or, you may find that you've been shoehorning your story into the wrong category. Honestly, it's good to reflect on this even between your first and second drafts. Knowing your primary conflict will help you hone, trim, and focus your novel into something that really carries emotional momentum through to the end.
Know your novel.
Remember, whether you publish traditionally or indie, sales don't come before knowledge. Identifying your primary conflict will help you find your audience, describe your book succinctly in conversation, and formulate queries or ads. Make sure, before you hit that publish button, that you've really gotten to know what you've written.
Looking for more writing tips?
We love writing about topics that help our members reach their ultimate books goals. Contact us through the website to suggest future articles or connect with us through Patreon for more in-depth writing tools and resources.
About the Writer: Kathryn Tamburri (@KathrynTamburriAuthor) writes clean YA epic fantasy novels which seethe with slow-burn romance. You can find more of her writing tips on The Devo Blog at KathrynTamburri.com, and learn from her publishing journey by subscribing to her fun author newsletter!