Writing conference season is just around the corner. If you read my article about how to get a literary agent through pitching instead of querying, now is the time to prepare. This is when pitching a literary agent can yield more success than querying. Believe me…I've seen it first hand!
My first time pitching a literary agent, I got not only a full manuscript request but requests for the synopsis of the sequel AND the synopsis for a completely unrelated book–you can achieve the same success. If you were thinking about taking my method for a spin, here's how to start.
Know the literary agents you're pitching
Before getting a pitch ready, know who you're pitching to. Start by looking up writing conferences that offer pitch sessions. Comb through the participating literary agents at each one, and buy the conference ticket based on the agent you have the best shot with.
Prepare your documents
Before any pitch, you need to have the documents your prospective agent universally requires with submissions. Often, this includes a synopsis, but the agent may have other unique requirements as well, so do your research. You also want to make sure your full manuscript is polished and complete before your pitch. This way, if you do get that coveted Full Manuscript Request, you can submit it while the agent is still excited about it.
MANUSCRIPT TIP: Pay special attention to those first pages, which can easily be where you gain or lose your agent once the manuscript is submitted. Familiarize yourself with common industry no-nos and agent pet peeves if you want to have every advantage.
Have answers to common questions
Don't get caught in silence when your agent asks you a question about your book– make a fact sheet. At some point during the pitch, your agent WILL want to know the following about your manuscript:
Word count, rounded to the nearest thousand
Genre, including age range and any qualifiers (is it a sweet romance or erotic? A cozy
mystery or a thriller? YA or middle grade?)
Comparison titles (look for recent and recognizable titles in your genre, even if they're
not quite the same, and be ready to name the specific traits these share with your work.)
Is this a standalone or series?
Has anyone else read the whole manuscript yet (alpha or beta readers)?
Have you pitched or queried this novel to anyone else?
Have you done anything to begin building an author platform?
Create a reference sheet
You're a writer, and chances are, you express yourself best after a couple of good drafts. But you need to be able to discuss your work verbally too, and a reference sheet can help.
Now, you can't just read from the reference sheet to your agent. I printed everything and used a clipboard to have in front of me. Then, if I was faltering or losing direction, I could glance down to what I'd written in advance and regain my place with confidence.
First, I used Word to make a table, and each bit (my quick facts, elevator pitch, blurb, questions, and other talking points) were written in a block of a different color, so I could find what I needed at a rapid glance. Write out that elevator pitch, blurb, and synopsis. Get feedback on them and look up industry advice. Polish them up till they shine and then rehearse like crazy.
Practice describing your book and responding to common agent questions out loud with someone else if you can. Rehearsing with my best friend led to me making a big sign that said TALK SLOWER posted on the wall behind my laptop to remind me during the Zoom meeting!

Ask questions
If time permits, you may have the chance to ask questions that improve your future chances, even if this agent ain't the one: Do you have suggestions to improve my pitch? If this isn't for you, do you know of someone my work may interest? Any tips for selling in this genre?

Brainstorm. Awkward silence at the end of a pitch is no fun for anyone, and good questions also help show how well and thoroughly you think things through—which reflects on your ability as a writer. You probably won't get to ask many, but have some ready.
Take side-notes
Think of your pitch like a job interview. You're getting a resume together: What makes you stand out? What makes you desirable? Are you well-traveled? Familiar with martial arts? A marketing guru? Have you received any rewards for your writing, or attended relevant classes? Do you write with an emphasis on diversity or moral themes? Do you have unique experiences which allow you to fully realize the characters in the situation you've written?

Have these questions ready to go. You never know when you might be able to slide them into the conversation.
Talk about future projects
One last thing that can give you an advantage when pitching: this agent is looking for a long-term investment, not a one-trick pony. If there are other novels or projects you're working on, have some brief descriptions prepared. The agent I pitched wound up asking for multiple synopses of projects I hadn't even intended to pitch that day—I'd only mentioned them to demonstrate future promise, and it worked way better than I ever expected!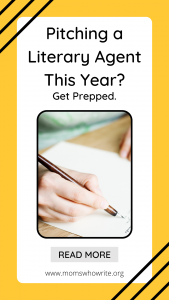 Don't be overwhelmed…the literary agent is rooting for YOU
The most important thing when pitching a literary agent, in the end, is to make a personal connection with the agent you're speaking to. They want to find something they like. They want to find some new breakout author. The literary agent is looking to profit from this meeting as much as you are, and they'd probably prefer working with someone they get along with. Remember that most of the options listed above are optional. Focus on the essentials first, and get to the rest if there's time.

So, relax. Have what you can have ready, and on pitch day, go with the flow.
About the Writer: Kathryn Tamburri (@KathrynTamburriAuthor) writes clean YA epic fantasy novels which seethe with slow-burn romance. You can find more of her writing tips on #ThePantsersGuide and follow her new #AdventureLog on the blog at KathrynTamburri.com, and be the first to know when her novels publish by subscribing to her fun author newsletter!