NaNoWriMo is National Novel Writing Month. In short, you write 50k words in 30 days, averaging 1,667 words per day for the entire month of November. Yeah, it sounds intense. It sounds gimmicky. But, for a lot of people, the camaraderie, competition, and accountability are enough to push them over the finish line.
I'm one of those people. I've "won" NaNoWriMo twice now, and failed last year with 30k words. Here's the thing I took away from last year: 30k words in a month is not failing!
Here's what you need to know if you're going to tackle NaNoWriMo.
50,000 words is the goal, but you get to decide what works
In order to "win" you will need to upload a document with 50,000 words into their software at the end of the month for a count. Winners get some prizes, which are largely author-related discounts.
However.
You have permission to set whatever goals you want for NaNo. If you're interested in smaller goals, breaking things down into manageable chunks or setting a 25k or 30k word goal may feel more achievable.
Or maybe you want to take the time to rework a first draft. Go do that thing. A rewrite is valid; if this is the push you need to tear apart that first attempt, you should do that.
How to do to it
Planning
if you are a parent, time is probably your most valuable asset. The idea of finding time every day is really daunting, and it takes planning.
Some things that may help:
Prepare as much as you can in October. You've still got a few weeks! Go ahead and do some plotting, character development sheets, map drawing—whatever it is that you need to see where you're going. This doesn't need to be a scene-by-scene plot, but some legwork in the beginning can definitely act as a safety net when you hit a rough spot.
Set realistic expectations. Know that there will be nights that stuff doesn't get done. Unless you're already in a pattern of writing a few hours a day, it's probably going to be an adjustment. That's okay.
Talk to your partner. Figure out a way for you to rearrange schedules if you need to. Obviously, this is not an option for everyone. However, getting the people in your life on board for the month will make things a lot easier.
Build in a couple of days where you can get larger chunks of work done. If you have a few days where you can hole up in your office and pound of 5k-10k words, you'll have a buffer for days when you just… can't.
Use the NaNoWriMo website
There are a ton of resources on the NanoWriMo website. For one, you should sign up and announce your project on the site. Once you've done that, you can find local Discord servers and people in your area doing NaNo, too.
If you want to get fancy, you can join groups and compete with word counts daily (there may be some going on in our Facebook group!) Take some time and figure out what you want to participate in. Regardless, watching that graph tick up with your daily goal is super satisfying.
Sprinting!
If you don't know what sprints are, they're a great way to quickly get a lot of words down. Essentially, you set a designated period of time (10, 15, or 30 minutes, generally, but you can go for as long as your little heart desires.) You can sprint on your own by setting a timer and seeing how many words you can get down!
Or, if you're into competition and camaraderie, go ahead and join the MWW Discord channel! There are plenty of places to find sprinting partners and make the process more fun.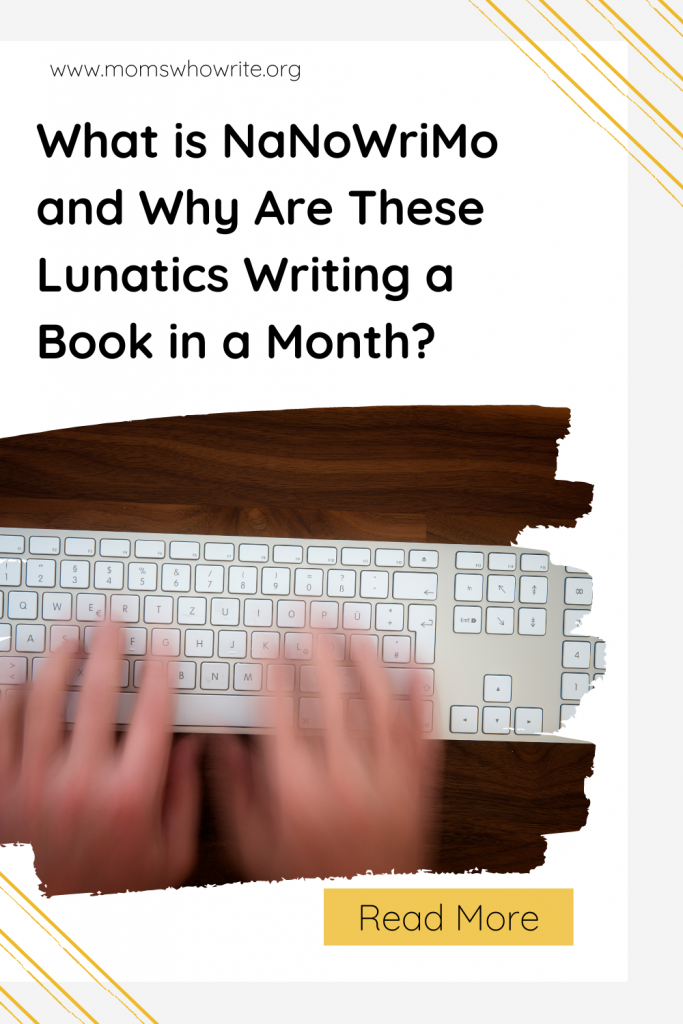 How MWW can support you in NaNoWriMo
Discord sprints
Moms Who Write has a Discord! Join us there and use the sprint bot to write together, or even just track your own word count while the words flow.
Daily check-in threads
Look in the group and see how everyone else is doing! We'll post daily to see how you're doing and give you a place to ask questions, vent, cry, and cheer.
Write-ins
The admin team just happens to have a retreat scheduled for the first weekend in November. We'll go live on TikTok on the afternoon Nov. 5th and we will be writing together! Please join us, ask questions, chat amongst yourselves, and set aside time to get some words in.
Stay tuned for more write-ins and sprint opportunities, and join our email list because we will be sending out tips, tricks, and resources throughout the month to help you win!
About the Writer: Allie Gravitt is a mom of 3 and lives in metro Atlanta with a house full of animals and plants. Her debut poetry collection, prisonbreaks, and second collection Killing Ghosts are available now on Amazon. Follow Allie's writing journey on TikTok and Instagram.
Book Highlight: On Writing: A Memoir of the Craft (Stephen King)
Craft writing books are some of the best tools you can keep in your writer's library to prepare for NanoWrimo. On Writing: A Memoir of the Craft by Stephen King is a favorite in our group. Take a look and see for yourself!
"Part memoir, part master class by one of the bestselling authors of all time, this superb volume is a revealing and practical view of the writer's craft, comprising the basic tools of the trade every writer must have. King's advice is grounded in his vivid memories from childhood through his emergence as a writer, from his struggling early career to his widely reported, near-fatal accident in 1999—and how the inextricable link between writing and living spurred his recovery. Brilliantly structured, friendly and inspiring, On Writing will empower and entertain everyone who reads it—fans, writers, and anyone who loves a great story well told."- Amazon.
*Disclaimer: This blog contains Amazon Affiliate links. As an Amazon Associate, we earn from qualifying purchases to help generate more resources and opportunities for our writing community. We appreciate your support.