Show, don't tell. Show, don't tell. Show. Don't. Tell. If there were ten commandments written strictly for writers, I'd be willing to bet that "show, don't tell" would be the first one.
Beginning writers ask about this advice on every online writers' platform, all the time. So, what exactly is show, don't tell, and why is it so important?
The basics of the show, don't tell rule
On the surface, the advice seems fairly straightforward; show your reader your story, don't tell it to them. But it's a little more complicated once you start writing.
If you tell your reader too much, you put yourself at risk of info-dumping all over the place. If you show your reader too much, you put yourself at risk of boring your reader. The show, don't tell rule works best when you have a balance. So, how do you do that?
Decide what you want your reader to know
As you're writing, look for areas where you can describe what you want your reader to know. What do you want them to see in their mind.
Let's use the sentence 'It was a cool November morning' as an example. What can you say to give the idea that it's a cool, November morning? You can write about the frost on the ground. Describe the changing foliage in the treetops. Say the sun is rising over the rooftops. Mention preparing for the upcoming Thanksgiving holiday. Instead of telling your readers when the story is taking place, you've now shown when the story is taking place, and with that, creating a richer, more descriptive, and engaging setting.
Are your characters experiencing big emotions? Don't tell us they are sad, mad, or lonely. Show us with their actions. Give them a prop to act out their emotions on. If they are mad, have them slam a door, rip apart a sheet of paper, throw a book against the wall. If they are lonely, have them wander through a room, touching things that remind them of the individual they miss.
Use powerful, specific verbs
Not all showing is equal in writing. To create strong scenes that show, writers must use powerful, specific verbs to help evoke the desired response from the reader. The more specific a verb is to the feeling you are trying to convey, the easier it is for your reader to understand the emotion of the scene. A character will saunter, slink, strut or stalk based on their internal emotions. The way they walk becomes an external manifestation of their internal emotional state.
Utilize the character's setting
Giving specific details for important objects surrounding your characters can help set a vivid scene. While there is no need to describe every object in a scene in detail, what you focus on can send a signal to the reader about what is important. A character that is waiting impatiently may notice a clock in the room. Describing the clock and the character watching the time tick by slowly can heighten the sense of waiting without saying the character was waiting impatiently.
Bringing sensory details into a piece can also help place the reader into the scene. In everyday life, people notice the sights, sounds, smells, tastes, and textures of objects in their surroundings. A character may notice the smell of cologne on their love interest. Someone who lost their mother may stroke the blanket she knitted before passing away, the yarn soft and warm, just like her mother.
Expand on character dialogue
Dialogue can help expand on showing the story to your reader. In general, dialogue should always be used to move the story forward as a tool that can show the reader what is happening between the characters. If two characters disagree on whether they should skip school to meet up with friends, don't say they argued, show the argument through dialogue. Let the readers experience the argument for themselves through their word choice and tone.
Expand on character actions
Think about your characters. How can you show your reader who your character is and what is important to them? Don't just tell the reader a character is at the beach. Show the beach through the character's unique perspective.
The specific details a character notices can tell a lot about the character themselves. A young boy may notice the waves he wants to jump in and the seagulls he wants to chase. A teen boy may notice other teen girls on the beach. A mother with older children may notice the young mothers chasing their young children and reminisce about when her children were young.
Flash fiction example
Talking about showing and telling is all good. Now, let's take a look at a real example.
The story below is from a flash fiction piece. Notice how instead of saying the character is sad and missing her deceased son on his birthday, you can tell from the actions the author chose that she is distraught:
With the cake cooled and frosted, Catherine placed the candles on top. She lit the twelve little points of light and quietly sang Happy Birthday to Jack. Catherine placed three pieces of cake on her grandmother's Blue Willow plates. As she sat alone eating her piece, Catherine imagined what her son would be like at this age. She thought of the missed milestones and the achievements he would never experience. Days like today she especially missed her husband. Grieving not only both losses but having no one to grieve and reminisce with was extraordinarily lonely.
When her piece of cake was gone, Catherine scraped the rest into the garbage and placed the plates in the sink. She didn't have the energy to clean them now. She removed her apron and replaced the recipe book back on the shelf. Catherine carried the photo album back to her bedside table where it resided. She kissed the photo on her nightstand and dropped into bed. Tomorrow would come whether she wanted it to or not.
By showing Catherine's sadness through the actions she takes, the reader is drawn into the scene, getting to experience her grief for themselves, not told of her grief. The visual of a mother, sitting alone with three pieces of cake, singing to a son who was no longer alive, gives a more visceral feeling of sadness than explicitly stating that 'Catherine was sad without her son.'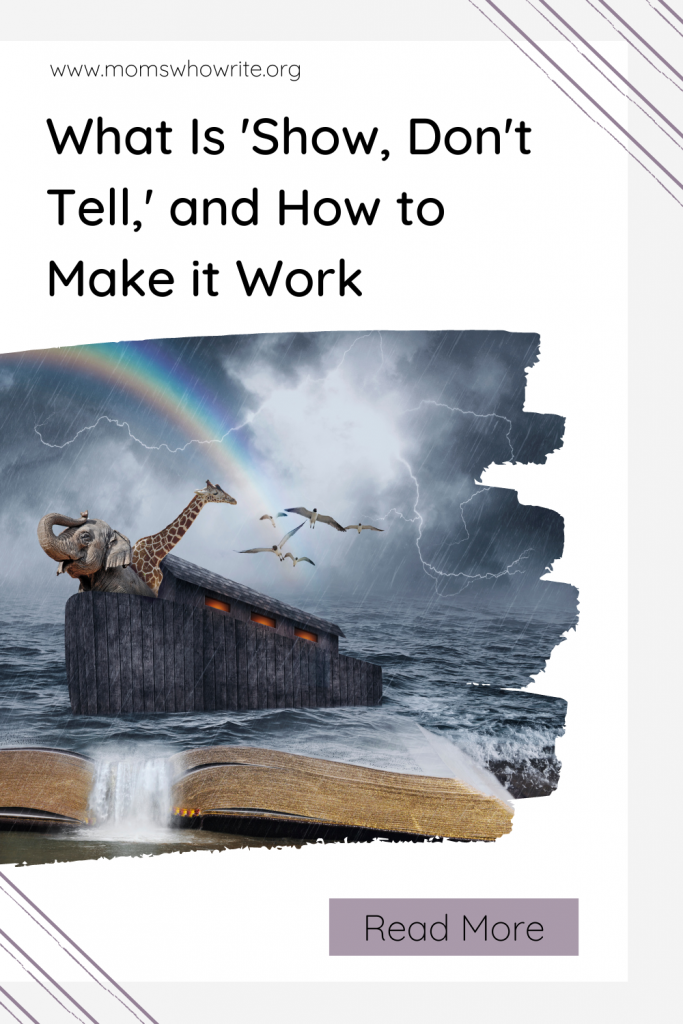 Looking at other forms of writing
While fiction writers certainly use the show, don't tell rule, songwriters often uses the same premise.
An example I heard on the radio recently was an old Jewel song, You Were Meant For Me. The song is about being lonely after a break-up. One verse stood out and relayed the loneliness of living alone; "consoled a cup of coffee but it didn't want to talk." Only someone lonely would talk to their inanimate breakfast item and hope it would talk back. You can imagine a woman sitting alone, staring at her steaming cup of coffee cradled in her hands, thinking about the love she lost.
Are you having a hard time describing something? Try writing a song about it as a fun exercise!
Paint your reader a picture
Writing is an art form. As an artist, our job is to paint a picture for the reader by combining the above strategies with intention. By weaving in these different ways of showing, the completed story will feel full, colorful, and whole.
About The Writer: Jill Robinson is a wife, mother of two, athlete, speech-language pathologist, and lover of all animals. She loves the outdoors and singing off-key in the car. Writing brings her peace. You can follow Jill on her author blog, Instagram, and Twitter.