In a recent blog post, we discussed what it means to know your worth as a freelancer. There's nothing better than finally standing up for yourself and declaring you're worth more than what you've been given. But how do you go about defining your worth? Better yet, how do you price your worth?
Even if you're writing short form for clients rather than fiction, as creatives, we often struggle to determine what we're worth. How do you put a price on the words that come from inside of you in a way that values you fairly?
It turns out there's a way to do it. You'll have to take your heart out of the equation for a minute and look analytically at what your work encompasses. But you can make money on your writing—and you should.
What to consider when setting prices  
First, let's get one thing straight: Writing and editing are services that deserve fair pay.
If you call a plumber to fix your bathroom, the plumber receives a salary. If you call Verizon to sort out a phone issue, the customer service member is clocking pay as you speak.
While you'll always encounter critics still shocked that writers and editors profit from their services, it's not up to you to convince them. These are valuable roles, essential to our modern society. That is all you have to remember.
Now that we have that covered, let's take a look at some of the factors you need to consider when pricing your writing and editing services.
Time
This is one of the most overlooked and undervalued aspects of freelance work that can trap you into working for pennies. Valuing your time ties directly into valuing your service. If you do not value your time, why should someone else? Before you offer a service, do a few test runs, timing yourself along the way.
How long does it take you to write a blog? Do you know the article topic or will you need to research it? Will you just provide content or are you going to offer to post to websites and platforms? Are you a fast reader when you edit? How many comments are you going to provide? The answers to these types of questions will all come into play.
Determining how much time it takes you to complete a project will help you decide which avenue to charge: hourly or per project. Some tasks, such as creating or posting social media, are best charged hourly, while blog writing (if you can write multiple in an hour) is better charged per article. It will all depend on what you plan to offer. Sort that out first.
Research
Speaking of research, this is another pitfall new freelance writers often fall into when determining the worth of their work. If you're taking on a writing project in an industry you're unfamiliar with, you'll have to do some research– and it could take a lot of time. This is time you need to charge for.
Consider how much research you are willing to do before you set your prices. Are you ok with googling a few articles or do you want to dive nose deep into hours of intense reading? Then, figure out whether it would make more sense for your writing style and schedule. You can charge by the hour for research on top of your per article price, lump research and writing together for a higher hourly wage, or offer several tiers of article prices based on the level of research you're willing to do for each.
SEO Optimization
It's awesome to be able to offer keywords and SEO-optimized articles to your clients—but not for free. If you are offering SEO-optimized articles, up your price. Don't spend hours juggling different keywords through Google and trying to find the best headline and subheaders unless you're charing for it. Furthermore, if you're going to offer to put these articles on a client's website– using optimization tools such as Yoast or AIOSEO and adding images—you'll want to factor that into your time analysis.
Paid Resources
Freelancers may choose to purchase several different tools and subscriptions to help them build their business. Don't forget about these when you go to price your work! If your monthly subscriptions is surpassing your monthly income, then there is a problem. Add up your current business expenses you use to complete your work before you price. This may include a subscription to Grammarly, Quickbooks, news sources, Patreon accounts—it doesn't matter. If you are paying for it to help your business, then it counts.
Edits
Unless your entire freelance business is editing, make sure you consider how many edits you are willing to provide per project. You don't want to get in an editing war with your client, where you are continuously making edits and changes for weeks while the project remains unpaid. State in your pricing how many rounds of editing you are willing to provide. This will help make the expectations clear from the star.
Taxes
Eventually, you will have to pay taxes. You can schedule them quarterly, or pay up at the end of the year. But a percentage of every project you profit from should be set aside for tax payments.
Cost of Living
What do you need to make for your business to be profitable? Better yet, what do you need to make to pay your bills? If your freelance career is your main source of income, then you have to price your work accordingly. Knowing this amount will also help you when filling your schedule with enough worthy jobs to meet your needs.
Now, lets actually price your worth! 
You can price your services in a number of ways. The most common methods in the freelance world include per project, per word, or per hour. Let's take a look.
Pricing Model: Per Project
The most popular pricing model for freelancers is to charge per project. This method involves determining a flat rate, typically paid upon completion. It factors in the entire scope of the project—everything from thinking time and research to writing and editing.
Suggested Project Pricing Chart
Below is a chart with information gathered from an article by Peak Freelancer to help you determine how to set your per project prices.
Please note these are just a guideline. Nothing is set in stone. Ultimately, you set what prices you believe are fair.
| | | |
| --- | --- | --- |
| Project | Price Range | Average |
| Blog post (<1500 words) | <$99-$1500+ | $250-$399 |
| White papers | <$499-$5,000+ | $500-$999 |
| Emails | <$99-$1500+ | $99-$249 |
If you're writing shorter articles (200-500 words) your pricing may settle a little more between $50-$75 per. BUT, don't forget to consider the research. If you have a packed 500 word article that took hours to research, don't sell yourself short.
Pricing Model: Per Word
The second most common price model is to charge per word. This method is most used among freelancers just starting out, who are unsure what specific projects entail.
To determine the final price, you'll need to know the word count the client wants for the article. You can still factor in your research time by including that in the per word rate. For example, if you regularly charge $0.10 per word and you know you'll need to research the topic extensively, you can up your price to $0.15 per word.
Suggested Per Word Pricing Chart
At the basic level, you're new to the industry, or you're working for clients like non-profits with smaller budgets. Basic articles don't require tons of research and time.
Intermediate freelancers have some experience under their belt and therefore can charge a bit more. Intermediate articles may include interviews or research.
Experts have a high level of knowledge in a subject matter and can charge premium rates for it. Their clients may be high-profile editorial sites or businesses that need technical writing.
Below is a chart of per word pricing rates taken from an article by DemandJump.
Please note these are just a guideline. Nothing is set in stone. Ultimately, you set what prices you believe are fair.
| | |
| --- | --- |
| Experience | Price Range |
| Basic | $0.05-$0.20 per word |
| Intermediate | $0.20-$0.70 per word |
| Expert | $0.70-$1.50+ per word |
Pricing Model: Per Hour
Freelancers who charge per hour may combine this method with per-article and per-word pricing depending on the services they offer. Some writers choose to charge per hour for research and per piece for the actual article. Other freelancers like the idea of being paid per hour similar to a 9-5 job so they can better budget their income.
Hourly pay can also be a great solution for jobs where there is a high volume of work. If you work for a client who has an ongoing list of projects of different lengths with flexible deadlines, it may make more sense for you to work hourly.
According to Austin Copywriter, freelance hourly rates can range from $30 for beginners to $100 for experts. Your price will vary based on the industry, the amount of work, and all the other factors we discussed above.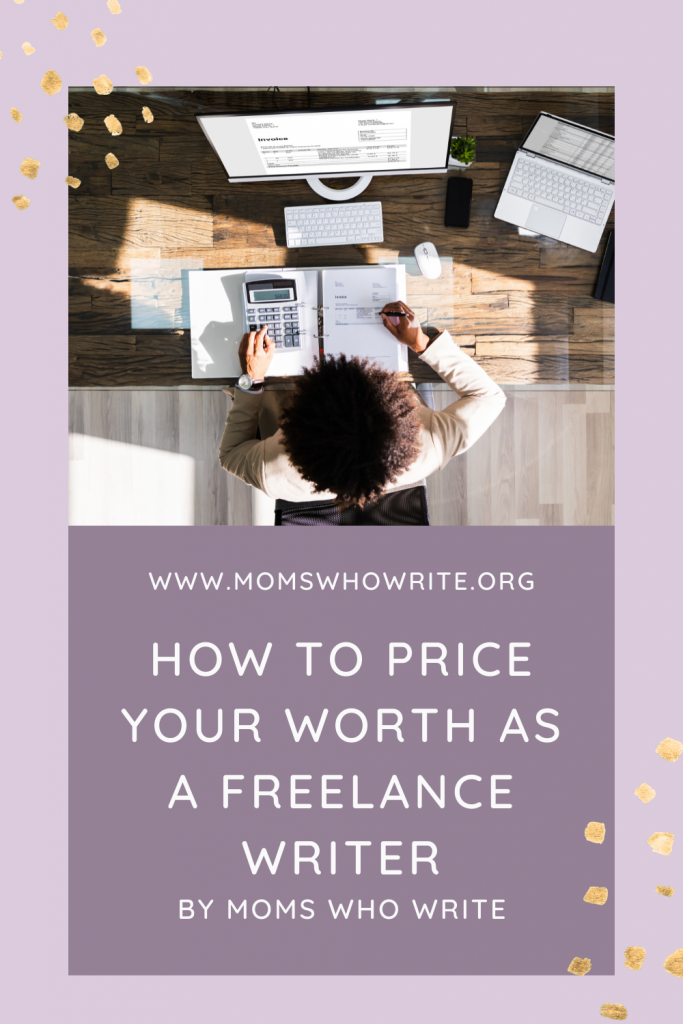 A Note on Ghostwriting
Some freelancers decide to take on ghostwriting which is when you write a piece for someone else under their name. Your name is not attached. Because you can't include ghostwritten pieces on your resume, most freelancers charge extra for ghostwriting services.
The average freelancer charges 16-20% more when ghostwriting for clients. We'll talk more about ghostwriting in the future!
Good luck freelancers! 
Here's the thing: If you are not finding work because clients say your prices are too high, these are probably not the right clients for you. You want to write for someone who values your skill and time. Don't sell yourself for $10 per 1,000K word article because you feel it's all you can get.
There's so much to consider when you start your freelance writing and editing career. In the beginning, it may feel a bit overwhelming. But you'll get there, and we're here to help. Shoot us any questions, concerns, or any other topics you want to cover in this series.