Taking your book from written to published is a bit more complicated than it sounds. You can easily end up spending hundreds or even thousands of dollars in self-publishing costs along the way if you don't know what to look for.
So, how much will it cost you to publish your book?
In this article, I am going to break down every step required to get your book published, and how much you can expect to pay for each step. We will compare the cost of doing everything on your own versus hiring out. PLUS, I have a worksheet for you to determine your publishing budget.
Are self-publishing costs expensive?
When I took my first book through the self-publication process, there were way more costs along the way than I expected. I didn't want to spend very much on my first book, because I had no idea if I'd ever make the money back.
Fortunately, I found a ton of free resources along the way, and I am going to show you those. But we will also discuss the paid resources available so you can decide what approach is best for you. We don't necessarily want to sacrifice quality, BUT, your book doesn't need to come out perfect the first time around.
The breakdown of self-publishing costs
Once you've finished your book, you have four different options for publication:
Do it all yourself.
Outsource individual steps of the publication process.
Hire a self-publishing agency to complete all the steps for you.
Go the traditional route and submit your book to a publisher.
If you are self-publishing, what steps do you need to prepare your book for publication and get it out on the market?
Writing
Editing

Copyediting
Structural editing
Developmental editing
Proofreading

Formatting
Cover design
Mockup generation
Author website
Publishing
Marketing
If you choose to hire a self-publishing agency, please make sure to ask for a detailed list of services they provide in your packages. A good agency will help you with just about every step, including editing, cover design, formatting, and website creation. It is not unreasonable to pay a minimum of $3000 to have all these services covered, and you'll soon see why. Many times, you will pay much more than that for high quality publishing services.
Compare and contrasting self-publishing costs
I put together a chart with each step of the process and estimated costs. Let's take a look at that chart now:
Costs are based off of a 50,000 word book. Larger books will increase the cost of some steps including ghostwriting, editing, formatting, etc.
Do it yourself
Hire someone
Writing
Pay for the software you use:
– Google Docs: FREE
– Microsoft Word (highly recommend): $80-115 depending on version
– Scrivener: $49 (20% off with MOMSWHOWRITE)
– Dabble: $10-$20/month
Ghostwriting services
– $500-1000 +
– Upwork is low end, professional ghostwriting services such as Hot Ghostwriter can be much more expensive
– Depends on word count. $500 is the starting price for a 30,000 word count.
EditingCopyeditDevelopmental editStructural editProofread
Google Docs spelling and grammar checks
– Not very powerful, but FREE

Microsoft Word spelling and grammar check. Share manuscript with friends and family to help edit.

Grammarly software: $30/month for the features you would need for a solid editFREE basic version

ProWritingAid: $79/year (20% off with MOMSWRITE20)
Wordy: $1600
Editage: $2400
Scribendi: $1700

*These prices are generally for one round of edits and do not include the final proofread.

Fiverr Pro or other freelancer: $.02 to $.06/word based on the type of edit
Formatting
Google Docs
– would not recommend
– FREE, but highly unprofessional appearance.

Microsoft Word
-"Styles" tools

Vellum software
– Ebook: $199.99
– Paperback + ebook (you're going to want this one): $249.99
– One time paymentUser friendly

Adobe InDesign
– $20.99/month
– Large student discounts (60% off or more)
– Entire Adobe Creative Cloud (highly recommend): $52.99/month
– Challenging to learn, but has powerful creative tools

Affinity Publisher
– $54.99
– Paperback
– Relatively easy to use, and less expensive than Vellum. A
– Available on Mac and PC
– Has an iPad version for $9.99

Reedsy
– Free book formatting
– Can be kind of clunky and hard to use
Fiverr/Upwork
-$10 +
-Be very careful with Fiverr. You get what you pay for.

Fiverr Pro
-Much more reliable than free Fiverr. Also, pricier

Mayfly Design: $800+
Cover Design
Canva: FREE version that has lots of great features and is very easy to use.

Adobe Photoshop or Illustrator
– Challenging to learn
– Powerful tools for creating amazing book covers
– Prices listed above for Adobe CC
Fiverr
– $5 or more
– Again, you get what you pay for
– Very hit and miss

99 designs: $300 +

Mayfly design: $1000 +

Private designers can cost anywhere from $50-$1000+ depending on the level of art and customization.
Mockup generators
FREE: diybookcovers

There are many free PSD mockup files on the internet, but you need Adobe Photoshop to edit them (add your book cover).
Placeit.net: $7.95 per mockup or $14.95/month
Author website
Domain: $12/year

Bluehost + WordPress builder
– $2.95/month
– Learning curve, but versatile
– Free domain for 1yr

JIMDO $9/month
Squarespace
– User friendly
– $12/month
– Free domain

Wix
– User friendly
– $14/month

*Many web builders allow you to have a FREE site with their branding. You pay to have your own domain and remove branding. This makes your website look much more professional.

yourdomain.com + your logo on your site
VS
yourdomain.wix.com + Wix logo on your site)
Web development and design costs thousands of dollars, so I would not recommend hiring someone to create the website for you.

Plus, knowing how to edit and operate your website is a very, very valuable skill to have, even if you decide to hire out later.
Publishing
DO THIS YOURSELF! You need to know how to upload and manage your books on Amazon KDP, Draft2Digital, or whatever site/location you choose to publish through.
Hiring someone means working with a traditional publisher. We are in self-publishing;)

Technically, you can find someone to help you with the publishing part (help you get the book to retailers and online book sellers), but I would not recommend it.
TOTALS
$0 – $461.98
$2619.95 – $5711.95 +
I am not covering marketing because this is a HUGE topic on its own. Plus, your marketing budget is enormously variable. You can spend nothing or thousands of dollars.
You also have the option of hiring an agency that will take you along every step of the process. Please make sure to ask them for a detailed list of services they provide with their packages. You don't want to pay $3500 for someone who is only taking care of your cover, editing, and formatting. However, if you pay someone $3500 to take care of every step in the chart, that's actually a pretty good deal (as long as they have great team members taking care of each step).
My recommendations for your first book
Get Microsoft Word and do some editing on your own. Also share with family and friends to read the manuscript and suggest edits. Use spelling and grammar check on Microsoft Word.

Cost of Microsoft Word: $114.99 for most recent version (it doesn't much matter which version you have, as long as it's not super old)
We always recommend getting an editor. Do as much as you can yourself—the cleaner your manuscript, the less expensive the process will end up being.

Learn how to use the "styles" feature on Microsoft Word and do your formatting there. Open up a book you own in your niche and copy their formatting style for practice. Alternatively, Reedsy's free formatter or an inexpensive option like Affinity Publisher could get the job done for you.
Use Canva to learn layouts and basic design principles. Then I would highly recommend learning Adobe Illustrator and/or Photoshop and using their design tools. This gives you much more freedom to create a unique and eye-catching cover.
Diybookcovers.com for your free mockup
Squarespace $12 (especially if this is your first time building a website). If you have more practice, I'd recommend going to WordPress + Bluehost (or HostGator)
TOTALS: $126.99-$181.98, plus an incredibly variable editing cost
And if you already have Microsoft Word, you only have to pay for your website!
Doing everything on your own is a LOT of work, but you will learn so much valuable information along the way. When you write your second book, you will have a better idea what you'd like to do yourself and what you'd like to hire out.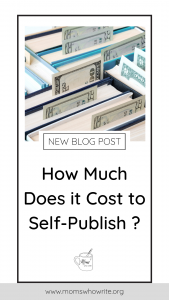 Conclusion
Keep in mind that often, you pay for quality when you hire out. Paying a very small fee for a book cover may be tempting, but if you get a terrible book cover in return, you'd be much better off just making one yourself.
I would recommend doing everything yourself at first, and taking advantage of the free resources. It really doesn't make much sense to invest lots of money early on when you don't yet have a firm grip on the process. Plus, we haven't even touched on marketing, which plays a huge role in the success of your book. Don't get too caught up in trying to perfect things right away. Let it be a bit messy. By completing every step yourself, you will learn a lot and develop some very useful skills. And if you figure out that you can't do certain things along the way, you'll have a better idea of what services you can manage yourself and what you'd like to hire someone else to do.
About the Writer: Stephanie Baier has published books on postpartum health and fitness, self-care for moms, and adventure romance. Her greatest joy comes from being the mom of two little girls. She is passionate about self-publishing and helping other moms achieve their writing goals. Stephanie frequently finds herself up at odd hours with new ideas and often sacrifices sleep so she can write after the kids are in bed. She recently started a free video series to teach moms how to self-publish on a budget. New videos are posted every Monday on her YouTube channel. Find books by Stephanie here.