We're now more than halfway through Preptober, that annual frenzy of getting ready for NaNoWriMo. All around the world, writers who plan on slamming 50,000 new words down in 30 days are doing all they can to increase their chances. They're reading writing craft books, they're outlining, they're brushing up on strategies for writer's block. But if there's one thing to know if you're going to survive NaNoWriMo, it's getting ahead on the writing food situation.
Making dinner (and cleaning up after) can take up SO MUCH of a day! And the cycle never ends– those darn kids, they get hungry even if you fed them yesterday. And there are only so many nights in a row we can get away with ordering pizza. So what are frazzled Moms Who Write to do?
Surviving NaNoWriMo is easier with a freezer full of meals!
You don't even need a slew of special recipes. There are so many meals that freeze well. Making a lasagna or casserole for dinner tonight? Go ahead and throw an extra one (or two!) down in a disposable aluminum baking tray, seal it up really well, and freeze it raw while tonight's dinner cooks. That's not just an extra meal you can now thaw and bake on the fly. It's also freedom from all the dishes it would entail to make that dinner from the beginning.
Other meals you can double and freeze? Soups do very well in gallon-size freezer Ziplocs (make sure you use the freezer type and squeeze out any extra air). You can do this with a quiche or frittata filling, too! You can also do the same (or use a vacuum sealer) to preserve ground meat mixtures, such as those for meatloaves and meatballs– just thaw, shape, and bake when it's time to eat.
Important tip: if you stack several items to freeze, make sure you layer them with wax paper or parchment paper. Otherwise, they mold onto one another and stick together, which is a MAJOR pain.
Quick and easy recipes for surviving NaNoWrimo
Have a little extra time to work in Preptober? Set aside a couple of hours for chopping, dumping, and freezing, and you can have a ton of meals ready in advance. Double up and freeze multiple bags of the same recipe to stretch your efforts even further!
Even if you only get a few done, that's a few less hours you'll have to spend in the kitchen cooking and washing when you'd rather be making that word count. All the recipes below are dump-and-go with the slow cooker or pressure cooker, but almost any can be adapted to baking– just do a quick google for the temperature and cook time to ensure everything cooks safely.
Chicken: slow cooks 6-8 hours on low or 4-6 hours on high
Throw chicken in with your favorite sauce, which is great for sandwiches or bowls! Try buffalo, bbq, or curry with lots of vegetables mixed in (I add sweet potatoes, peas, chickpeas, and carrots). OR try one of these:
Southwestern chicken tacos: for every 2-3 lbs of chicken, dump in a jar of your favorite salsa and a packet of taco seasoning. You can also add frozen corn and some drained and rinsed black beans. I even toss in a handful of frozen spinach! Serve on tortillas with all your favorite taco toppings.
Cranberry Chicken: 8 ounces of Russian or Catalina dressing, a can of whole berry cranberry sauce, and a packet of onion soup mix– that's it! I sometimes throw in extra dried cranberries. Serve this with boxed mix stuffing and a can of French-cut green beans.
Pork: slow cooks 6-8 hours on low or 4-6 on high
Pulled Pork Sandwiches: Throw a trimmed pork loin, some sliced onions, and your favorite bbq seasoning blend in the freezer bag. The day of cooking, cover the pork with water in the slow cooker. About an hour before dinner, when the pork is starting to break apart easily, drain the water and add your favorite bbq sauce. Shred the pork with either two forks or a hand mixer, and serve on kaiser rolls next to a simple roasted vegetable.
Italian Sausage and Peppers: Your favorite brand of Italian sausage, a bag of frozen sliced peppers and onions, a nice scoop of minced garlic, a hearty pour of Italian seasoning, and two 14.5 oz cans of petite diced tomatoes. Freeze it, dump it, cook it! I serve this family favorite on hoagie rolls or French bread.
Beef: yep, 6-8 hours on low or 4-6 on high
I like to brown 10 lbs of ground beef at a time and divvy it up into vacuum seal bags; sometimes, I'll mix it with quinoa cooked in beef broth to stretch my poundage. For most easy meals like sloppy joes, taco night, or boxed "helper" meals, there's no real taste difference to freezing it cooked– and this saves me so much time on cooking, plus I only wash my colander once!
Pepperoncini beef sandwiches: My husband's favorite! Trim and thick-slice a bottom round or chuck roast, add 2-4 tsp minced garlic, and a jar of sliced pepperoncini peppers (liquid and all). These peppers are more sweet than spicy, and cooking the beef in their vinegar makes it soooo tender. Cook, shred, and serve on rolls with smoked provolone.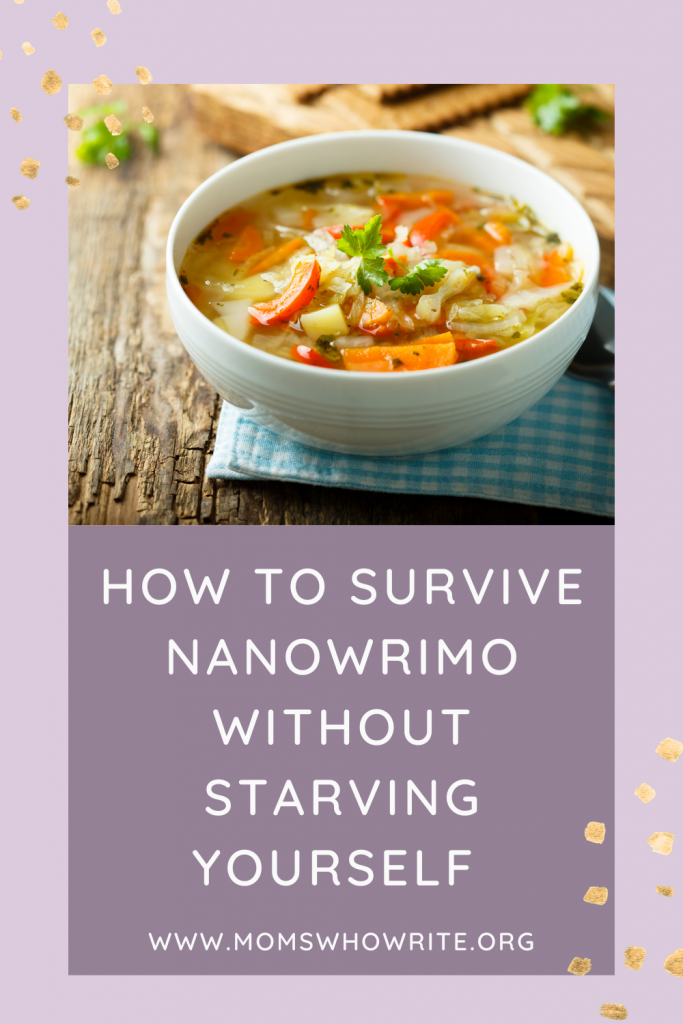 How will you survive NaNoWriMo?
These are all recipes I could remember off the top of my head, because they are so easy and simple. If you have any good ones, PLEASE share in the comments below! Heck, if we crowdsource enough, we might have meals for every day of the week this NaNo!
If you don't have the freezer space for all these meals, don't worry, you can cheat. Just make the sauces and freeze in quart-size freezer bags (or gallon-sized if you want to add in chopped veggies). You can buy your meats at the beginning of the week with any breads or sides. Just thaw the sauce to dump on top the day you want the meal.
And if you can't do any meal prep this month, don't worry–you can still win NaNoWriMo! Everyone does it differently. But I hope this at least gets your wheels turning on creative strategies to get ahead!
Now excuse me… I've got to go make a grocery list!
About the Writer: Kathryn Tamburri (@KathrynTamburriAuthor) writes clean YA epic fantasy novels which seethe with slow-burn romance. You can find more of her writing tips on The Devo Blog at KathrynTamburri.com, and learn from her publishing journey by subscribing to her fun author newsletter!
Book Highlight:
Need some recipes? Freezer-Friendly Dump Dinners by Erin Chase has some amazing meals to help you (and your family) get through NaNoWriMo with a full belly.