USP. This may be an acronym you've seen floating around if you've begun research into marketing. It means "unique selling proposition," and the whole idea is overwhelming for many of us. I mean, what do I offer that no one else can supply? How do I encapsulate that? How do I develop an author USP —where do I even begin?
Pitches be crazy
Once upon a time, MWW released an article on elevator pitches. Click that link and read the article if you missed it because it will help the rest of this make a lot more sense.
You see, your author USP is essentially the elevator pitch for your entire brand.
In my case, I write clean (non-explicit) slow-burn romance into epic, action-packed YA fantasy from a non-preachy Christian perspective. Frankly, these are all aspects of my writing that I've recognized over time instead of beginning with an objective to write for. Therefore, I'd argue that the first step in developing an author USP isn't to strategize and develop a selling point. No, just go back and read your work.
What always tends to come through? Are there tropes you favor or moral themes you always write in? Is there anything specific that you intentionally avoid because you don't like reading it? You're likely not alone!
Include genre and a recommended age range, and you've got yourself a USP.
But wait, there's more!
Okay, now you've boiled down your writing style and the focal points of your work to a single sentence. You've slapped it on header images for your website and social pages. You've incorporated it into the personal introduction of your query letters. It's in the "about me" section everywhere you need one. Honestly, honey, congrats. We all know it isn't easy. But….now you need another USP.
I hear your gasps of dismay. Don't panic.
First of all, focus on one thing at a time, and get back to this when you're ready. Now that you have a USP for your books, it's very helpful to have a separate USP for your author newsletter.
The newsletter is, statistically, the place where you have the highest chance of selling your books directly to consumers. Certainly, your author USP can be found inside the newsletter in varying issues. However, convincing someone to buy your books versus convincing someone to subscribe to your newsletter is a slightly different game.
Lucky for you, both games have the same rules.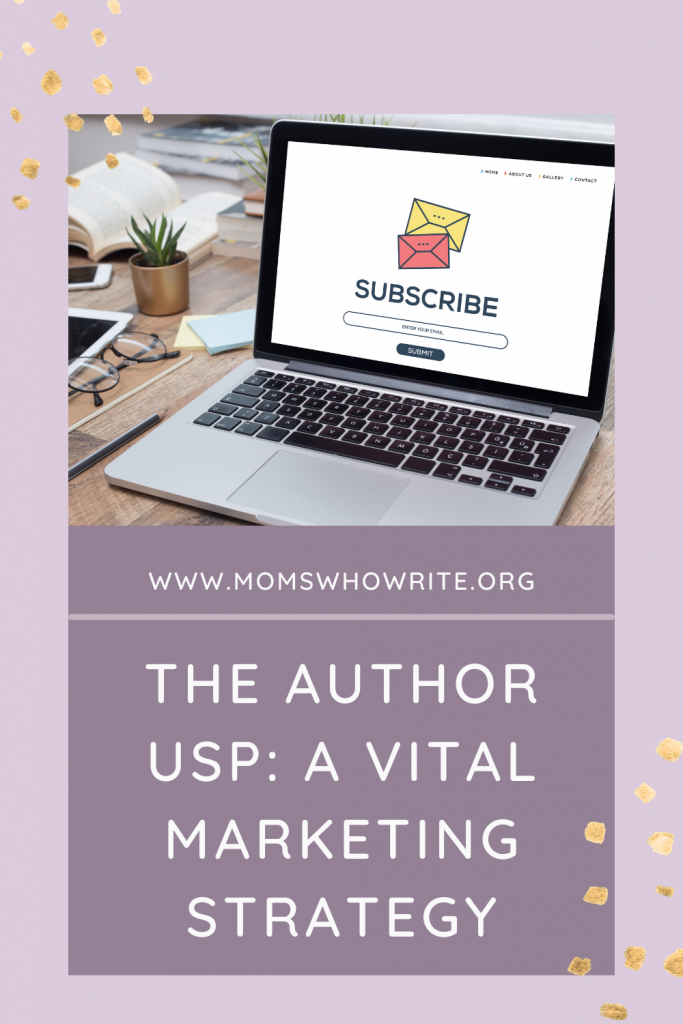 Use what you've already done
Again, especially if you're more established with your newsletter, a great way to develop this USP is to look back at what you've already done. What do you offer? Inside looks at process? Sneak peeks? A travel log?
Now fine-tune a little bit. Emphasize what you put in your newsletter that you don't put anywhere else—what do subscribers get that mere followers don't?
The newsletter version of the USP does require a bit more strategizing. If you don't even know what to include in your newsletter, I've got many ideas. But don't worry—as your newsletter evolves, it's not so hard to go back and tweak the signup pitch!
Don't let the author USP stress you out
It's very easy to overcomplicate, but the author USP is, in essence, a very simple idea. What do you write? Who do you write for? Why do you write?
Know yourself. Don't get caught up in the word "unique." All you need to do is summarize the general aspects your work tends to have in common. Tell me what you love about what you write because if I'm the reader you want because that's what I'm going to love about what you write.
And remember, just like your books, a USP can be drafted, edited, and rewritten. Come up with something for now—you're not locked in. As you analyze your works and consider what you want to create, just add and subtract from that author USP as needed.
About the Writer: Kathryn Tamburri (@KathrynTamburriAuthor) writes clean YA epic fantasy novels which seethe with slow-burn romance. You can find more of her writing tips on The Devo Blog at KathrynTamburri.com, and learn from her publishing journey by subscribing to her fun author newsletter!