We recently talked about genres vs. tropes, and how understanding them is crucial to marketing your novel and finding your target audience. We also talked about the fact that each genre contains a wealth of subgenres, which help you narrow down your readership and marketing strategy even better. However, there's one more thing you have to be able to describe your book by—whether for marketing, shelving or even just conversation—and that's the age of its ideal reader. All fiction sorts by age range first, before genre or tropes ever come into play.
Of course, finding what's already been sorted feels a lot simpler than sorting your own book into those shelves. What of the fantasy with lofty themes and a 19-year-old protagonist? Technically, she's an adult, but wouldn't the problems of dating and finding herself resound better with a teenage audience? What of the children's picture books, which a parent could read to an infant as well as a kindergartner?
As authors, many of us hate being shoehorned into categories and labels—but these tags are what help our readers find us. We have to know where to put our books.
So, where do you shelve your book? What readers are you looking to market for? Go to the appropriate heading below for help!
Youngest Goes First: Children's Books
Children's books are split a little differently. Instead of being split by genre, the children's section is usually sorted by publication type and reading level. If you're publishing a picture book, for instance, the binding of the book is the first clue to what age group it's for. Board books are for infants. Hardbound picture books generally market to any child from infancy through kindergarten, with a much looser range.
First chapter books usually have simplistic language and a lot of scattered illustrations, which tend to be in the form of outlines or black-and-white sketches. They typically sit right next to a section of thin graphic novels. These generally target the mid-elementary crowd. Of course, since kids build skills and interest in reading at different paces, it's hard to put precise age brackets here. The characters tend to be "kids like us," in mid-late elementary. They may also be speaking animals which elude age analysis.
There should be zero cussing in this section. Any addressing of sexuality or physicality may have your book shelved separately from the others, especially if it isn't subtle.
Next Stop: Middle Grade (MG)
In the middle grade section, books begin to thicken. Chapters creep a little longer. Illustrations disappear, except perhaps above chapter headings. These are written for approximately ages 8-12.
Contemporary characters are usually in middle school or the equivalent (think ages 10-13) as young readers tend to identify upwards, as it were. They want to feel more grown and may gravitate towards characters slightly older than themselves. Historical or fantasy characters may not attend school, but their challenges and struggles, and character traits should hint at the same age category.
Middle grade novels may have limited, crush/first kiss type romance, but usually as a subplot if at all. Middle grade should be absent of graphic violence or profanity. If you think you've written a middle grade novel, but it's heavy in romance or the characters cuss, then you have a choice to make. You can edit everyone older and reform your book into a YA, or edit out the material that makes it a bit too mature.
Remember, this is about marketing. I'm trying to help you stay true to the scope of your story, making only the changes that will eliminate the roadblocks to your ideal reader. When it comes to younger readers, it's usually parents or family members who purchase books for them. You can expect them to make protective choices.
YA: Young Adult
Although plenty of adults (me included) shop this section, YA has a large teenage readership. As high schoolers, too, often identify with older characters, we're looking at a wide-character age range. Think around 9th grade through early college (or about 13-19). Novels featuring protagonists around 18-19 are often called "New Adult," and may teeter on the line between YA and adult, but this is more of an industry term. You probably won't find a "New Adult" shelf in the bookstore.
The themes and the extremity of the content equally determine if the book belongs in YA. YA tends to be much heavier in the romance element than either MG or adult books of the same genre but said romance should be much less graphic. Although there has certainly been an uptick in explicit detail amidst YA in recent years, a large portion of readers find the YA shelf specifically to avoid content they aren't comfortable with, and betraying reader expectations is a great way to get poor or mixed reviews. As for cussing, it's not uncommon to find some of that here, but acceptable levels tend to be lighter and sparser.
Unlike earlier age categories, Young Adult usually shelves in two categories—YA and YA Fantasy. While other genres certainly exist within YA, in terms of shelving, they tend to be lumped under those two umbrellas. It is more important here in YA than anywhere that the true genre of your story be abundantly showcased by the cover art and blurb since it won't be sorted as such. You want your ideal reader to notice it, so do all you can to make it stand out for what it is on that crowded shelf!
Ideal Reader: Everyone Else?
We tend to think of adult books as simply the rest of the bookstore. Yet it is, in essence, the "grown-ups" section. Does your book contain a lot of cussing, cultish murders, and steamy bedrooms? Anything your mom might have grounded you for a year over? It probably belongs here. Even if it's squeaky clean, look at the protagonist's challenges. If they're over 20 or dealing with grown-up problems —divorce, job transitions, parenthood—shelve it for adults. Let your character be found by those who identify with them.
Among the grown-ups, genre becomes most paramount for shelving. Especially if you're publishing in this tier, make sure you are very well researched in the genre and subgenres your novel can belong to. Your reader isn't going to just walk over to their age-shelf and skim until something looks interesting. By now, they know what kind of books they like. They head right for fantasy, or romance, or mystery, or whatever.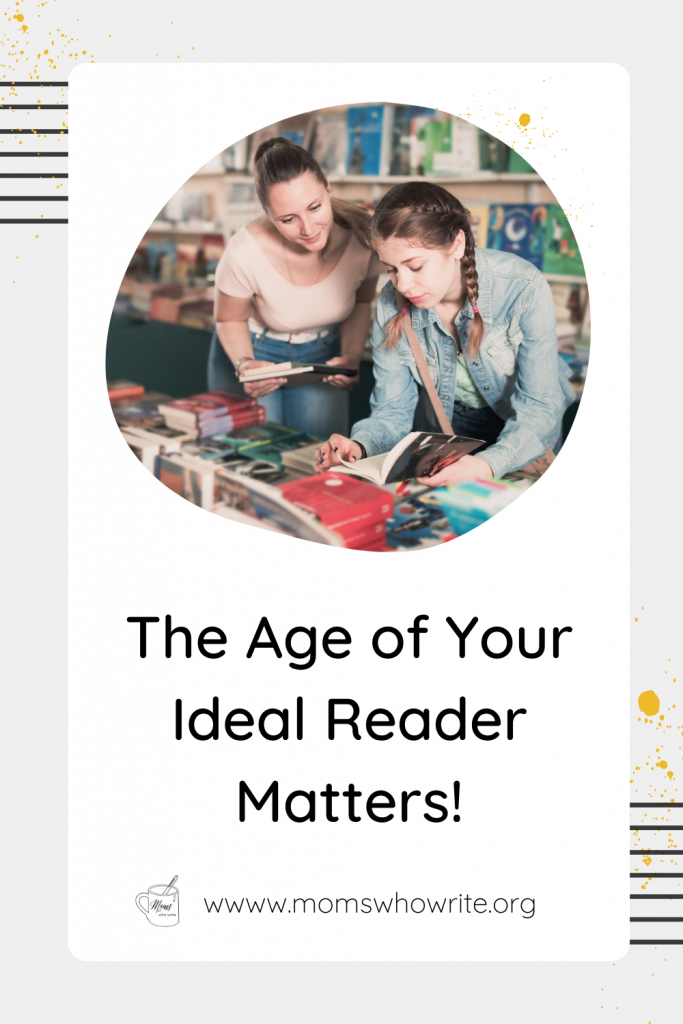 A Word of Caution
Remember that any age bracket here is an estimate. Also, like any industry, the marketing of stories can change drastically with the fluctuation of mainstream culture. As you approach publishing your work, be up to date, and remember: these are "more what you'd call guidelines than actual rules."
The two major factors, regardless, will remain 1. the age of the character and 2. the norm acceptance of what is content-appropriate for the reader's age. If you hope to write for a specific age group, start there. If you've already written and you need to figure out who will buy your book, start there. And don't forget to make sure your characters speak how the kids are talking these days when writing in modern times!
About the Writer: Kathryn Tamburri (@KathrynTamburriAuthor) writes clean YA epic fantasy novels which seethe with slow-burn romance. You can find more of her writing tips on The Devo Blog at KathrynTamburri.com, and learn from her publishing journey by subscribing to her fun author newsletter!