I'm back to talk about common grammar mistakes! Rather than inundate you with every grammar rule in one post, you get a second blog with additional tips. You're welcome. If you missed the first one, you can find it here. Let's dive right in, friends!
Mixing Up Homophones
Homophones are two or more words that sound the same but have different meanings. Most of the time, we're aware of the differences and use the words correctly. Occasionally, though, we get it wrong.
Editors can definitely help here, but you can also save them time by refreshing your homophone knowledge. Here are some common homophone mix-ups:
To vs. Two vs. Too
Weather vs. Whether
Four vs. For
Know vs. No
Where vs. Wear
More often than not, using the opposite word is probably a typo rather than you not actually knowing the word's meaning. Still, homophones are worth checking out when you're reading through your drafts.
You're vs. Your
Speaking of your drafts, You're vs. Your is a big homophone mix-up. These two words mean totally different things and are not interchangeable.
Incorrect: Your going really fast.
Incorrect: You're writing is beautiful.
You're is a contraction that really means "you are," while your is possessive. If you mean to use "you're," you can check that you've used it correctly by temporarily changing the contraction to "you are." The first example is incorrect because it's missing the being verb "are." The second example is incorrect because we're talking about the subject's writing, so "your" needs to be possessive.
Correct: You're going really fast.
Correct: Your writing is beautiful.
It's vs. Its
This is exactly the same rule as you're and your. It's is a contraction of "it is" while its is possessive.
Incorrect: Its a matter of safety.
Correct: It's a matter of safety.
Incorrect: The book needs to go on it's shelf.
Correct: The book needs to go on its shelf.
They're vs. There vs. Their
I'd like to confess that while this mix-up irks me the most, I've still committed the crime. Out of all three contractions vs. possessives, this one is the toughest because there's a third option.
By now, we can recognize that the apostrophe in these examples denotes a contraction. So, they're really means "They are." In this case, their is possessive. There refers to a place.
Correct: They're going to the writing conference.
Correct: Their books came out last week.
Correct: There is a bookstore around the corner.
Then vs. Than
This is another big one for me, guys. These two words really can't be used interchangeably. Like, at all. Then is an adverb used to denote time whereas than is a conjunction used mostly for comparisons.
Correct: Heather wrote a book, and then she published it.
Correct: Heather's book was longer than she intended.
Passive Voice
Okay, I'll admit this rule is really hard for me. This is one of those extra grammary rules. In my book, having a good grasp of passive voice makes you a grammar god. (I do not include myself in that category.)
Passive voice happens most often when a writer uses an object as the subject of the sentence. Said object is a noun that receives the action. Typically, an object appears after the verb at the end of the sentence. Many times, passive voice occurs because of those being verbs I mentioned earlier.
Incorrect: The house was being painted when I arrived.
In this case, "the house" is the (wrongful) subject. But a house can't paint itself. In reality, the person viewing the painting sees someone doing it. However, this example leaves out the person or people performing the action.
Correct: They were painting the house when I arrived.
Notice the object (the house) has been placed after the verb (were painting). Correcting passive voice to active voice makes your writing clearer and strong. For further reading on passive voice, check out this article by Grammar Girl.
Incomplete Comparisons
To compare something requires two or more objects as the subjects of comparison. An incomplete comparison looks something like this:
Incorrect: Stella's book was better and more creative.
Better and more creative than what? Stella's book isn't being compared to anything in this sentence. The object in comparison should be included to make the sentence as clear as possible.
Correct: Stella's book was better and more creative than Jean's book.
Dangling Modifiers
According to this article from Scribbr.com, "a modifier is a word, phrase, or clause that describes, defines, or qualifies something else in a sentence." When the subject is missing from the sentence and the modifier is a clause, a dangling modifier occurs. It's dangling because it has nothing to modify.
Incorrect: While driving to work, a car accident was witnessed on the highway.
Not only does this sentence leave out who witnessed the car accident (AKA the subject of the sentence), but it also uses passive voice. To correct this, simply add the subject to the sentence.
Correct: While driving to work, Jane witnessed a car accident on the highway.
In certain cases, you can also change the modifier to include the subject.
Dangling Modifier: Having injured his dominant hand, it was difficult to write the exam.
Corrected: Because John injured his dominant hand, it was difficult to write the exam.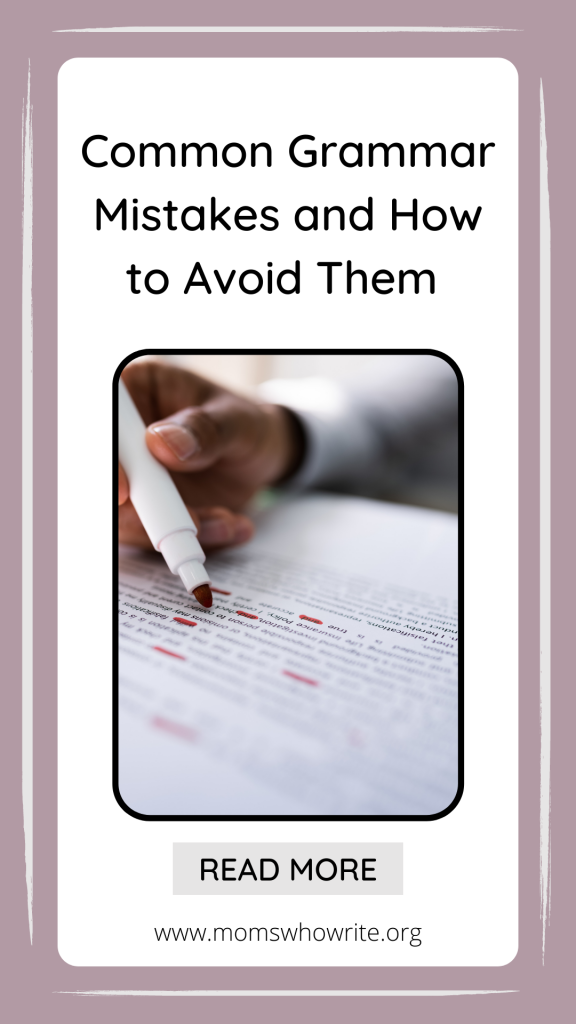 Bonus Grammar Rule (I just learned this one!)
Apparently, a business, brand, or entity is not plural. It should be referred to as "it" rather than "they." In other languages, words are often given genders. We don't do that in English. A business is neither male nor female, so it makes sense to use "they." However, the correct pronoun for a business is "it."
Correct: Kim wanted to publish her book with Simon & Schuster because of its solid reputation.
Summing Up Common Grammar Mistakes
There are obviously so many more grammar rules, but again, I don't want to make your brains explode. Hopefully, these two posts are helpful enough to get a pat on the back from your editor. Good luck and godspeed.
That's all she wrote!
About the Writer: Brigid Levi is a freelance writer and editor based in the Philadelphia area. She has three children, a husband-child, and a dog. When she's not freelancing or working on her own writing, Brigid can be found under all the blankets with coffee, tea, or wine (depending on the time of day) and a sweeping historical fiction novel. She hopes to publish her YA fantasy/adventure novel in the near future! Find out more about Brigid on her website.
*Disclaimer: This blog contains Amazon Affiliate links. As an Amazon Associate, we earn from qualifying purchases to help generate more resources and opportunities for our writing community. We appreciate your support.