Why does it seem like so many of us face the challenge of writing with ADHD? The more time I spend in writer groups, especially the more female/mom-centric groups like MWW, the more I see this strange common denominator. Of course, maybe it isn't so strange that those of us who are "focus-challenged" would have the mental flexibility to envision so many worlds and characters and stories.
It is a paradox, isn't it? The same trait that empowers our creativity is the very trait that works against so many of us as we struggle through individual pages.
Since our fearless leader Allie has declared word vomit a genre, I've decided to think through this coping conundrum through the keyboard. I hope whatever I blurt out here on the blog resonates with someone. And, hey, if it inspires any solutions for you, please do share!
Too many tabs open in my mind
I've found that lately, I'm just so BUSY. Not that that's truly anything new, but there is a difference between being busy and actually feeling busy. Even when I have ten minutes to breathe and veg on my phone, it feels rushed.
When I have too many things in my life that need dealing with on deadlines, it's like my brain is so determined not to forget any of them exist that it cannot pack anything neatly in a drawer for later. It must all be RIGHT NOW. Even if I'm not doing the thing right now, I am planning the thing or brainstorming the thing or chanting the thing endlessly between doing the other things so none of the things get missed. If that sentence made any sense to you, let's be friends. I have wine and stuff.
Writing is where I feel this as a handicap the most. I'm very much a mood-writer, but I can usually coax myself into the right "mood" with little Pavlovian tricks and really concentrate on the emotion of the fictional moment. Unfortunately, when I have too many tabs open, I don't have the bandwidth. In fact, I go right back to the dark ages of dial-up. I can practically hear that grating pitch of MS-DOS trying to connect up in my skull.
The only solution I know…
I hate that this is true because I desperately want to make writing a daily priority in my life. I'm healthier and more productive in all other areas when I can. However, to maintain the metaphor, the only way to deal with "too many tabs" is to start closing tabs. Sometimes, that means accepting that I won't be writing for a while. Especially when I try to force myself to be creative and spew about 10 drafts of the same garbage rephrased a thousand ways until it's impossible to sort through which elements of which drafts I like or not.
Seriously. I tried to rewrite my first chapter based on some feedback and opened more than 7 documents for reference. By the time I had sorted out which docs I even wanted to look at, all my writing time was gone and I had rewritten about 2 paragraphs slightly. And I still feel the drive to compare this with previous versions.
Because I'm SICK, that's why, I am a sick ADHD hyper-perfectionist who sometimes falls down the deep, dark hole of… "Why bother? Why not just sit down and accept that this is just going to be a hobby? Because you're never going to have the time or brainpower to finish this. Look how long you've been at it already, and you can't even manage to dedicate one full hour five days a week to progress."
Wait…I was supposed to be getting at a solution.
Ok, so here it is. The only way to deal with too many tabs is to start closing tabs.  The only way to release me from hyper-focusing on all the many things is to tick them off the checklist.
Little things first. They accumulate and encourage me. I keep a done list because I'm a primal creature and each little atta-girl makes me want more atta-girls. Sometimes, I can even check off enough to relax and have a short burst of creativity, even if I still have some tabs left!
The truth is, there will NEVER be a day when I don't have lots of tabs open. I'm a mom. I homeschool. I'm active at church. I have friends and family to be there for and a house to clean and an author platform I supposedly maintain. I blog here at MWW. Life happens.
As I said before, there is a difference between only being busy and getting overwhelmed by it. Mental health, like life in general, happens in seasons. Sometimes, if I can power through enough of my to-dos with relative speed, I find I can get back to writing without feeling terribly interrupted.
When the solution becomes the problem
What I don't want to do to myself again is let my writing "break" go on for a year. Or two years. I've done this to myself before—I've convinced myself that once life "settles down again" I can go back to doing and being what I love. But life doesn't settle down, does it?
When I start to notice time passing by weeks instead of days, I hunker down and sort out my priorities. Because if I don't, then yeah, I may as well kiss it all goodbye and give up. This is the one thing I have chosen to hold on to for all these years. Published authorship is the one consistent dream that God hasn't either blessed me with already or pruned from my heart. If I want it, I've got to make time for it—and headspace.
I recognize that it will not be achieved without a certain amount of commitment through the tough times. There are occasions I need to push myself when it's not going to come easy. I also have to recognize that people are more important than projects, and I want to live like I believe that. So how do I sort out that time allotment between writing and everything else?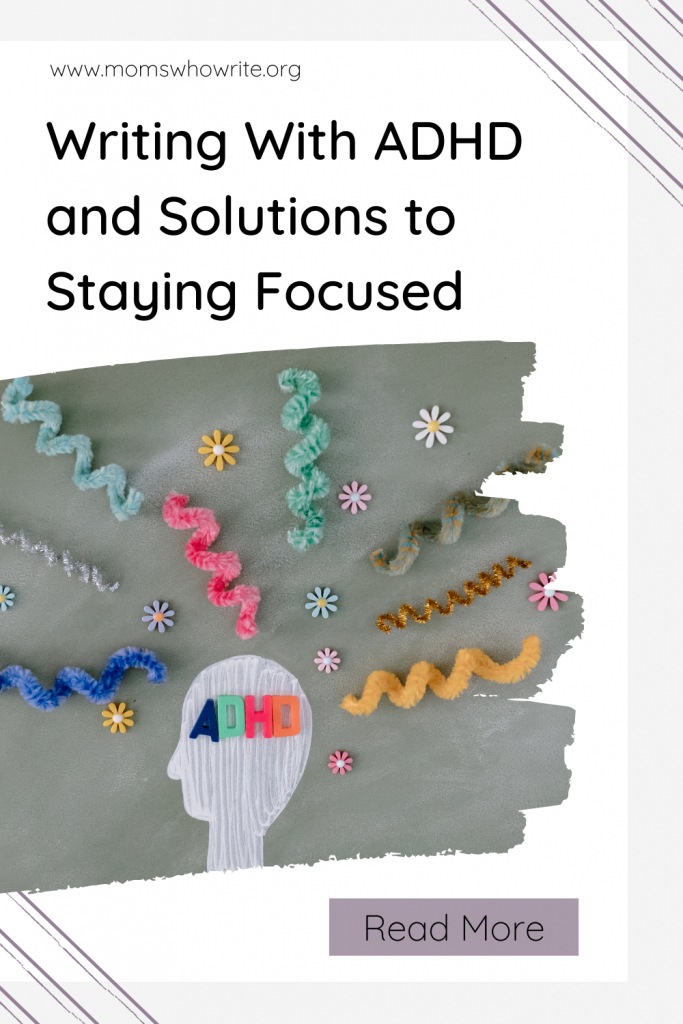 Deadlines and Refills
It comes down to this: how much on my plate is time-sensitive, and how much can wait for tomorrow? If I knock out this task, is it done, or am I doing it again tomorrow anyway?
Dishes and laundry never end. I still have to keep up with them, but they are not going to eclipse my writing time. Writing can move forward, but those chores never will. On the other hand, that baby shower I promised to organize and my kid's fifth birthday is going to come fast and then be over—plus, that is quality living and worth a lot in memories. Those are also more creative endeavors, now that I think about it, which may be why they take up so much more of my creative brain space.
So, if I can get done those things—the complicated, creative, important things—maybe I can focus more on my complicated, creative, important novel a lot better. Maybe that time I spend in the shower or at the dishes can be used for daydreaming about plotlines and fight scenes instead of how to unify decorations and what food to serve.
Thanks for helping me think through this, friends.
About the Writer: Kathryn Tamburri (@KathrynTamburriAuthor) writes clean YA epic fantasy novels which seethe with slow-burn romance. You can find more of her writing tips on The Devo Blog at KathrynTamburri.com, and learn from her publishing journey by subscribing to her fun author newsletter!